How to stay sane when buying a home in NJ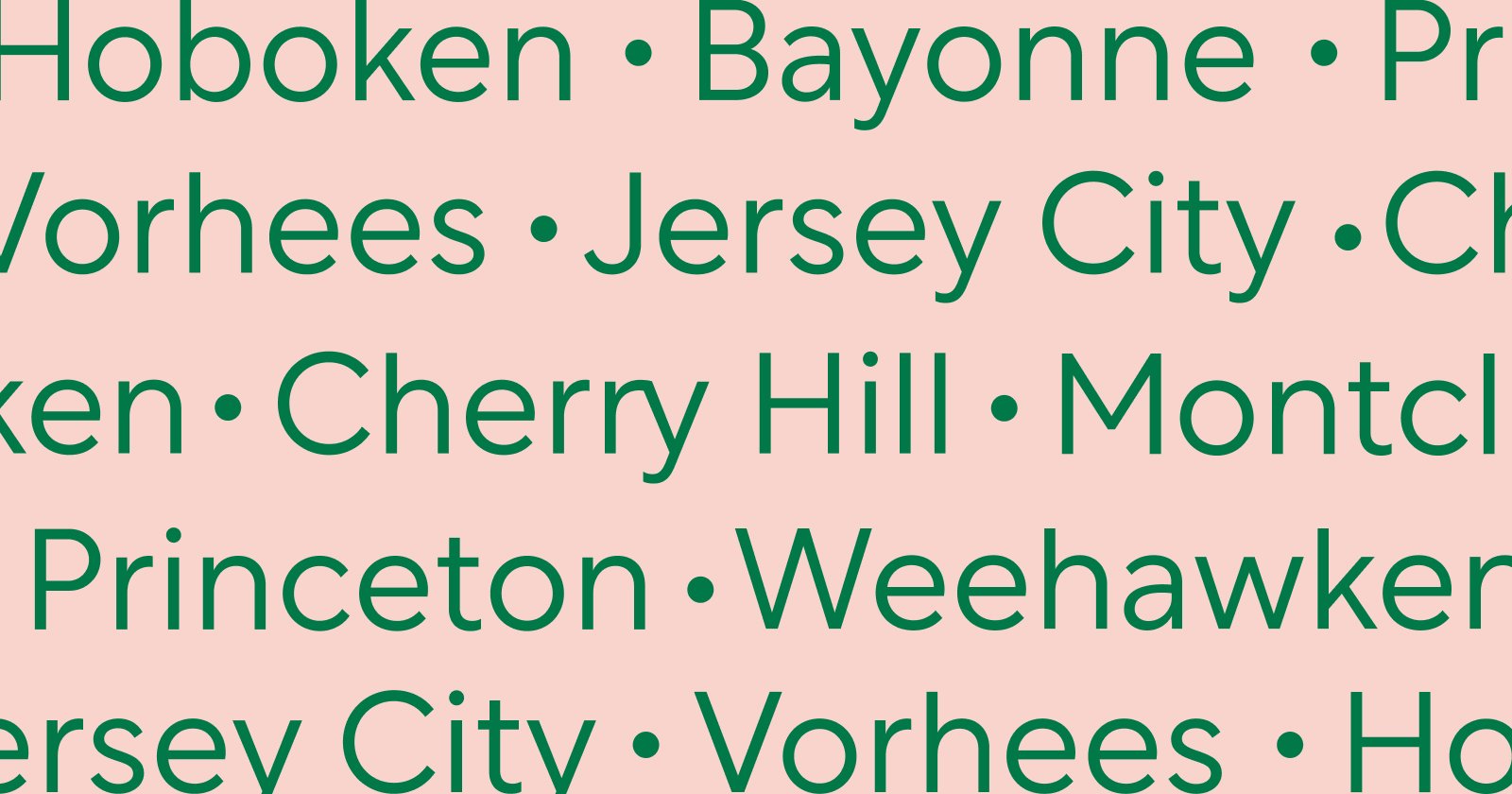 What You'll Learn
Where New York and Philadelphia commuters should consider buying in New Jersey
How New Jersey's taxes relate to property and out of state workers
7 steps to buy a home in New Jersey
As the 4th most diverse state in the country, New Jersey literally has something for everyone. By area, it's the 4th smallest state in the US, but it's the 11th most populous state with 8,874,520 people. Despite this it's teeming with small towns: 66% of New Jersey municipalities have populations under 15,000, 31% of these have less than 5,000 people. So if you want that small-town feel with big-city opportunities, New Jersey is the place to be.
It's got easy access to New York City and Philadelphia, 130 miles of beaches, and it's rich with popular mountain destinations for skiing, hiking, fishing, and camping. For all the jokes directed its way, New Jersey dusts off its shoulders knowing it's home to more millionaires than any other state in the US. That's not too shabby given New Jersey is the 3rd richest state in the country and it's a leader in pharmaceuticals, telecom, and agriculture. If you're not already thinking of buying a home in New Jersey, maybe you should—clearly, it's got a lot going for it.
Best places to live in New Jersey (and the median list price for houses)
| North New Jersey (for New York City commuters) | Central New Jersey | South New Jersey (for Philadelphia commuters) |
| --- | --- | --- |
| Montclair $999,000 | Princeton $1,050,000 | Haddonfield $739,000 |
| Hoboken $1,672,500 | Edison $409,949 | Collingswood $350,000 |
| Jersey City $550,000 | Basking Ridge $1,179,000 | Cherry Hill $299,900 |
| Bayonne $449,000 | South Brunswick $399,950 | Moorestown $911,750 |
| Weehawken $1,349,000 | Bridgewater $649,450 | Vorhees $525,000 |
Median list prices sourced from the Better Real Estate Market Report, June 8, 2021.
With so many great places to choose from, the best place to live depends on what you're looking for. In the first quarter of 2021, the average home price across the state was $500,628. This is an increase of almost 25% compared to the same period in 2020 and much of this jump can be attributed to New Yorkers fleeing the city in search of space to shelter from the COVID-19 pandemic. Manhattanite buyers have always been attracted to Jersey locations a short commute from their offices as their dollars go further west of the Hudson. Since 2020's rise of remote work and more companies flirting with permanent work from home/work from office hybrids, people are now choosing suburbs and towns that offer the lifestyles they really want to lead.
Buying a home in NJ? The real estate market is hot, damn hot
For the first half of 2021, an imbalance of supply and demand has been driving up the list prices of homes. This is also reflected in national trends: builders have been producing half as many new homes as they used to, extensive capital gains and low-interest rates have been incentivizing homeowners to refinance, and the pandemic has prompted many current homeowners to stay put. So if you find a home you love, be ready to seize the day.
Being prepared is your key to success in the New Jersey real estate market. Have your pre-approval letter and proof of funds ready. For competitive markets like New Jersey, Better Mortgage offers a verified pre-approval letter which shows we've underwritten your finances and gives you the certainty and confidence of a cash buyer. Get pre-approved, and ask your loan consultant to talk you through the verification process.
If you see a new home listed on Monday, try to see it that day—if you wait until the weekend, there may be multiple offers on the table before you even see the home. Bidding wars are common, so be ready to put in an offer above the asking price. If you find yourself competing with all cash offers, work with your real estate agent to find ways to make your offer more attractive. Some buyers are offering to waive home appraisals, but to do this successfully you'll need to have cash on hand for a large down payment and/or money set aside to cover an appraisal gap if the appraised value of the home you're after is less than the purchase price.
New Jersey property taxes are high, very high
Homeowners in New Jersey pay the highest property taxes in the country. The exact property tax levied depends on the New Jersey county the property is in. But to give you an example, counties in New Jersey collect an average of 1.89% in property taxes based on the assessed fair market value of a home. On a home worth $348,300, the median property tax in New Jersey would come to around $6579. On the bright side, however, New Jersey homeowners can claim a property tax deduction for $15,000 or the amount of property taxes paid, whichever is lower.
If you work out of state, you may score some tax savings
If you live in New Jersey and work in New York, you will have to file two state taxes, but you won't need to pay New York City taxes. Not paying NYC taxes could save you up to 3.5% of your income each year. New Jersey residents working in New York State must file a New York Nonresident Income Tax return (Form IT-203) and a New Jersey Resident Income Tax Return (Form NJ-1040). Your New York employer will withhold New York state taxes throughout the year, but when tax season rolls around you'll get a New Jersey tax credit. It doesn't work out to be a straight dollar-for-dollar exchange, but the credit can be substantial. In addition, the income tax rate and sales taxes for New Jersey are both lower than New York's.
If you live in New Jersey but work in Pennsylvania, you'll be pleased to know that the two states have a reciprocal tax agreement. This means you'll only pay taxes in the state where you live, rather than where you work. There have been concerns that this agreement may be discontinued in the future, so as with all tax information, you should consult your tax advisor for information relative to your unique tax situation.
How to buy a home in New Jersey
As we've said, the market is hot so you need to be ready. Better Mortgage has got you covered with the Definitive Homebuying Checklist. Given that inventory is low and time is of the essence, it pays to have everything ready for your New Jersey house hunt, which means having a pre-approval letter and real estate agent before you start going to showings. That's not to say you can't use your favorite real estate app to window shop while you get all your ducks in a row—in fact, it's a great way to get a feel for the homes and areas you're interested in. That way, when you see the home you want you can be ready to pounce.
1. Set your budget with a pre-approval
In as little as 3 minutes you can get a sense of how much home you can buy with a pre-approval from Better Mortgage. Another thing to look at is how much you have saved for a down payment. While you can be approved for a loan with a down payment as low as 3%–5% of the home's purchase price, it helps to have more so you can be competitive in the New Jersey housing market. You should aim to have enough cash to cover closing costs (these are typically 2%–5% of the loan amount), but if you don't, speak to your lender about getting a no-closing-cost mortgage.
2. Choose the neighborhood(s) that work for you
Think about what it is you really want in a home: is it a big backyard, proximity to work, easy access to public transit? Knowing your budget and what you're looking for will help you narrow down your search area. Next check the median property values of the areas you're interested in to find a home with the perks you want, at a price that suits your budget. This is also a good time to start brainstorming your must-haves and deal-breakers. If you plan to commute, try doing a dry run to see if it's a distance you could handle. If you have a family or are thinking of starting one, you'll be pleased to know New Jersey has some of the highest-ranked schools in the nation. (Thank you, property taxes.)
3. Find a New Jersey Realtor and a real estate attorney
It's wise to partner with a buyer's real estate agent who knows the area. They'll be able to tell you which neighborhoods are primed to go up in value and which you should stay away from. You want someone experienced, efficient, and ultimately you're looking for someone who gets you. Better Real Estate can match you with an expert New Jersey agent who can help you find the right property, and save thousands on the home you really want.* An attorney is not required by law to close on a home in New Jersey, but you will need one to review the sales contract.
4. Start attending showings and open houses
There's only so much you can see in a photo so this is your chance to explore everything in real life. If you're one of the many new homebuyers who are shopping remotely, lean on your real estate agent to create virtual showings for you or call them on facetime while they walk through the property. Keep your pre-approval letter and proof of funds on hand as you'll need them to show sellers you're serious.
5. Make an offer and have your attorney review the contract
Work with your real estate agent to come up with a competitive offer for the home you want. They'll know how to write up an ironclad offer, how to sweeten the deal, and what contingencies are appropriate. From the time an offer is accepted, New Jersey law ensures homebuyers and sellers have 72 hours for their attorneys to review and negotiate the sales contract. This period is when you or the seller can propose changes to the contract. Once the contract is agreed upon and signed, you'll need to make a good-faith aka earnest money deposit to the seller's attorney or broker. You'll need to pay the remainder of the earnest money by the date specified in your contract.
6. Work toward mortgage approval and closing
This is where things get busy. At this stage of the homebuying timeline, you'll be arranging your financing while also ensuring everything else about the property is up to snuff.
a. Choose a loan and get your docs together
To help you compare loans, lenders have up to 3 days to provide you with a loan estimate. With Better Mortgage you can answer some simple questions and we can get you your loan estimate right away. If you'd like to talk through competing offers you can contact us by phone (888-501-3186), email (hello@better.com), or chat with us via Better.com and we'll be happy to answer all your questions.
Once you've decided on a loan, you'll need to gather documents verifying your income, assets, and debts. Tracking these items down early will help you keep the mortgage approval process on track. You'll also need to select home insurance—Better Cover can help you find policies from top insurers using your Better Mortgage application.
If you'll be closing in north Jersey, it's common for your attorney to handle the title search and closing. If you're in south Jersey title search companies typically handle all the title and closing work: Better Settlement Services can do all of this for you.
b. Schedule inspections and appraisals, then renegotiate
New Jersey is a buyer beware state, which means the onus is on you, the buyer, to discover any issues with the property. Even so, sellers are obligated to disclose the hidden material defects that they're aware of and may be sued for making false statements about the condition of the property. You should hire a licensed inspector to conduct a general property inspection and potentially inspections for the following: termites, asbestos, radon, and lead paint. The age of your home and its location will indicate to your realtor what additional inspections you should arrange. If the inspections reveal any issues, your attorney can help you negotiate for repairs or a reduction in the home price.
c. Obtain the appropriate certifications from the seller
Under New Jersey law you may also need to obtain the following certifications: well certification for homes with buried wells, buried oil tank certification, certificate of occupancy, septic tank certification, flood search. Again, your real estate agent can help you identify what would be necessary for the home you're buying.
7. Final walkthrough and closing
When your loan is cleared to close your lender will provide you with a closing disclosure. You'll have 3 days to review this and compare it to the original loan estimate the lender gave you. On the last day of this 3-day review period, you should schedule a final walkthrough of the property to make sure the home is in the condition you agreed to buy it in. Your loan signing will take place 4 business days after you receive your closing disclosure. You should schedule the loan signing as early as possible in the day to ensure the documents can be signed and you can get the keys all on the same day.
At Better, we think you should have everything you need to buy a home at your fingertips. That's why the Better family includes all the companies you need to get a home. Schedule a call with Better Real Estate to get matched with an expert local agent and learn how you can team up with Better Mortgage to save $2,000 on your closing costs.* Better Cover can give you homeowners insurance quotes in seconds, and when you find the right policy, they'll help you finalize it. Better Settlement Services has the inside track on title and settlement services to make it easier for you to close on schedule. And the Better family works together to make your entire New Jersey homebuying experience seamless.
Get pre-approved today in as little as 3 minutes and you'll be one step closer to owning a New Jersey home.