Buying a house out of state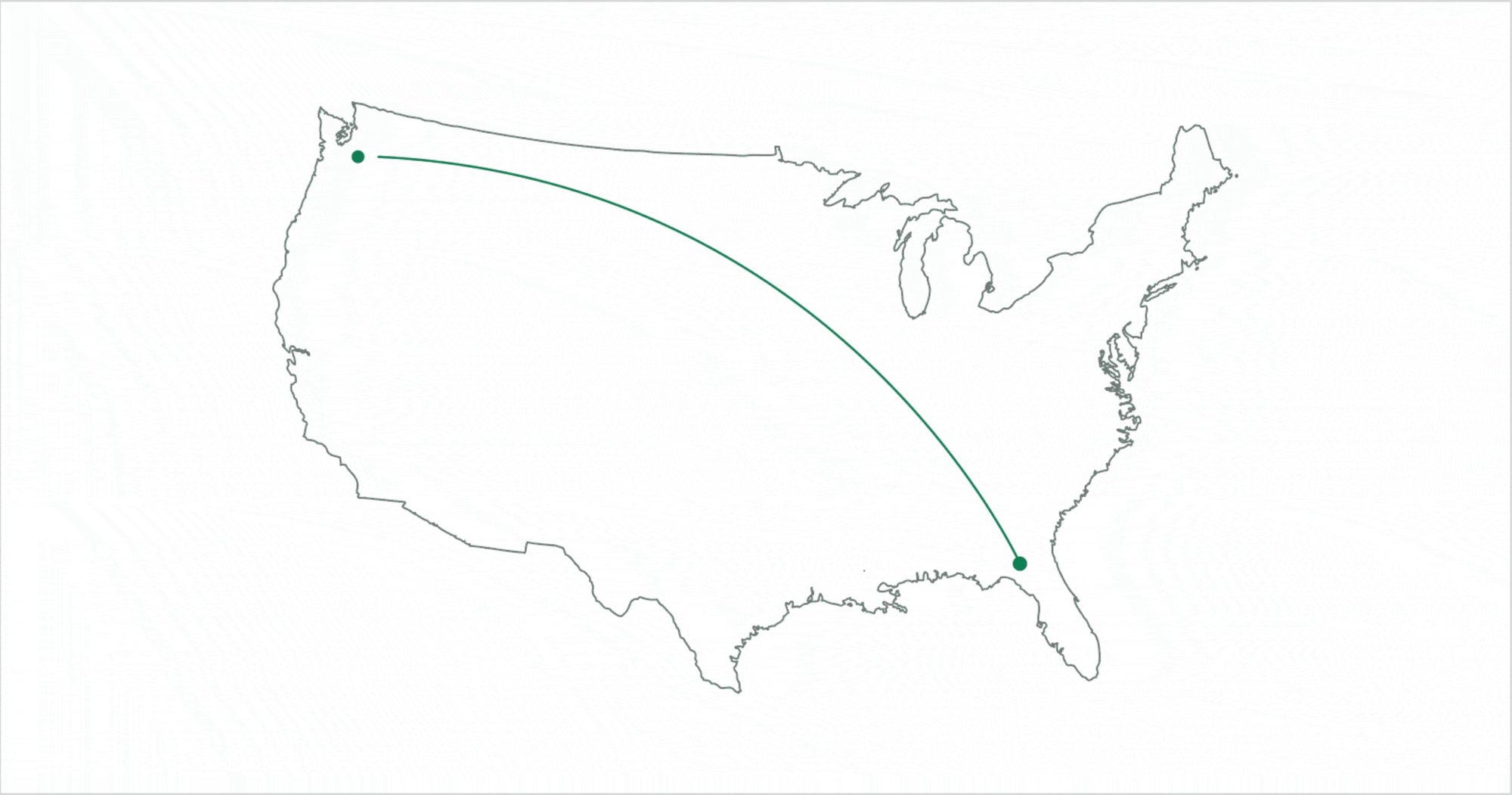 What You'll Learn
Ways to get to know out-of-state real estate markets
The best online house hunting techniques
How to get the most out of your local real estate agent
How to buy a house in another state
If you're thinking of moving to another state, wouldn't it be lovely to travel to your desired out-of-state location, lazily tour homes when it suits you, and make an offer on a property while sipping cocktails? Few of us live that kind of HGTV life, and in reality most of us probably need to look at more than 3 homes before deciding which house to buy. Even if you're able to do your out-of-state house hunt in person, with today's ultra-competitive market (and any spare cash earmarked for the next bidding war), many are turning to digital solutions to complete their home purchase remotely. While calling the process "online shopping" may gloss over some of the more time consuming realities, the fact remains that technology has made it easier than ever to buy a home sight unseen. In February of 2021, almost 2 out of every 3 buyers bought a home without ever stepping foot in the property. You can too, if you follow these tips.
First, see how much house can you afford
Swiping through home pics on a real estate app can be a delicious pleasure, but when you're looking to buy it's good to have at least a rough idea of how high you should be setting those price filters. This home affordability calculator will give you an idea of the price range you should be looking at. For a more accurate indication of how much you can borrow, get a pre-approval letter—it takes as little as 3 minutes and will give you an edge over other homebuyers.
Then, see how far your money will go
If your job or living situation gives you the flexibility to live anywhere, it can be easy to get caught up in romantic notions of sunny waterfront living or a private mountain escape. But before you start packing your inflatables or hiking gear, it's important to know how far your money will go in the state you're looking to buy into. Check out this cost of living calculator to get a guide of how far your dollars will stretch in the most populous metro areas across the country.
Next, get to know the local real estate market
The homebuying frenzy of 2020 demonstrated how dramatically different real estate markets can be—even within the same state. Some counties that were considered sleepy in normal times were red hot with buyers driving up prices. Other areas, that were usually crawling with buyers, had homes on the market for months. The Better Real Estate Market Report will give you the real-time lowdown on the area you're looking at. Just enter the ZIP Code(s) you're looking at, and you'll see a range of helpful info including the median list price and price per square foot for both houses and condos in the area. The report also includes the Market Action Index which tells you whether it's a buyer's or seller's market. If it's a seller's market that means there are more buyers than there are homes for sale. So you may want to consider setting your initial housing budget a little lower than the maximum you could pay so you've got some money set aside to make competitive offers at or above a home's list price.
Psst: The right property taxes can get you more house
For many out of state homebuyers, nothing is certain except debt and taxes. However, a little digging into the local property tax ordinances can uncover some unique opportunities. As you know, property taxes vary by city, county, and state. What you may not realize is how this can impact your homebuying budget. For example, a $300,000 home in an area with a 3.5% tax rate may end up having the same monthly payment as a $350,000 home in an area with a 3% tax rate. To get a ballpark figure of the taxes in the neighborhoods you're considering, look at the assessment and tax information on the real estate listings for comparable properties in different neighborhoods. Alternatively, you can go straight to the county website to find out the annual property tax.
Some states offer property tax incentives to encourage homeowners to preserve historic properties. Some cities, such as Los Angeles, offer condo owners in historic buildings ongoing property tax discounts. If you'd like a home with a little history, keep this hot tip in mind.
To get an idea of the property taxes for specific homes, check your favorite real estate app—most include at least a rough estimate of the kinds of ongoing taxes you may have to pay. Some even include property tax history, which can be a great way to get an indication of how your property taxes may change over time. If you find a neighborhood you love, don't let high property taxes scare you away: go into the house hunt with your eyes wide open. Higher property taxes usually indicate higher property values and more investment into schools and community services (all that tax revenue has to go somewhere).
A good real estate agent will be able to get you the inside info on the property taxes for the homes on your shortlist. Don't forget to ask if they qualify for any tax discounts.
Get to know the neighborhood
Now that you've narrowed down the areas that interest you, it's time to take a deep dive into the neighborhood itself. After all, you're not just buying a home, you're buying a whole neighborhood lifestyle. And if you're buying a condo, you'll be in close quarters with the neighbors that come with it.
Ask yourself: Do you want to live in a lively area or a sleepy town that's family friendly? Do you want your own yard (and) or public parks and biking trails? How important are local amenities, good restaurants, and an art scene? Are you all about roads and freeways, or do you prefer high walk scores and good public transportation? Another thing to consider is school districts. Even if you don't have school age children, homes in a good school district can be a great investment for when it comes time to sell—so take a peek at the schools.
If you can, take a trip to walk the streets in the area you're interested in. If you can't, take a click through Google Maps Street view. While you're there, search the top things to see and do in the area. The city website is often a great resource on the services, facilities, parks and recreation areas offered by the city. City laws and ordinances will also be there if you're into that kind of thing.
Get the most out of real estate photos
We know you've been swiping through home listings this whole time, but have you been looking at them the right way? The photos you see in real estate apps are similar to photos in dating apps: Almost any photo can look good with the right lighting and angles. And almost any home can look spacious with a wide-angle lens.
This is why room dimensions and floor plans are key. A lot of agents now use virtual staging to give you a better sense of scale in an empty room, but the size of virtual furniture they use is easily manipulated. If you can't be there yourself, nothing beats getting a tape measure out and seeing if the furniture you own will actually fit in the space they're selling.
Find the right real estate agent to find the right home
When you're buying a home out of state, a local real estate agent is especially important: they're your boots on the ground, your eyes and ears, and when it comes to home inspections, your nose as well. A good real estate agent can give you all the deets on the neighborhood (and the neighbors), and the dirt on developers and HOAs.
Make sure you find an agent with experience working with out-of-state (or international) buyers. Ask how they stay in touch and how available they are as they'll be attending open houses, negotiations and inspections on your behalf. Your local pro can also let you know what local developments could impact the area, insights into local buyer/seller behavior, and all the info you need on property taxes (and tax discounts). If you don't have an agent yet, Better Real Estate can match you with an expert local agent. Plus, by working with a Better Real Estate agent and choosing to finance with Better Mortgage you can save $2,000 on closing costs.*
Ask your agent for personalized virtual tours
Spend enough time on a real estate app and you'll come across a wide range of virtual home tours. 3D virtual tours are the gold standard because they give you one thing real estate photos don't: a clear view of all 4 walls in a room. When you look at all real estate photos, you have to ask yourself, "What are they not showing me?" Is there a big crack in the wall behind the photographer? Perhaps a large hot water heater in the corner of a bedroom? Are those closed curtains hiding an ugly brick wall? This is where boots on the ground can give you all the intel you're missing.
Ask your real estate agent to video call you from the properties on your shortlist. If your availability and time zones don't sync up, ask them to record a walkthrough of the home and highlight any blind spots not shown in the home's real estate listing. Direct them to focus on details like the finishes used in a renovation or the artistry of crown moldings: in short get them to capture the things that would normally catch your eye. Don't be shy about asking them to visit a home you love at different times of the day—this is common for in-person showings. And once you've made an offer, don't skimp on the property inspection. Your real estate agent can send you videos of the inspection process to supplement the report you'll receive.
Learn the requirements for buying a house in another state
Depending on the state, you may need to lawyer up
Given that living costs, house prices, and home styles differ from state to state, it should come as no surprise to learn real estate laws also have their local flavors. Some states are very particular about who can and cannot be involved in real estate transactions. For example, many states near the east coast require an attorney to close a home purchase. Some require an attorney for the entire closing process, while others may only need an attorney to be involved in the preparation of specific documents. Real estate laws are constantly being revised, so ask your real estate agent which professionals you'll need on your homebuying team.
Got plans for your purchase? Make sure it's in the zone
Before you put money down on a home, make sure the zoning laws, building codes, and property lines will let you follow through on your dreams. Planning on starting a home business? Check to see if the home is zoned for live/work use. Parking restrictions could mean the boat or trailer you have your eye on may need to be parked elsewhere. Fancy freshly laid eggs every morning? You'll want to see if local ordinances will prevent you from having a chicken coop in the backyard. Be open with your real estate agent about how you'd like to use your new home and the lifestyle you plan to lead. If they don't know all the ins and outs off the top of their head, it's their job to find out for you.
Pair your digital house hunt with a digital lender
With smartphones, you're able to do all your house hunting from the palm of your hand—and now your mortgage process can be just as easy. Our all-in-one digital platform makes your out-of-state home purchase as smooth as possible: from finding a local real estate agent, securing a mortgage, to shopping for homeowners insurance. As an online mortgage lender providing home loans across the US, Better Mortgage understands the lending nuances of where you are and the state where you want to be. With Better Mortgage you can get a pre-approval letter in as little as three minutes so you'll be ready to begin your out-of-state house hunt today.