The essential home inspection checklist for homebuyers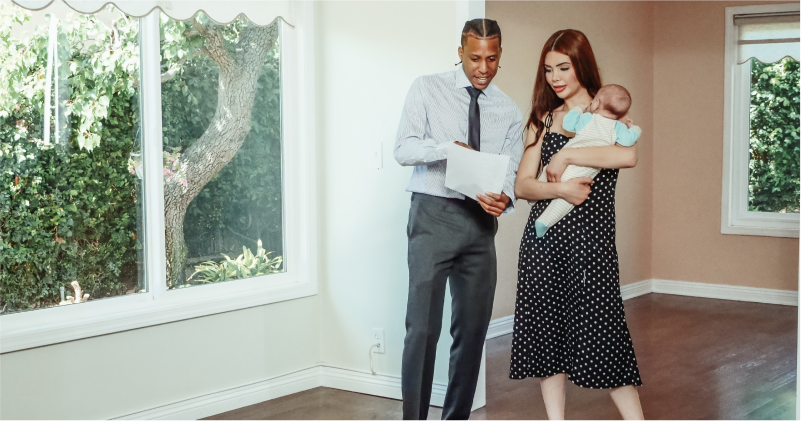 What You'll Learn
How a home inspection works and why it's important
What to do with the results of your home inspection
When to schedule your home inspection
After you make an offer on a house, there's not much to do but wait. While you're dreaming of the words every homebuyer longs to hear ("Your offer got accepted!") why not focus on prepping for what comes next: the home inspection.
Inspections are an opportunity to "kick the tires" on your potential home and identify any red flags before finalizing things with the seller. In most parts of the country, you'll work with a licensed home inspector who knows what to look for, what to test, and how to proceed based on the results of what they find during this process. Need a crash course in home inspections? Here's what you should know:
What is a home inspection?
Inspections are a critical part of buying any home. This is your chance to see if a particular house is up to code and structurally sound before you get to the closing table. The purpose of a home inspection is to assess the current condition of a property and identify potential problems, damages, or necessary repairs. Most offers are "contingent" upon the results of the home inspection, meaning you have the option to back out of the purchase if you don't like what you find.
By the time you bid on a home, you've presumably done a cursory evaluation to ensure it meets your standards. Visiting in person (or even virtually!) can give you a gut sense of the shape a house is in, and help you spot obvious issues like water damage or outdated roofing. But a formal inspection is more thorough—it's a comprehensive, floor-to-ceiling evaluation conducted by a professional who has your best interests in mind. Home inspectors can also help you spot things below the surface (plumbing, foundation, electrical, or otherwise) that drive up costs in the long-run or even impact your decision to buy the property.
What does a home inspector look for?
Home inspectors are concerned first and foremost with the safety of a home. They're also focused on flagging potential costly issues and identifying repairs that need to be made either now or in the immediate future. To give you an idea of how the process works, we assembled a basic rundown of what a home inspector will assess. Keep in mind that inspection standards can vary state by state; while this isn't an exhaustive list, it's a good starting point for anyone looking to learn more about how the process works:
Grounds and landscaping
Property maintenance and upkeep is the homeowner's responsibility; your lot can have an impact on the condition and safety of your home. Here are a few of the most common things an inspector will look for:
Drainage to direct water and runoff away from the house
No branches or trees hanging over the home
Walkways and driveways in good condition
No pest damage or rot in garages, fences, sheds
Safety railings installed on decks, porches, stairs
Home systems
Effective temperature control, good water pressure, proper wiring—these are just a few of the things that keep your home safe and liveable. An inspector will evaluate these following systems with a fine-toothed comb to confirm they're fully operational and safe. Here are a few of the most common things an inspector will look for:
HVAC
Heating/cooling reaches all rooms
Proper insulation installed in home and attic
Good ventilation throughout home
Clean air filters and ductwork
No rust or other damage to cooling unit
Plumbing
No leaks in kitchen or bathroom
Caulking and tiles in good condition
Toilet, tub, and shower operational
Effective drainage and exhaust systems
Good water flow and pressure to all fixtures
No rust or signs of decay/damage
Pipes visible and in good condition
Hot water heater operational
Electrical
Outlets and lights working properly
Outlets up to safety codes in each room
Visible wiring, properly secured and terminated
Service panel in good condition, not overheating
Safety
Smoke detectors and fire alarms operational
Carbon monoxide alarms operational
Well water conditions meet safety standards
Hot water temperatures at normal levels
No presence of mold or asbestos in the home
Exterior of home
The roof, siding, windows, and doors protect your home from the elements and they need to be properly maintained. Here are a few of the most common things an inspector will look for:
Roof and siding in good condition, no damage
Windows and door frames plumb straight, airtight
Level foundation, no sagging, bowing, cracking
Paint job in good condition, no flaking or chipping
No stains, vines, or rot on any exterior surface
No broken glass or ripped screens
Properly installed and cleaned vents
Gutters and chimneys in good condition
Interior of home
Fireplaces, attics, and basements have lots of component parts that can pose serious threats to safety if damaged. Here are a few of the most common things an inspector will look for:
No evidence of water damage or rot on walls, ceilings, floors
Windows and doors open, close, and lock properly
Fireplace fully operational, no evidence of damage
Walls and ceilings are straight and level
Built-in appliances working properly
Basement and attic clear of damage
Things that fail a home inspection
Home inspection reports are supposed to include detailed notes about things ranging from small cosmetic blemishes to extensive structural damage. You probably won't have to pump the brakes on buying your home for minor stuff. It's a different story if the findings are significant enough to fail the inspection. In general, if the issue is pervasive (affects the overall integrity of the home) or expensive to fix (posing a significant additional cost to the buyer), it might be reason enough to fail a home inspection:
Structural damage. From cracks in the foundation to water damage in the basement, structural problems can be expensive to fix and jeopardize the overall safety of a home.
Roof damage. Roofing acquires wear and tear at different rates, depending on the material. A poorly maintained roof can be prone to leaking or collapse, which puts the entire home in danger.
Electrical issues. The consequences for improper or outdated wiring can be high, with the biggest concern being an electrical fire. Keeping electrical systems up to code is essential.
Plumbing problems. Water and sewage leaks can be the source of extensive structural damage. On top of that, appliances like hot water heaters are expensive to repair.
Evidence of pests. Termites and other bugs can wreak havoc on the structural integrity of a home. Any indication of pests needs to be investigated and addressed.
Mold, asbestos, lead. Health and safety are the top priorities in a home inspection; any of these three substances can pose a significant risk to residents.
How long does a home inspection take?
From start to finish, a home inspection usually takes 2–3 hours. Afterward, the home inspector will give you a report on the condition and structural integrity of the home. If the results of the inspection indicate major updates are necessary, you'll have a chance to rescind your offer, negotiate with the seller about making repairs before the sale goes through, or reduce the purchase price to compensate for unexpected costs.
How much does a home inspection cost?
Inspectors are buyer advocates. As such, it's the buyer's responsibility to find a qualified inspector, schedule the visit, and pay for the inspection. While home inspections aren't technically required to get a loan, they are considered part of your due diligence as a buyer. A typical inspection will cost a few hundred dollars—there might be additional costs depending on where you live and if you need extra services, such as a pest inspection—but can save you thousands in the long-run.
Home inspection reports can also provide important insights going into the appraisal process. Lenders rely on appraisals to determine the value of your home and confirm that this value matches the amount they're planning to lend you. A home inspection report will tell you if there are any deal-breakers upfront, and potentially save you the cost of the appraisal altogether if you decide not to go through with the transaction. If you do move forward, your home inspection results will be an indicator of what to expect from the appraisal. If there are appraisal issues (for example, major repairs that drag the appraised value below the asking price), you can ask the seller to make the necessary repairs or adjust the price to reflect the appraised value. Either way, you'll want to come to an agreement quickly to prevent a delay in the loan process—your loan can't get finalized until necessary updates are made.
Home inspection tips for buyers
It might go without saying, but the best thing you can do to ensure a successful home inspection is to enlist the services of a reputable home inspector. Ask your real estate agent if they have someone they can refer, and do your own research to make sure they're a good fit for your needs. A quick search online may turn up reviews from other homebuyers. You can also confirm that your home inspector is indeed licensed (or at least accredited, depending on your state). Some states, such as California, do not currently require home inspectors to have a license. However, they may be certified by a trade association anyway.
Beyond that, you should always make sure that the right to a home inspection is written into the contract as a contingency clause. It's not enough to get a verbal "sure thing!" from the seller; you need the terms and timeframe in writing. This will be especially helpful if it turns out the home is riddled with problems and you need to get your earnest money back. Also, on the off chance that you're buying from a family member/friend/someone you know and trust, you should still insist on getting a home inspection. In fact, if anything, it's more important to get a home inspection in these circumstances. Can you imagine how awkward it would be if Aunt Mavis sold you that mid-century modern ranch she'd been holding onto for years, and then you moved in and discovered the roof needed $50,000 in repairs?
Of course, you shouldn't expect to get an impeccable report back from your home inspector, either. All homes have flaws—even those that are supposedly "turnkey" or move-in ready. Ideally, any flaws that are surfaced in the home inspection are the kinds of minor issues that you can either learn to live with or choose to fix at a relatively low cost after you move in. In the event that there are larger issues with the home, your real estate agent may advise you to go back to the negotiation table to ensure that the seller repairs the home before you close or compensates you for repairing it yourself. Remember, if you're not happy with the results of your home inspection report, you can also choose to back out of the offer (and get your earnest money back!) before the contingency date within your purchase agreement.
Organizing a home inspection
So, when do you need to schedule your inspection? After you make a bid on a home and it's accepted by the seller, it's time to find a home inspector. With that said, we recommend researching local home inspectors in advance of making an offer. By getting a jump on this to-do, you'll be prepared as soon as the seller accepts.
This is just one way to streamline your homebuying experience with Better Mortgage. Our automated and digital process will also speed up the process and help you close your loan 10 days faster than the industry average. Ready to see how easy it is? Start by getting pre-approved in as little as 3 minutes.