A complete guide to what an appraisal is and the home appraisal process
Published November 2, 2020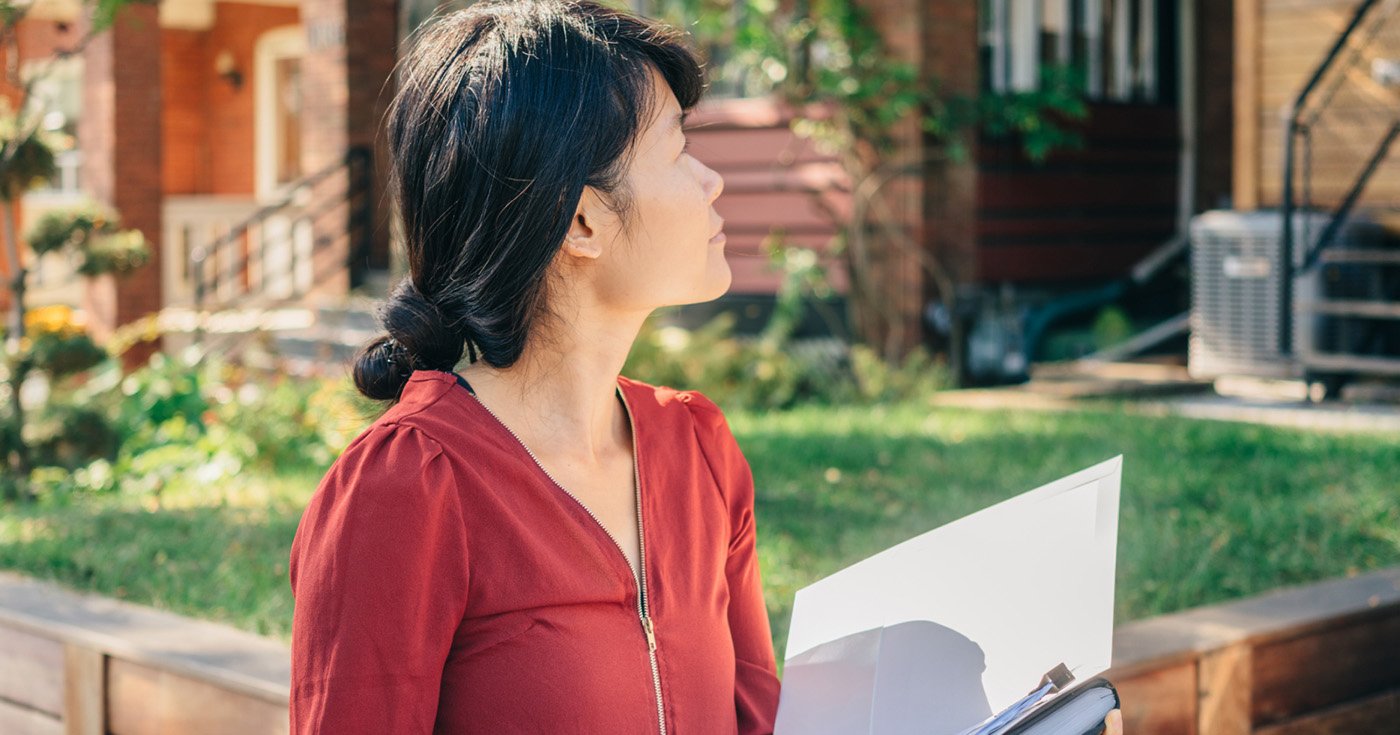 What You'll Learn
Why a home appraisal is an important step in securing a mortgage
What factors go into a home appraisal evaluation
How you can make the most of your appraisal
Whether you're buying a house or looking to refinance, knowing the true market value of the property is one of the most important factors needed to complete the mortgage process. And it usually means getting an appraisal.
Appraisals are a required part of the mortgage process because they help ensure that the value of the home does not exceed your loan amount. You might feel like the outcome is out of your control, but knowing what to expect can help put your mind at ease.
Here's a breakdown of what you should know about a home appraisal, the estimated timeline, and how it can influence your future purchase or refinance loan amount.
What is an appraisal?
A home appraisal is an unbiased opinion of a home's value based on a formal market data evaluation by a licensed or certified appraiser. Before you can secure a mortgage, a lender will usually request an appraisal to ensure your future loan amount is within a certain percentage of what the home is worth, also known as your loan-to-value (LTV) ratio.
If you're buying a home, the appraisal helps confirm that a seller's price is reasonable. This evaluation is essential to both you and your lender because it ensures you don't pay, or get a loan for, more than the home is worth. You may want to avoid overpaying, and your lender definitely wants to avoid lending over the market price in the event of a foreclosure.
If you're refinancing a home, the appraisal helps confirm the amount of equity you have in your home. Your home equity is the market value of your home minus the amount of money you owe on your mortgage. This is important because:
It demonstrates your home's value in the current market
It shows the lender your loan-to-value ratio, which determines how much you qualify to borrow
In a cash-out refinance, it determines how much equity is available to you
Lenders typically order the appraisal through an appraisal management company (AMC), which will select an appraiser with local-market knowledge to complete the analysis. To ensure an unbiased evaluation, assessments must meet the Uniform Standards of Professional Appraisal Practice (USPAP) guidelines. Appraisers also must not be affiliated with anyone who has a financial interest in the transaction, including the lender, loan officer, real estate agent, homeowner, or seller.
This service—which ranges from $400-900 for a single-family home—is often factored into your closing costs.
A home appraisal is different from a home inspection, in which a licensed property inspector checks to see if your home is up to code and structurally sound during the homebuying process. (Note: a home inspection is usually not required for a refinance.)
How long does an appraisal take?
From start to finish, the appraisal process usually takes no longer than 2 weeks to complete.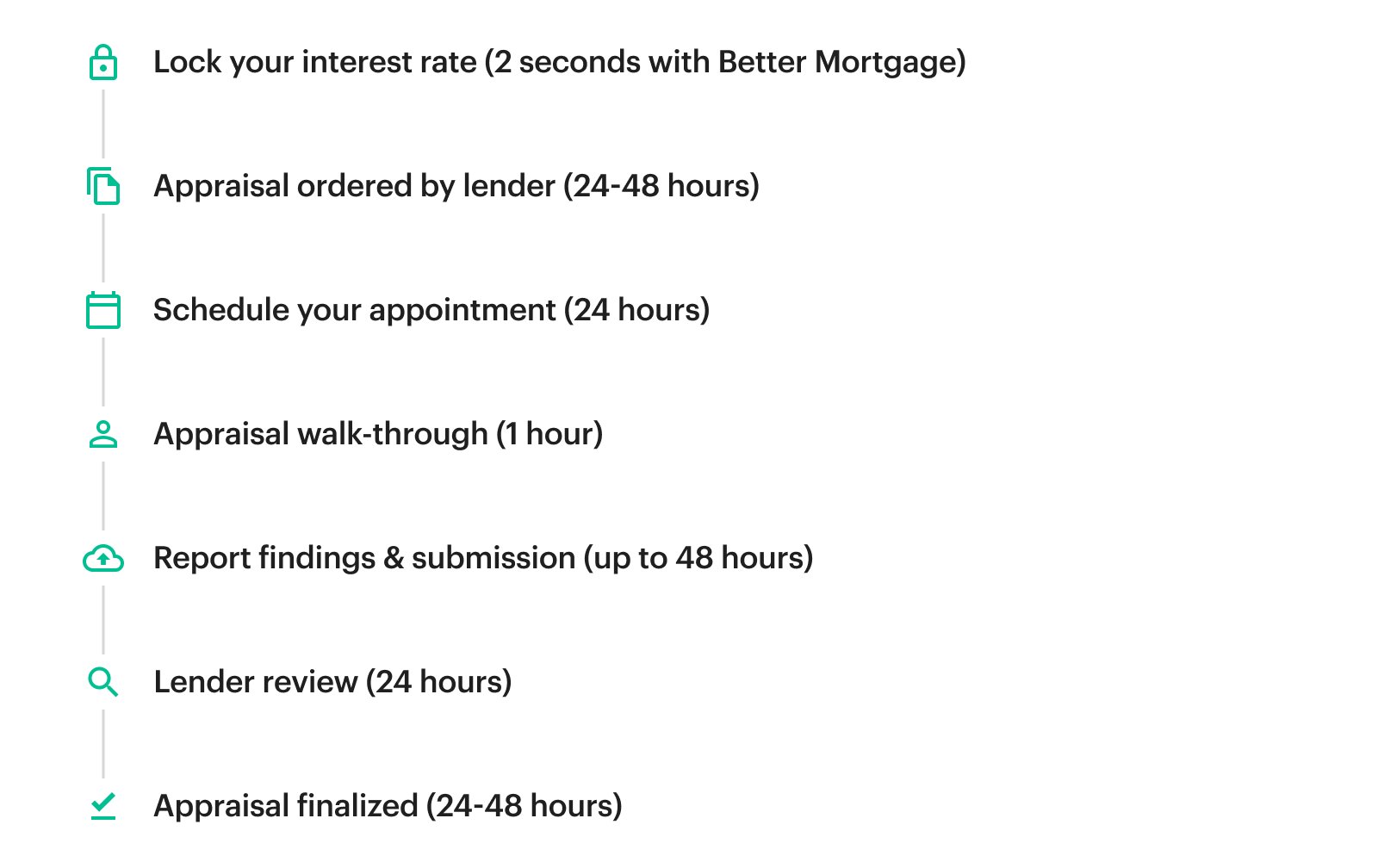 At Better Mortgage, we make sure the appraisal process is as quick and painless as possible. Here's what happens at each step:
Appraisal ordered: First, we'll order the appraisal as soon as you lock in your mortgage rate.

Appointment scheduled: Within the first several days, the appraiser will contact you (or the homeowner) to schedule a convenient time for the appraisal.

Appraisal walkthrough: On the day of the appointment, the appraiser will conduct an onsite evaluation, which includes reviewing the home's exterior and interior. The onsite inspection usually takes no more than an hour, though it can depend on the size of the house and surrounding property.

Findings reported: After the onsite visit, the appraiser will complete and submit their report to the AMC, which will then share the final findings with your lender.

Lender review: The lender will look over the appraised property value to ensure the borrower's desired loan amount is in line with the loan's qualification guidelines.

Appraisal finalized: Following their review, the lender may request revisions to the appraisal before it is finalized. These requests are often to correct minor errors, such as the spelling of the borrower's name, but more extensive changes may be required to ensure the final appraisal meets the lender's internal standards. For example, the lender may ask the appraiser to comment on whether the home's appliances are in working order.
Keep in mind that there are specific requirements, including limits on how much you're allowed to borrow compared to the home's overall value.
Once reviewed by the lender, the appraisal report is usually offered to you for your review, and you're one step closer to closing.
What affects the appraised value?
You may be wondering what goes into nailing down a final number for a home's actual value. Here's a breakdown of what is considered in an appraiser's calculations:
Size and floor plan: The size of the home, including square footage, the number of bedrooms, and the flow of the floorplan
Renovations and upgrades: If any additions or modifications have been made, they must comply with your local building codes
Exterior condition: The overall structure, including construction quality and the condition of the foundation, roof, and exterior, as well as the yard or other property surrounding the house
Interior condition: This includes "fixture" appliances, such as the refrigerator and washer/dryer, the heating and air conditioning system, and other design upgrades and amenities
Surrounding area: Neighborhoods and school zones can influence the value of your home. Other factors can include crime rate, proximity to busy roads, and nearby amenities
Recent sales: Comparable sales of similar properties in the surrounding area help determine the appraised home's value
Can an appraisal be waived?
In some cases, a home appraisal may be waived altogether. This is known as an Appraisal Waiver. Lenders, like Better Mortgage, who offer Fannie Mae loans may remove the onsite appraisal condition on certain home purchases or refinances. In these cases, lenders use existing data about the estimated value of a given property instead of relying on an appraisal report.
While an Appraisal Waiver is not guaranteed, to be eligible for one, the property and loan terms must meet some very specific eligibility requirements:
Only single-unit properties, including condominiums are eligible
The loan amount cannot exceed 80% LTV on a principal residence or second home purchase
Property in a "high needs" rural area may not exceed 97% LTV for principal residences
Property in a "high needs" rural area may be contingent on mandatory property inspection
Limited cash-out refinances on principal residences and second homes may not exceed 90% LTV
Limited cash-out refinances on investment properties may not exceed 75% LTV
Regular cash-out refinances on principal residences may not exceed 70% LTV
Regular cash-out refinances on second homes and investment properties up to 60% LTV
When you get pre-approved with Better Mortgage, you find out instantly if you qualify for an Appraisal Waiver. In contrast, most other lenders require a completed loan application—including a hard credit check—before they can identify which borrowers qualify for an Appraisal Waiver.
Of course, if you're refinancing or purchasing a home and there have been substantial upgrades, design improvements, or significant renovations to your home, an onsite appraisal may still be to your advantage. An onsite evaluation can help ensure these upgrades are properly accounted for and given full value.
How to prepare for a home appraisal
If your lender requires an onsite appraisal, then you may be wondering if there is anything you can do to prepare for it—or, in other words, if there's anything you can do to positively impact the appraiser's review of your home.
Appraisal for a refinance
Though the appraiser is only assessing the comparables and structure of your home—not the decor—you don't want clutter or overgrowth to detract from the home's perceived value. You may want to lightly clean your home and repair any obvious holes and leaks inside. Do a pass-through of your yard, and pull weeds, clean off the deck or patio, and trim bushes.
The most important thing is to make sure all living spaces are in a functionally-adequate condition and conform to health and safety guidelines. This means handrails should be securely attached to stairwells, walls should be painted entirely and subfloors completely covered (even if it's painted, the subfloor cannot be bare wood). Also, ensure all fixtures, including lights, switches, and plumbing, are installed and in functioning order.
If any of these are incomplete at the time of appraisal, the appraiser will issue a value that is "subject to" completed repairs and will have to return at a later date to verify they have been completed. This delay could potentially put your closing or loan interest rate lock at risk because a loan cannot move forward until the required repairs are made and approved by the appraiser.
Appraisal when buying a home
If you're the homebuyer, then, it will be up to the seller to ensure the home shows in the best possible light. Luckily, it's in their best interest to ensure the appraisal goes well, too. If the home's value does not align with the asking price, then they may have to lower their price, or it could derail the sale.
If the home is appraised for a value near the price you agreed to pay or higher, that's welcome news and will move you—and the seller—that much closer to closing on the home.
But if the appraised value is lower than what you agreed to pay, it could mean some adjustments need to be made. Because a mortgage lender won't agree to lend you money above and beyond what a house is worth, it may reduce how much they're willing to lend you. This could put the deal in jeopardy unless you agree to come up with the difference in cash.
Alternatively, you may want to negotiate with the seller—especially if everyone is still eager to close on the deal. You could ask for a lower sale price or push them to make an improvement to bring the home's appraised value closer to the asking price.
How can I increase the value of my home?
Whether you're thinking of refinancing or selling your home in the future, you may be wondering how you can ultimately increase the value of your home.
Some factors that can affect your home's value might be out of your control, like how much other comparable homes are selling for, property market conditions, where your home is located, or the quality of local schools.
Other factors you do have control over are specific home renovations. According to the 2020 Cost vs. Renovation Value Report, the top home improvements that offer the best returns are the addition of manufactured stone veneer around the exterior entryway, a garage door replacement, and a minor kitchen remodel.
And, of course, keeping up with the general maintenance of your home's fixtures, appliances, HVAC unit, roof, exterior and interior paint, and promptly fixing leaks and breaks can ensure it maintains its value as it appreciates all on its own.
Whether you're refinancing or purchasing, the appraisal process is a significant and incredibly valuable part of getting a mortgage.
Better Mortgage keeps you up to date during the appraisal process. That's just one of the many steps made easier by our powerful, digital engine. See for yourself by starting with a lightning fast pre-approval.