Your timeline for the homebuying process
Published September 22, 2020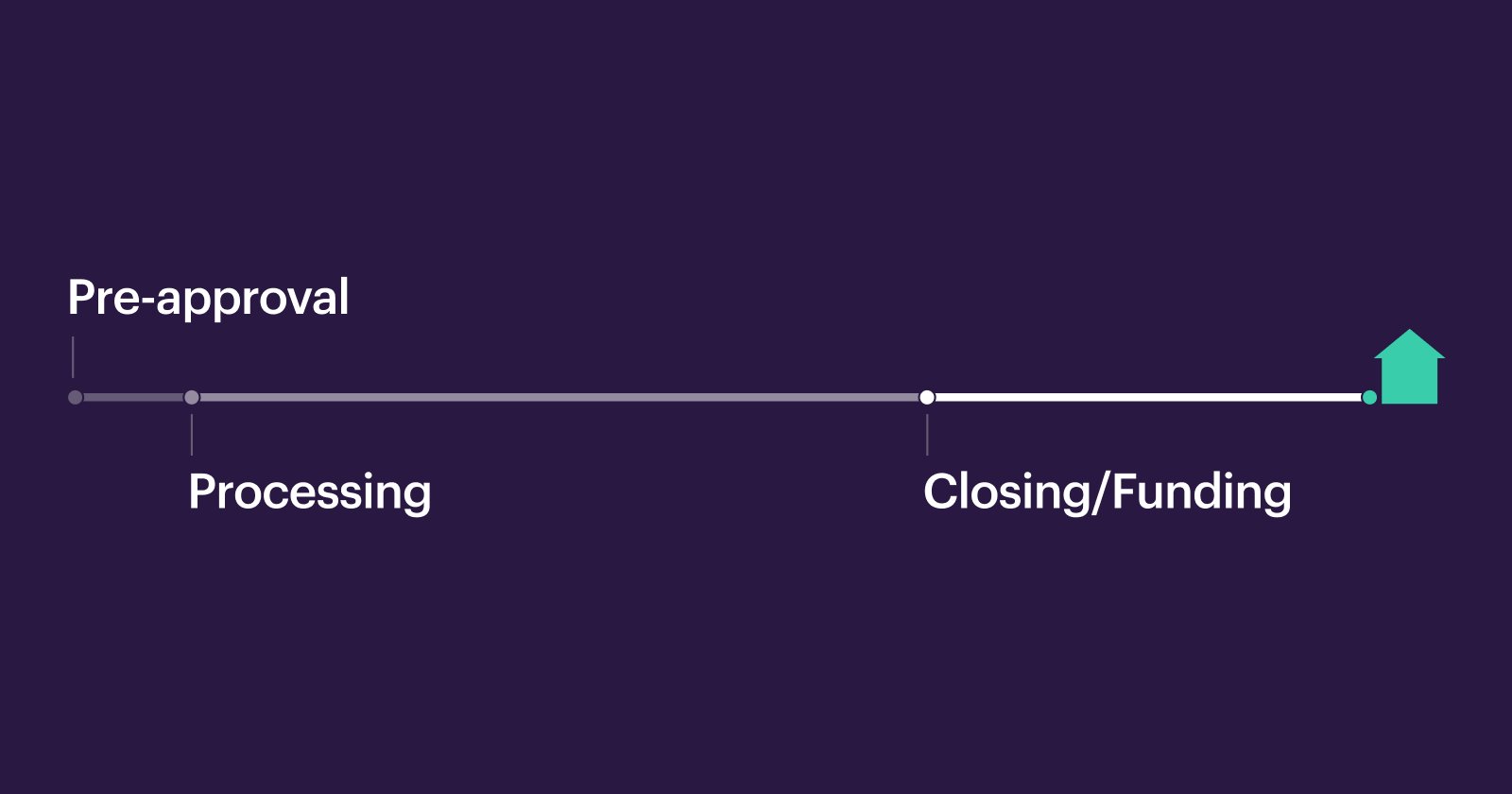 You've been thinking about buying a home for months—maybe even years. Now that you're ready, you're probably wondering how long it will take until you get to pick up the keys. Of course, the time it takes to find a home you love is going to vary, but the average timeline to close a mortgage is just 42 days. At Better Mortgage, our modern online process makes it even faster; our average closing time is just 32 days.
To help you know what to expect at each step along the way, we've laid out a typical timeline for a homebuying journey—along with some tips and insights to help keep things moving smoothly. Here's what you can expect.
Mortgage pre-approval: 1–3 days
(As little as 3 minutes with Better Mortgage)
While most homebuyers kick off their search by browsing listings online, it's smart to get pre-approved for a loan before you start going to open houses. This will help you determine your price range and give you more leverage when you're ready to make an offer. Most sellers ask for a pre-approval letter as proof that you'll be able to receive financing if your offer is accepted. In most cases, getting a pre-approval takes 1 to 3 days. However, with the Better Mortgage online pre-approval system, you can get your letter in as little as 3 minutes.
First, we'll ask you about your income and assets and do a soft credit pull (don't worry, this won't affect your credit score). Next, our technology will instantly match you with the best mortgage options available based on your information. And that's it—you now have a free, no commitment pre-approval letter that gives you an accurate estimate of your homebuying potential.
Home search: 10 weeks
Once you have a pre-approval letter in-hand, get ready for the fun part: house hunting. It's time to start looking at listings and work with your real estate agent to pick the homes that catch your attention. Incidentally, if you need help selecting a qualified, knowledgeable real estate agent to help in your search, our affiliate at Better Real Estate can match you with a top agent in your area. Plus, if you work with a Better Real Estate agent and choose to finance with Better Mortgage, you could save $2,000 on closing costs*. This is just one of many ways we're making buying your new home more affordable.
It's hard to predict how long it will take to find the right home. You could very well get lucky and find your dream home on day one—or it could take several months. Ultimately, the timing will depend on several factors, like available inventory in your desired area and your specific preferences. The National Association of Realtors' 2020 Generational Trends Report found that homebuyers typically look at around 9 listings over 10 weeks before they find the right one.
The offer: 1–3 days
Ok, so now you've found the one. From here, it may only take a few hours to discuss the terms of your offer with your real estate agent before it's submitted. But, it's after you submit the offer that the real nail-biting begins. Sellers aren't required to respond within a specific period of time, but most will either accept, reject, or counter your offer within 24 to 48 hours. In cases of multiple offers or a foreclosure, things could take a bit longer.
Communication mostly happens over the phone between buying and selling agents, so you'll likely be waiting on your agent for the latest status updates. Once you hear back, you may have to negotiate back and forth on things like price, contingencies, and closing date until you come to an agreement with the seller.
Mortgage application: 1 hour
When the seller accepts your offer (congrats!), you'll start the process of officially getting approved for your home loan. The application usually asks questions about the property and occupancy type as well as your employment history and finances. Within 3 days of submitting your application, a lender must provide you with a "loan estimate"—which is a standardized document that contains your monthly payment, interest rate, and other associated costs of your mortgage.
From here, you're ready to make the purchase official! First you'll select the right home loan type and term and then lock in your interest rate. Then head through the processing and closing of your loan and onto owning your dream home.
PS: We've expedited the process at Better Mortgage, so you can complete your online application and lock your rate in as little as an hour—and we provide an instant loan estimate all the way back at pre-approval.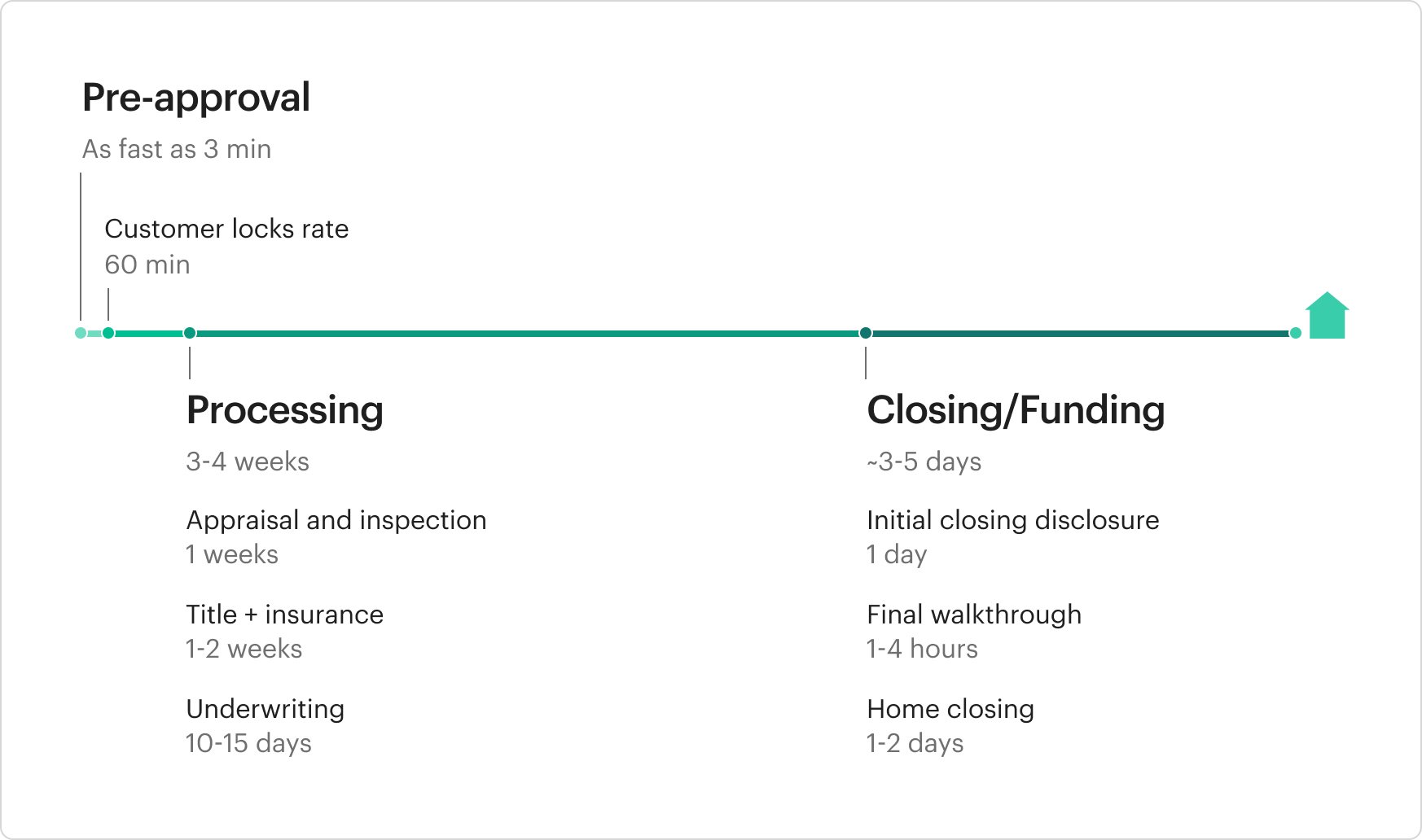 *for illustrative purposes only, closing times may vary.
Loan processing: 3–4 weeks
Once you've submitted your loan application, it moves into processing. In this phase, your lender will give you a list of documents that you need to provide so they can verify all of the information you provided in your application. The quicker you submit them to your loan processor, the quicker your file will move along.
Processing includes a few steps that often happen simultaneously, including your appraisal, inspection, title search, and underwriting. Here's what to expect during each:
Appraisal: Up to 1 week
As soon as you pay for your appraisal and lock in your interest rate, your lender will order an appraisal. This is to determine the fair market value of the home you're about to purchase—in other words, how much it's really worth. Among other things, appraisers review recent comparable sales of similar homes in your area (aka "comps") to determine the home's true value. This report may take a few days to get back. An appraisal is important to ensure that neither you nor your lender are paying more than the home is worth.
Inspection: Up to 1 week
A home inspection is a review of the overall condition of a home. It's a worthwhile step because it can help you catch costly issues or needed repairs before moving forward with the sale. Depending on what's found, you may choose to request repairs, renegotiate, or cancel the purchase agreement altogether.
If inspections are a part of your contingencies (meaning they're required for the sale to move forward), these negotiations must take place within the timeframe listed in your contract—so it's important to get these going as early as possible. The inspections themselves usually only take a few hours, but it can take several days to receive the reports back from the inspectors. Once you have them in-hand, you can determine how to move forward. Perhaps you want a broken window fixed or a handrail replaced—just make sure you know what repairs you're willing to take on after the home is fully yours.
Title search and title insurance: 1–2 weeks
While the inspectors and appraisers are busy with their work, your agent (or in some cases your attorney or loan processor) will order a title search and title insurance. In real estate, a title refers to the legal ownership of the home. A title search is done to ensure that the seller can transfer property ownership to you free and clear. Title issues can arise if there are any outstanding judgments or liens against the current or previous owners for things like unpaid child support or owed taxes. If potential issues are found, then the seller would be responsible for resolving those before the sale can move forward.
Title insurance is designed to protect you and your lender from exactly those kinds of surprises. Better Settlement Services can work hand in hand with Better Mortgage to ensure quick and transparent processing of your title insurance.
Underwriting: 10–15 days
While your title, appraisal, and inspection work is being completed, your lender will thoroughly review all the information you provided to verify that it is accurate. They'll also calculate your debt-to-income ratio to determine the risk level of approving you for the loan. While this process usually takes around 10 to 15 days, it may take longer depending on your financial circumstances. For example, if you have multiple income sources, such as rental or interest income, or you are pulling your down payment from various asset accounts, or through a gift letter, then it could take a little longer for an underwriter to verify all of this.
Once everything is accepted, you'll receive a conditional approval. This means that you'll be approved for a loan once certain conditions are met. These might include additional documentation, the sale of your current home, or results from an appraisal. When all the steps of the process are completed, you'll receive a "clear to close" notice, meaning you've been fully approved and can move forward with closing—the last step before the home is yours!
Closing disclosure: 1 day
3 days before closing, your lender must provide you a document known as a "closing disclosure." The 3-day window gives you time to compare your final terms and costs to those estimated in the loan estimate you previously received. The closing disclosure will contain the exact figures of your monthly mortgage payment, as well as how much it will cost to close on your loan. If you have any questions, this is the time to ask your lender before you go to the closing table.
Final walkthrough: 1–4 hours
Before closing, it is recommended you and your agent perform a final walkthrough. This is your chance to verify the home is in a satisfactory condition since your offer was first accepted. You should ensure all the correct appliances and fixtures are still in the home and that any negotiated repairs were completed. If there are any problems, your agent can help you get them fixed. If all looks great, then you'll be ready to close.
Home closing: 1 day
Congratulations! You made it to the last step of the loan process. During closing, you'll be expected to sign paperwork. Then, your lender will transfer the funds to the home seller and initiate your loan, and you'll (finally!) get the keys to your new home. The closing process usually takes an hour or two, but in some states, funding may happen a day or so after the closing date. After closing, you'll officially be a homeowner. Time to celebrate!
Ready to start the process of buying a home? Visit Better Mortgage today to apply for a pre-approval.