More new homes are for sale than ever before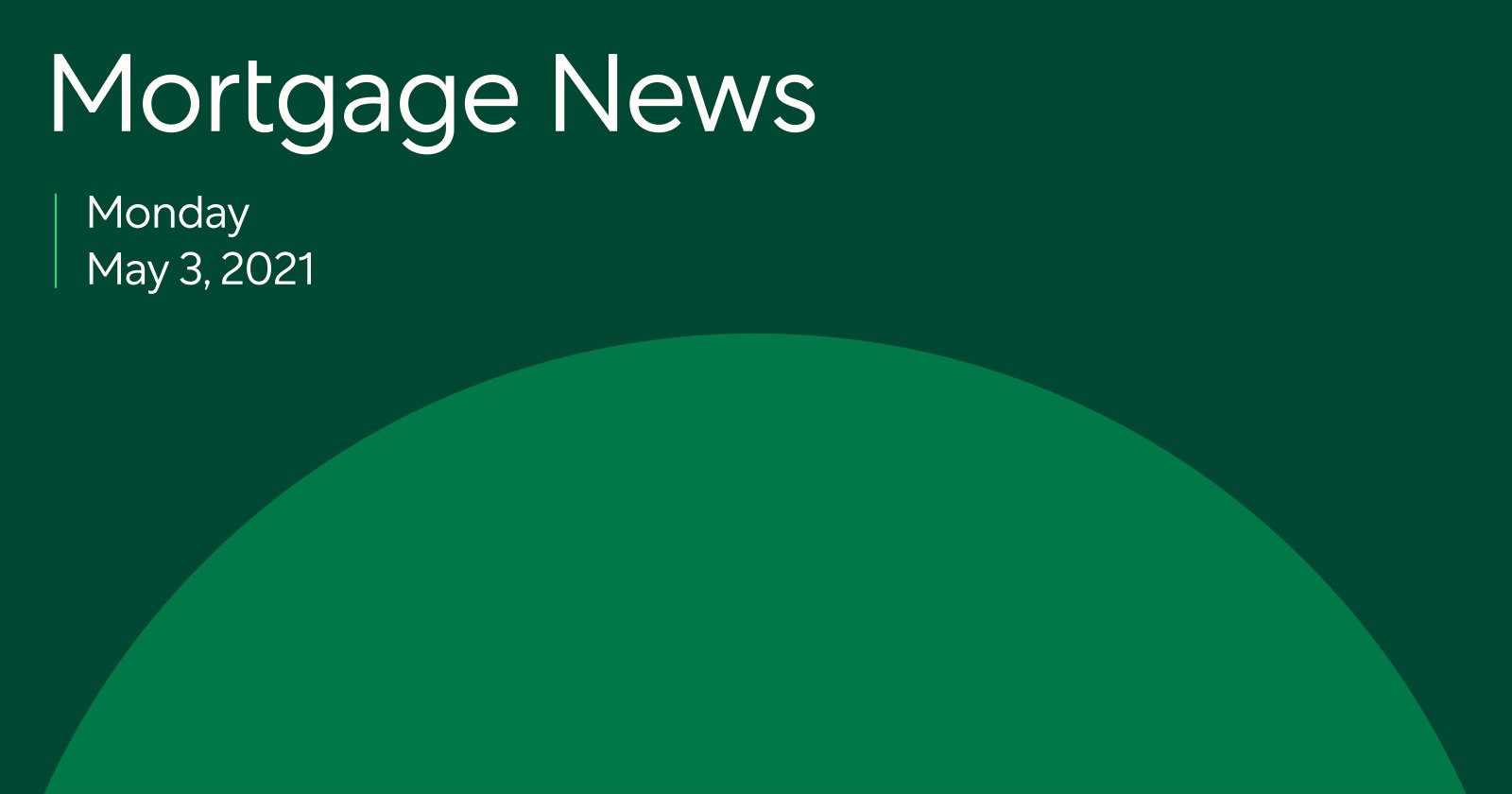 Here's a look at the latest developments in the mortgage market for the week beginning 5/3/21.
The supply of new homes is growing. Are they cheaper than existing homes?
If you missed the refinance wave, a new FHFA program may help you save
Pending home sales inch upwards, signalling higher demand
How to know what you should put down on a home
The supply of new homes is growing. Are they cheaper than existing homes?
The country's supply of new construction has grown slowly over the last decade, but more recently, the pace of building has skyrocketed. Between January and March alone, 25.7% of single-family homes for sale were newly built, which breaks down to one out of every four homes on the market. That's the highest-ever portion of new home inventory for sale.
In conjunction with today's low rates, some homebuyers may find that a new construction home can be more affordable, or smoother to purchase, than an existing one. That's because buying a new home typically means skipping bidding wars: instead of having to offer more than a seller's asking price, buyers purchase directly from the builder at a set cost. In March, the median price of an existing single-family home was $334,500, and the median price of a newly built single-family home was slightly lower, at $330,800.
The buying process for a new home isn't devoid of competition, though. Over the last year, a pandemic-driven lumber shortage required builders to raise prices by an average of about $35,000. And thanks to increased demand, new homes may come with a waiting list of buyers, which can give builders leeway to further raise costs at any point in the buying timeline.
Ultimately, choosing a home means considering a number of different factors, so instead of limiting your search to either new construction or existing homes, buyers are likely better off casting a wide net across both types. If new construction fits your needs, knowing how to navigate their unique buying process can help you get ahead of the competition, especially as more builds are expected on the market this year.
If you missed the refinance wave, a new FHFA program may help you save
Last year's low interest rates drove a record number of homeowners to refinance their loans, but data shows that over two million low-income families weren't eligible due to low credit scores or high loan-to-value ratios. The Federal Housing Finance Agency (FHFA) just announced a new program to help those homeowners save on a refinance in the near future.
Eligible applicants will be able to lower their mortgage rate by at least half a percentage point, and their monthly payments by at least $50. It also requires lenders to skip the adverse refinance fee, which usually costs 0.5% of the loan amount. The program is estimated to save at least $100 to $250 per month, on average, and is open to single-family homeowners who make 80% or less of their area's median income.
Better Mortgage is excited to be a participating lender once the program launches in the coming months. With average rates currently hovering below 3%, it's generally a good time to see how much you can save on a refinance, regardless of your income level. Check out today's mortgage rates and crunch the numbers to see if the savings would make a difference in your life.
Pending home sales inch upwards, signalling higher demand
After two months of decline, the number of pending home sales increased slightly in March, showing that buyers are still confident in the market despite months of dwindling inventory. Home sales are expected to rise by 10% over the course of this year, translating to about 6.2 million homes sold.
Pending home sales refer to existing homes which have accepted offers but are still in the process of closing. Their data is usually a good indicator of closed home sales in the next couple of months, as well as buyer demand, which is strong considering 33% of surveyed buyers expect their home search to get easier.
As buyers search the market, many may come across pending home listings they expect to be available for sale. The reality is, pending sales are often quite far along in the buying process, and likely not a realistic option. But opportunities may be found in contingent home listings, which are homes that have offers made on them, but haven't yet been accepted due to unmet conditions. If you're on the hunt for a home, reading up on the details of pending and contingent sales may help you navigate the market with more ease.
How to know what you should put down on a home
Calculating your down payment is one of the first steps to getting a mortgage, and it's one of a number of factors that lenders use to determine how much they're willing to lend to you. Many people think 20% of a home's purchase price is the standard down payment amount, but the truth is, it can be as low as 3%. What matters most is how it fits into the rest of your financial picture and goals. We've put together a guide to calculating your down payment so you know you're working with a budget that's suited to your needs.
Considering a home loan?
Get your custom rates in minutes at Better.com. Our team is here to walk you through your options and help you make an informed decision about which loan is right for you.