15 answers to common questions about buying a new construction home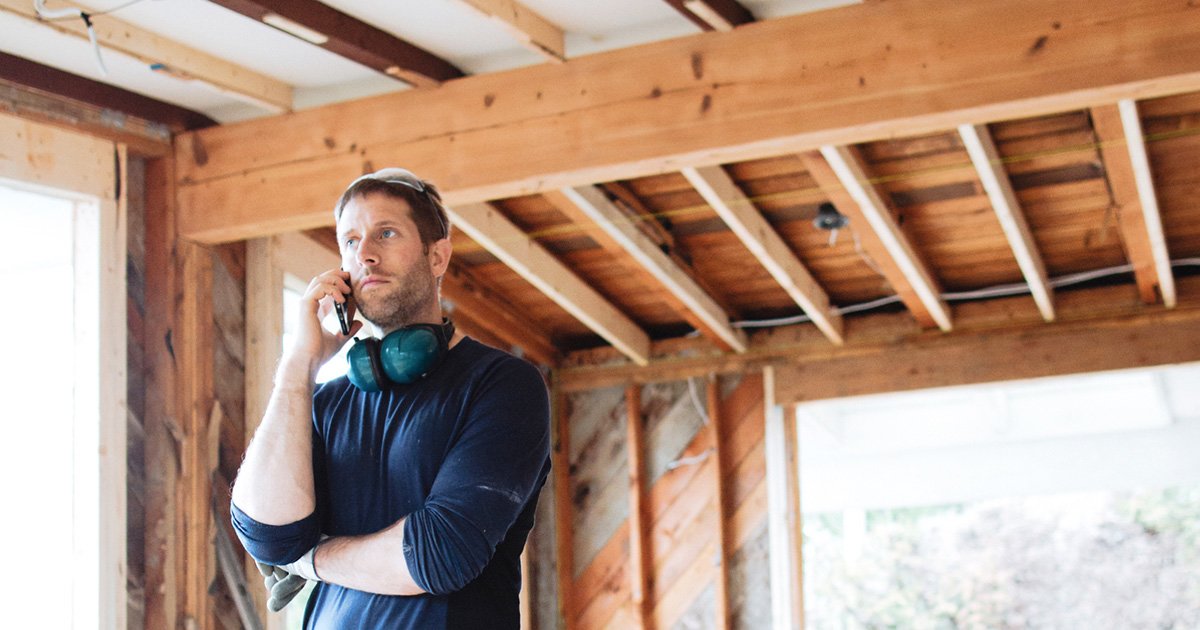 When you're shopping for a home, there is an undeniable appeal in going the new construction route. Why move into someone else's old space when you could work with a builder to create your dream home? You'll get brand new everything with all the modern details and likely have fewer maintenance costs too.
New construction homes may seem like an easy option, but they do have their drawbacks. For one thing, mortgages for new construction homes tend to be a little more complicated than their resale counterparts. You're also at risk of falling victim to predatory lending tactics from builders in the process. Here are 15 answers to some of the most common questions about new construction homes.
1. What is a new construction home?
Let's start with the basics: A new construction home is any property that has not been occupied since it was built. If you're buying from a builder, your new construction home most likely started out as a simple plot of land. One day, a keen-eyed developer came along, purchased the land, and divided it into buildable lots. They then sold the land to a builder who invested time and money to construct properties on each lot that could be sold to homebuyers for a profit.
2. Are there different types of new construction homes?
Broadly speaking, there are 3 types of new construction homes: custom, semi-custom, and spec. A custom home affords you the most creative control over the design of your new home. In fact, you can work with an architect to have your say over every single detail—right down to the way your doors swing. If you'd prefer to leave a few of the decisions to the professionals, you may opt for a semi-custom home, which is a pre-designed property that you can change to meet your preferences. Finally, if you'd prefer to just not think about it at all, you may decide to move into a spec home, which is a move-in ready home, built out with the kinds of features designed to appeal to just about anyone.
3. What's the difference between a construction loan and a loan for a new construction?
It's tricky, but there is a distinct difference between a construction loan and a loan for a new construction. A construction loan is used to literally finance the building of a property. For example, if you wanted to buy the raw materials to build your own house, you might take out a construction loan to help support your purchases. A home loan for a new construction is when you borrow money for the purpose of buying a home from a builder.
4. How does the mortgage application process differ for a new construction home?
Financing a new construction home is not unlike financing a resale home. The biggest difference is in the closing timeline. A lender cannot close on a new construction home loan until the property is ready for you to move in. That means that you must time your application with the builder's schedule carefully and hope that they don't run too far beyond their projected deadline. For example, let's say that you begin your home loan application, get pre-approved, and lock your rate 30 days before construction is supposed to be complete. Then, your builder encounters permit issues and suddenly construction is delayed by 3 months. You're now at risk of losing your rate-lock window because your lender is unable to close on your loan. Rest assured, our Loan Consultants can offer advice on the best time to begin your application. They'll take into account a range of factors, such as the current stage of construction and the speed of construction until that point.
5. How finished does your home have to be before you can close?
You can close on your home loan as soon as construction is complete and a Certificate of Occupancy has been issued. Eager homebuyers have been known to apply for loans before the foundations are even poured. There's nothing wrong with a little proactive planning, but keep in mind that our longest rate lock period is 75 days out from closing. If you exceed this timeframe, there's no guarantee you'll be able to secure the home loan and interest rate you wanted. Regardless, we're always happy to advise you if you'd like to start the conversation ahead of time.
6. What is a Certificate of Occupancy?
A Certificate of Occupancy (CO) is a formal document stating that a home has finished construction in accordance with all the relevant building and safety codes. COs are required by most local governments before you are legally allowed to move in and for a mortgage lender to close on your new construction loan. They're usually performed by a local inspector after a thorough walkthrough of the home. If your home doesn't pass the inspection, you will likely have a window of time to correct the outstanding issues.
7. Do you have to use the builder's lender?
If you only take one thing away from this article, make it this: You do not have to use the builder's preferred lender. The builder may make it seem like you have to use their preferred lender, but you always have the option to finance your home with someone else. Keep in mind that builders are often nationwide institutions and it's possible their "preferred lender" is actually part of the same corporate family. It's often in the builder's best interest for you to partner with their preferred lender, but it may not be in yours. If you shop around, you'll likely find a more competitive loan that fits your goals and needs.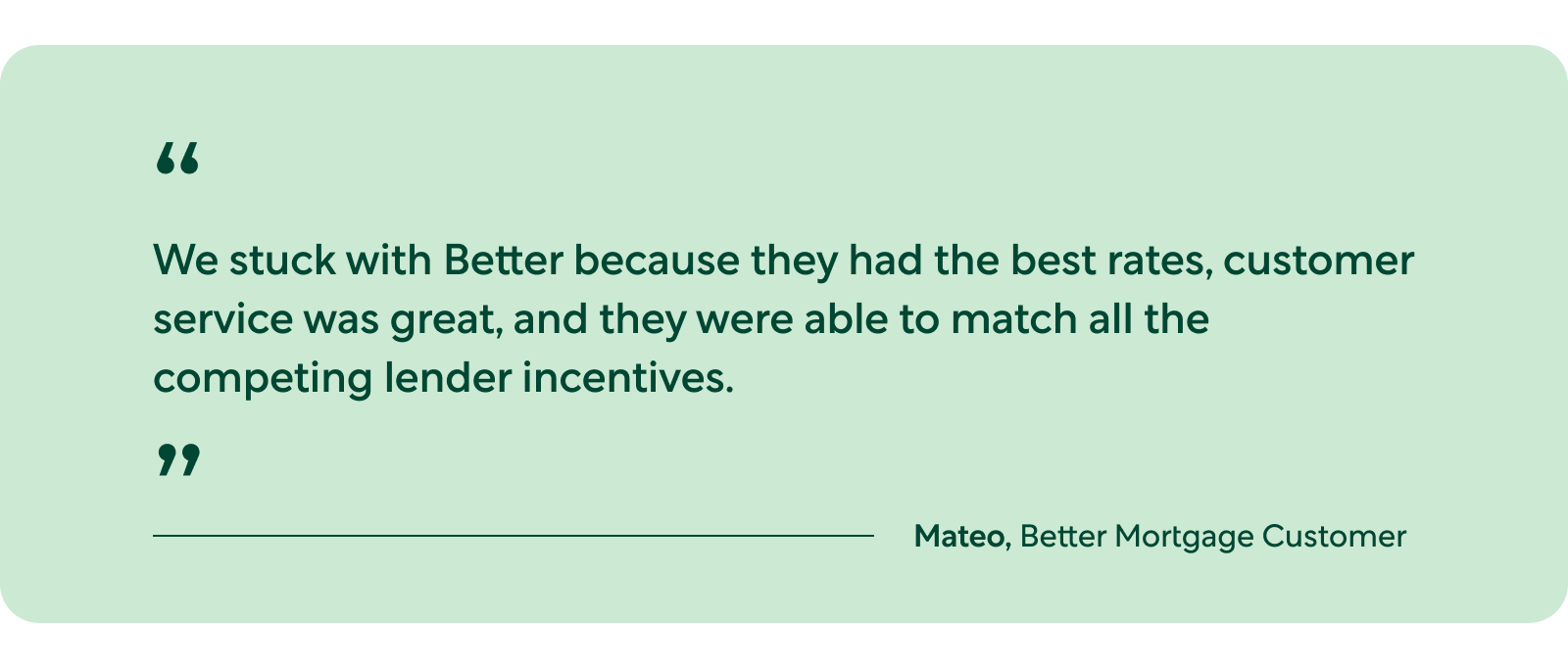 Read how Mateo and Alejandra saved money by buying their home with Better Mortgage.
8. What if you're offered financial incentives to use the builder's preferred lender?
It's not uncommon for builders to lure you in with financial incentives that you'll "lose" if you choose to finance your home with anyone other than their preferred lender. Word to the wise: These incentives are oftentimes far more attractive in theory than they are in practice. For example, the builder may offer a seller's credit significantly higher than what you'd typically get with a traditional lender—often upwards of $10,000. However, they can also hit you with exorbitant lender fees that effectively negate the seller's credit altogether. Then, they may tack on a high interest rate for good measure. If it seems too good to be true, it probably is.
9. What is the "builder's lender trap"?
Builders have also been known to employ predatory lending tactics that essentially force you to work with their preferred lender. For example, some builders will require you to present a "commitment letter" from your lender that promises financing up to a year in advance of closing. The builder is well aware that no lender (aside from their own) will agree to these terms, leaving the homebuyer with no option but to go with their recommendation. If you're ever presented with a situation like this, we can help you work around it. However, it should probably be taken as a red flag that your builder is trying to scam you.
10. Can you negotiate with a builder on the purchase price?
It can be near impossible to get a builder to budge on the listed price of a new construction home. However, that doesn't mean that you shouldn't try—and it definitely doesn't mean that you have to leave the negotiation table empty handed. The next best place to start is on upgrades. A builder may be unwilling to knock as little as $1,000 off your home's purchase price, but that same builder may be happy to throw in $10,000 worth of upgrades from their showroom. If you are afforded upgrades in the negotiation process, the experts recommend choosing the kinds of features that will add real value to your home, such as hardwood floors or marble countertops.
11. Should you work with a real estate agent?
You may instinctively think that a real estate agent is an unnecessary middle person in a new construction purchase—especially if you've already done the legwork and found the home that you plan to buy. However, it may be a good idea to have the experience that a qualified agent can bring to a real estate transaction. Especially considering it's the builder who'll end up paying the agents commission. A real estate agent will help you decode the fine print of the builder-friendly purchase agreement as well as navigate the mortgage process. They can also help you negotiate upgrades, add-ons, and the all-important warranty. Better Real Estate can match you with a trusted agent who can help you find your new home. Plus, by working with a Better Real Estate agent and choosing to finance with Better Mortgage you could save $2,000 on closing costs.*
12. Do you need a lawyer for a new construction home?
Technically, no. But heads up: There can be a lot of red tape involved with buying a new construction home. And unless you feel like navigating the intricacies of "cancellation rights" on your own, an experienced real estate lawyer by your side could add a lot of value. Find the right person and they will negotiate all the specific terms of the contract—such as your liability, commitments, and how you'll be compensated if the construction runs beyond its projected deadline. A real estate lawyer can also review the warranty that comes with your new home to ensure that you're protected in the event that any defects arise after you move in.
13. Should you get a home inspector to examine the property before you close?
A thousand times yes. Just because you're buying a new home, doesn't mean there won't be anything wrong with it when you move in. You can hire a home inspector at any stage of the construction process, and it's often recommended that you enlist their services at least twice: once before the foundation is poured and a second or even third time after the walls go up. At the very least, a home inspector can ensure that everything is built to code, i.e. it meets the health and safety standards set by your local government. They will also uncover any potential issues with the home before you finalize your purchase.
14. Do you need to get an appraisal for a new construction home?
Here's where the mortgage process for a new construction home is exactly like the mortgage process for a resale home: in both instances, your lender requires an appraisal to ensure that the loan amount does not exceed the value of the home. A new construction appraisal typically uses the builder's plans and spec sheets to determine the fair market value of the property. Note: If we send an appraiser out and the CO hasn't yet been issued, the appraiser could require a follow up inspection prior to closing in the event of any unfinished features of the home that present safety issues.
15. Does Better Mortgage offer home loans for new construction homes?
Yes! While there are definitely a few watchouts with buying a new construction home, they can also be a wonderful fresh start that affords you many years of happiness. Better Mortgage offers home loans for all types of new construction homes, and we don't have the origination fees or commissions that you'll likely encounter with a builder's preferred lender. That means more money in your pocket to furnish your dream home just the way you envisioned it.
Ready to get started? Getting pre-approved is free and only takes a few minutes.