Finding Home: Mateo and Ale
Published February 11, 2022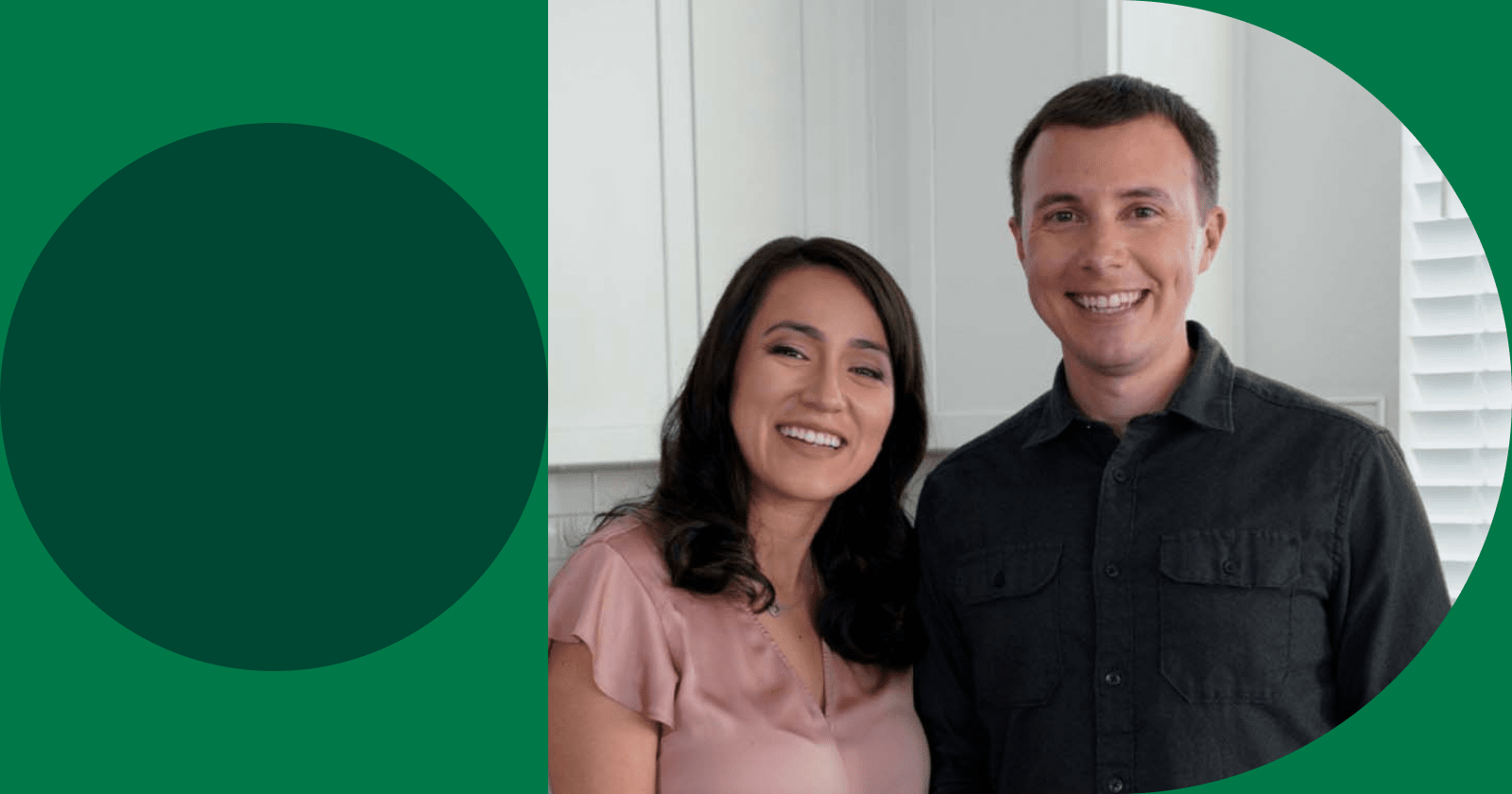 Homebuyer highlights
Mateo and Ale, newlyweds and first-time homebuyers, wanted to move closer to family
Buying a new construction build gave them a year to save up for their down payment
Now their mortgage payment is cheaper than the monthly cost of renting in LA
Lots of people in their 20s choose to travel. Taking a gap year before or after college to learn about different cultures and meet new people can be an enriching and eye-opening experience. But Mateo turned that gap year into a free-spirited lifestyle, visiting more than 85 countries and living abroad in places like Brazil, Italy, and Costa Rica before he turned 30.
He spoke Spanish from an early age and then studied Portuguese and Italian at Harvard. (If you want to travel the world, being trilingual doesn't hurt.) "My actual degree is called Romance Studies," he explains. "I joke that I will have to change my name to Don Juan and walk around with a rose in my teeth."
But nomadic wanderlust lost some of its appeal when Alejandra came into his life. The couple met and started dating at UCLA when they were both grad students. Different in some ways (Ale is a self-professed homebody and introvert, for starters) they also discovered they had a lot in common, including strong ties to their mutual Mexican heritage and plans to go into the same career field.
"When I met Ale, the desire to stay in one place with this person was stronger than the desire to keep traveling," says Mateo. "And that's when I knew it was time to put down roots."
What started as a romance in the classroom bloomed into a serious relationship—a first for both of them. They got engaged and began building their life together. Mateo and Ale are career counselors, helping university students find meaningful employment opportunities. Over time, however, living in LA became less and less appealing. Ale was spending hours in traffic every day commuting to campus, and the cost of rent was on the rise.
"That frustration of constantly throwing money away really pushed us toward wanting our own home."
So one morning in December 2019, Mateo and Ale spontaneously decided to tour a model home in a new development in Woodland, CA. They had been thinking about buying a house sometime in the next year, and this area appealed to them. Not only was it affordable, it was a location that could give them access to something priceless: family.
Alejandra's parents emigrated from a small town in Mexico, and more than 50 people from their pueblo now live in Woodland, CA—including her aunt and a few cousins. Proximity to family ranks consistently high on the list of factors that go into choosing a home.
Ale and Mateo were also very influenced by the appeal of new construction, which offers buyers the chance to choose upgrades and custom design details (think cabinet colors and fixtures) to spec. "We're not very handy," Ale says with a smile. "We like watching those fixer-upper shows on TV, but we know our strengths and weaknesses and we wanted a new build."
Like many looky-loos, they weren't intending to do anything more than take a peek. But they really liked what they saw and, after talking to a representative at the development site, they decided to put a deposit down on one of the properties to lock in the listing price.
Buying a new construction home works a little differently than buying an existing home. In Mateo and Ale's case, their house would be built over the course of the upcoming year and their down payment wouldn't be due until construction was completed. At that point, they would work with a lender to finance the purchase.
"That meant we had a whole year to save for our down payment," says Ale. "So it worked out to fit with our original homebuying timeline."
A few months after they signed the paperwork with the builders, the pandemic hit. At this point Ale and Mateo were newly married and living in a luxury apartment building. Stay at home orders meant they lost access to many of the amenities (pool, basketball court, gym) that made their building so expensive in the first place. On top of that, their rent increased by $200. These factors just reaffirmed their decision to become homeowners. Not only would they have more space and be closer to family, their monthly mortgage payment would be cheaper than their rent.
As 2020 progressed, they got regular updates about the status of their home. "We were able to watch the house being built," says Ale. "We would drive by every week and say 'Oh look, now they added the roof, now we have windows!'"
In September of that year, they were finally ready to find a lender. After looking at a few options and comparing pre-approvals, Mateo remembered Better Mortgage because he had helped one of his students prepare for an interview there. He decided to check it out. "Better was really set apart from other lenders, it was so easy to understand and they had the lowest costs."
Then they found out that their development builders had an internal lending company which they encouraged buyers to use for financing. This lender offered some significant incentives, including a $10K upgrade budget for renovations on their home. "But Better was able to match all those lender incentives, so we stuck with them," says Mateo. "They had the most competitive rates and customer service was great—it was a big differentiator."
After a final appraisal to confirm the value of the home, they closed on their mortgage and moved in. "We're like the OGs on our block. There was only one other house finished when we moved in and now the whole street is almost filled."
The more that Mateo and Ale learn about their town, the more they like it. Between the parks, schools, and easy commute (Ale can get to work in just 10 minutes) there's a real sense of community. "We walk over to her aunt's house on Sundays to go eat enchiladas…or we have a big breakfast here before Mass."
And almost every afternoon, the couple takes a long walk or bike ride together through the surrounding area, saying hello to neighbors. It's become something of a routine during the pandemic, when so many activities have been restricted. "I've lived months and months out of a backpack," says Mateo. "And it taught me that you don't need much—home is much more about people than the actual physical structure."
---
Bret Lawrence is a senior copywriter at Better, where she writes about the ins and outs of home financing. Her work also explores the human side of homeownership—the people, places, and perspectives beyond the paperwork. She lives in Queens, NY with her wife and their dog, Banjo.
Interested in finding your own home? We're here to help.
Real customers have been paid for their time. © 2021 Better Holdco, Inc. and/or its affiliates. Better is a family of companies. Better Mortgage Corporation provides home loans; Better Real Estate, LLC provides real estate services; Better Cover, LLC provides homeowners insurance policies; and Better Settlement Services provides title insurance services. All rights reserved. Better Mortgage Corporation is a direct lender. NMLS #330511. Loans made or arranged pursuant to a California Finance Lenders Law License. Not available in all states. Equal Housing Lender. www.NMLSConsumerAccess.org. Better Real Estate, LLC dba BRE, Better Home Services, BRE Services, LLC and Better Real Estate is a licensed real estate brokerage. A full listing of Better Real Estate, LLC's license numbers may be found at https://better.com/with/better-realestate-license. Equal Housing Opportunity. *Better Cash Offer is offered by Better Real Estate. Terms and Conditions apply.