New developments are going up at a record pace. Here's how to shop for them.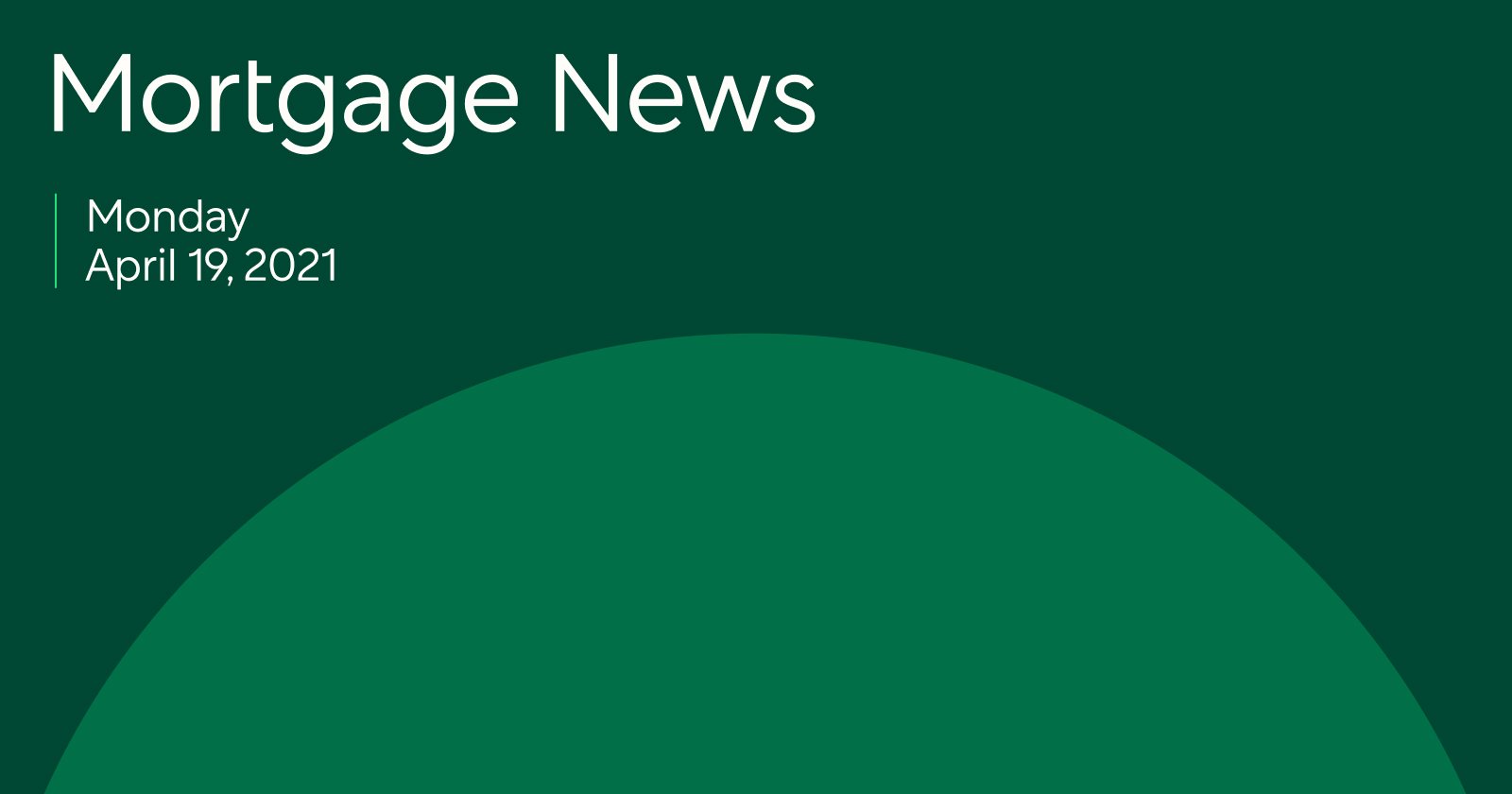 Here's a look at the latest developments in the mortgage market for the week beginning 4/19/21.
More new homes are on the way—and buyers face tough competition
Mortgage rates drop again, but it may not last long
Homebuying season is in full swing as buying tops refinancing
How to know if a cash-out refinance is right for you
More new homes are on the way—and buyers face tough competition
Home builders are picking up the pace after more than a decade of underproduction brought inventory levels to a record low. In March, 19.4% more single- and multi-family home builds were started than the previous month, marking the fastest pace of construction since 2006. While the uptick offers a rosier outlook for the year ahead, it's likely not enough to close the gap between supply and demand.
There have been inventory challenges for builders and buyers alike since the homebuying boom of 2020. A spike in lumber prices slowed down construction earlier this year, which has bumped today's home prices up by an average of $24,000. Meanwhile, buyer competition has only grown, with an average of four offers per home sold in February.
Consistently strong demand from buyers has boosted confidence among builders, according to The National Association of Home Builders' monthly survey. Despite the higher cost of lumber, builders are likely to remain motivated by the ever-growing demand for homes with steady construction through the end of the year. As of now, 636,000 single-family homes are being built as opposed to roughly 515,000 at this time last year.
Even with such a large gap to fill, the pickup in construction means better selection and more opportunity for buyers. But buying a newly built home is different than buying an existing one, and educated shoppers may fare better in today's competitive market. For example, instead of buying from a seller, new homes require working with the builder themselves. That means applying for a specific home loan for new construction, as well as careful consideration of the building timeline, since lenders can't close on a newly built home until it's move-in ready.
Keep in mind that builders often recommend their preferred lender, and pressuring buyers to work with them is fairly common. Look out for incentives that seem too good to be true, and don't commit before exploring your options. The choice of lender is ultimately yours, and can save you a lot of money in the long run.
Mortgage rates drop again, but it may not last long
After dropping for the first time in months, interest rates fell for a second week in a row last Thursday. This time, the 30-year fixed rate mortgage fell .09%, to 3.04%, bringing it closer to the record lows that drove last year's refinance wave.
Freddie Mac, the government-owned agency which tracks market rates, said the drop is likely temporary, and driven by economic uncertainty caused by recent Coronavirus concerns. As vaccines continue to roll out around the country, rates are expected to continue rising over the course of the year.
While a dip in rates is great news for homeowners looking to refinance, it's a gamble to try and time the market to catch a lower rate. Instead, take a look at your personal finances and goals to see whether it's a good time for you. Not sure where to start? Measure up your current loan with today's refinance rates to see how much you could save.
Homebuying season is in full swing as buying tops refinancing
The tides appear to have turned on the market as the number of new home loans surpassed refinance loans. In March, homebuyers accounted for a slight majority of 52% of mortgages, while those refinancing fell to 48%.
The last time buying took this kind of lead was in December 2019, months before record low rates kicked up a surge in refinancing. While seasonality accounts for some of the shift, rising rates are a driving factor. As many potential refinance applicants have pulled away from the market, buyers have ramped up demand as homebuying season kicks off.
Spring and summer are always the most popular time to buy a home, and this uptick is further proof of that. But knowing when it's the right time to buy depends on your financial picture and goals. Figure out which season is best for you based on your needs.
How to know if a cash-out refinance is right for you
Saving money isn't the only reason to refinance, and interest rates aren't the only determining factor—especially if you're considering a cash-out refinance. This type of loan replaces your current mortgage with a new one for more than you currently owe, and lets you keep the difference in cash. When deciding if it's the right time to cash out, there are two key factors to consider: the amount of home equity available to you, and whether leveraging that equity would improve your overall financial picture. If it's something that adds value to your finances, like a home improvement, education cost, or an increase in stability, then this kind of refinance could bring huge rewards. If not, it may be worth assessing other options. Learn what to consider for a cash-out refinance to help weigh your decision.
Considering a home loan?
Get your custom rates in minutes at Better.com. Our team is here to walk you through your options and help you make an informed decision about which loan is right for you.