Will rates go down? Maybe not, but they remain lower than last year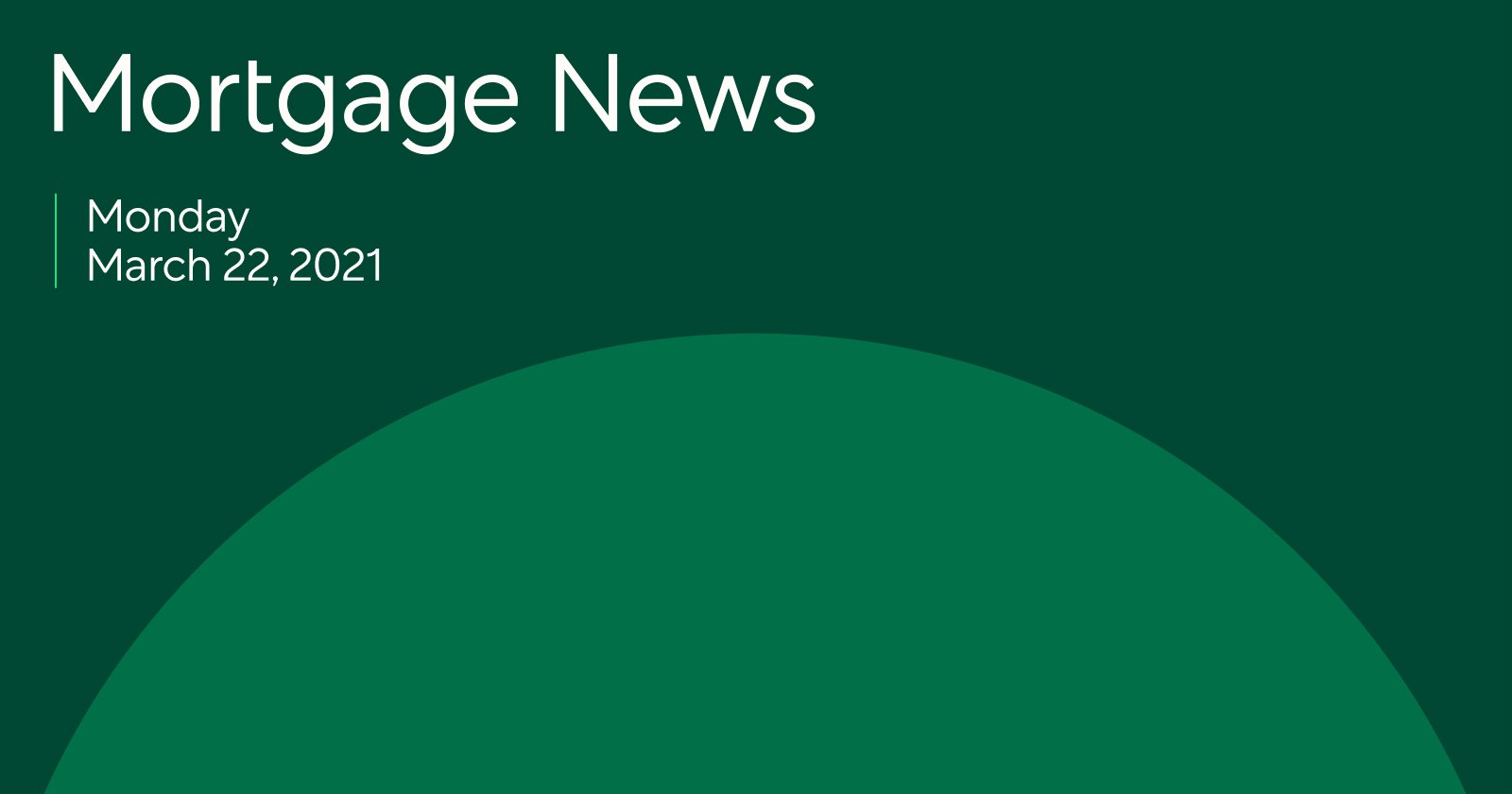 Here's a look at the latest developments in the mortgage market for the week beginning 3/22/21.
Rates are still lower than last spring
Millennials lead US sales, yet over half feel homeownership is out of reach
New home construction takes a dip, while demand remains strong
Ready to refinance? Here's what to expect
Rates are still lower than last spring
After hitting multiple record lows throughout 2020, mortgage rates have been steadily inching upwards since January. This past week, the average rate on a 30-year fixed mortgage reached 3.09%—the highest it's been since last June. But even with the continued rise, rates are still lower than they were last spring, when the pandemic and its resulting refinance boom began.
For the last five to ten years, the 30-year fixed mortgage rate has hovered around 4%. It averaged 3.65% one year ago, and 4.31% two years ago. In 2020, when the economy took a drastic turn, the Federal Reserve (the government's banking system) stepped in to keep mortgage rates low so that money could continue flowing through the market. That's what caused rates to drop well below 3% last year, continuously beating all-time lows.
Mortgage rates move based on a number of economic factors, but generally, a healthier economy usually means higher rates. Today, more signs of healing are popping up: the vaccine rollout is chugging along, unemployment rates are dropping, and stimulus relief has been distributed. Officially, The Fed promised not to remove their influence on rates until the market reaches inflation—essentially, when the prices for food, fuel, and so on, have risen in accordance with the amount of money in people's pockets. Until then, the market might be reacting to each new sign of economic growth with a jump in rates.
The window to save may still be open, since mortgage rates are still lower than last spring when the pandemic began. Looking back even further, today's average rate is more than a full percentage point lower than 4.31% in March 2019, so homeowners who first financed as recently as two years ago are likely to get a deal. The monthly payment on a $350,000 loan two years ago, for example, would be about $240 less on average today. If you're still on the fence, here are a few more reasons why it's important to lock a rate sooner rather than later.
Millennials lead US sales, yet over half feel homeownership is out of reach
For the eighth year in a row, the largest portion of US homebuyers are millennials: adults between the ages of 23 and 38. In 2020, they made up 37% of home sales, and this year, they're expected to continue packing the market.
That also means challenges like low inventory and high prices are hitting this group the hardest. As many as 55% of surveyed millennials thought homeownership was financially out of reach for them, and 31% cited high down payments as their main obstacle.
Luckily, the costs of homebuying may not be as high as many potential shoppers expect. In fact, a down payment can be as low as 3-5% of a home's purchase price. Try adjusting your down payment amount when you check rates to see how your monthly pricing shakes out.
New home construction takes a dip, while demand remains strong
After a sluggish January, the number of new home builds dipped further by 10.3% in February due to the rising costs of lumber and materials. Severe weather may have also played a part, since Texas and other states were hit hard by winter storms which delayed construction projects.
Meanwhile, the number of permits for single-family homes that haven't started construction rose higher in February, to 121,000 units. That's 36% more than a year ago, and shows buyer demand isn't faltering in response.
Despite the winter slowdown, construction projects are likely to regain stability as the weather warms up. Knowing the supply gap for new homes is largely unfilled thanks to decades of underproduction, home shoppers can expect hot competition and bidding wars for homes hitting the market this spring.
Ready to refinance? Here's what to expect
Refinancing can be complicated, but the process tends to go more smoothly when you know what to expect. To start, there are three stages an applicant passes through before their loan is funded: pre-approval, processing, and finally, closing. This guide walks you through the timeline of those stages so you know how long each one usually takes, and what your lender will need from you along the way.
Considering a home loan?
Get your custom rates in minutes at Better.com. Our team is here to walk you through your options and help you make an informed decision about which loan is right for you.