Economic growth spikes mortgage rates
Published February 24, 2021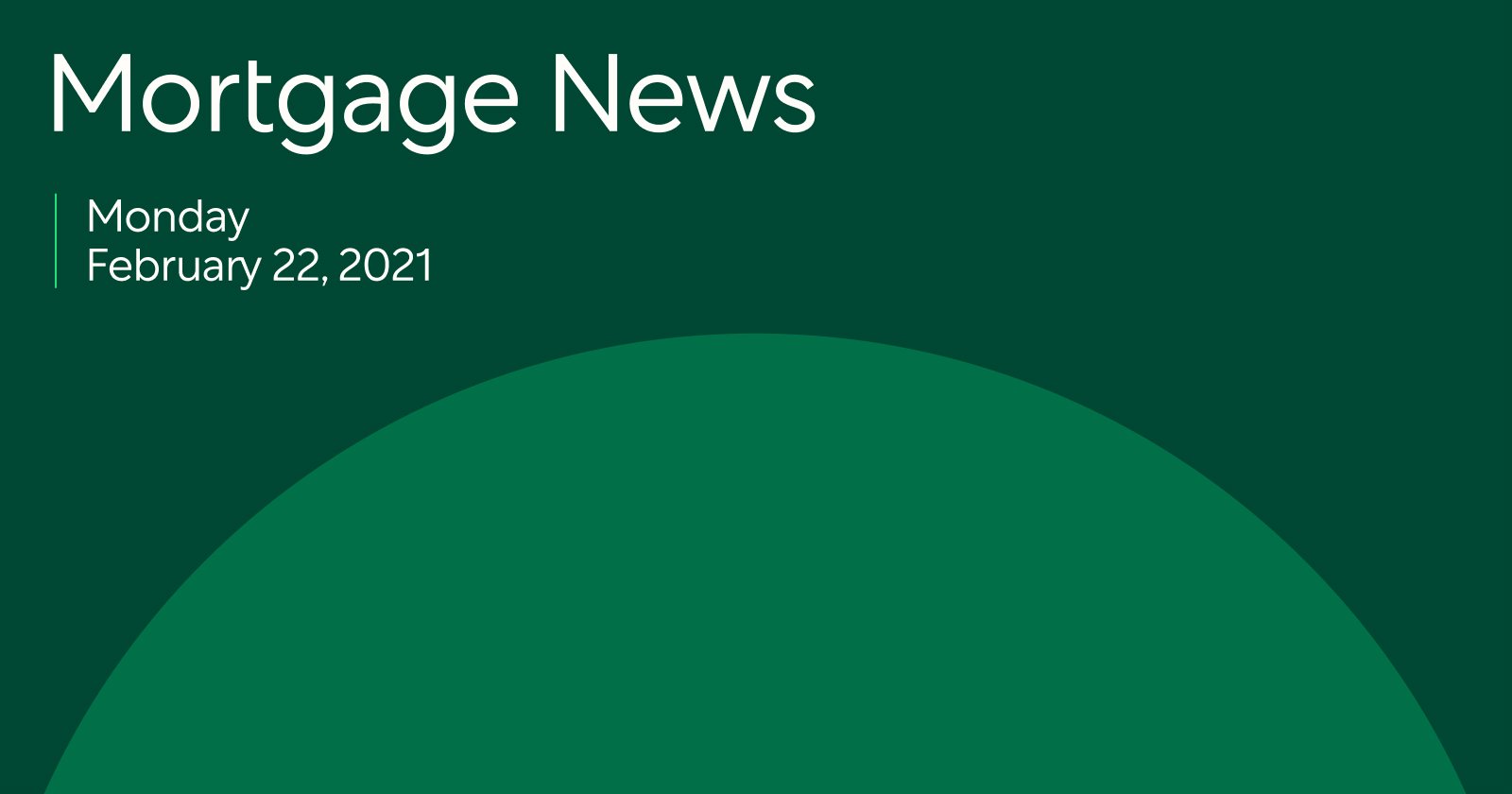 Here's a look at the latest developments in the mortgage market for the week beginning 2/22/21.
Signs of economic growth lead to a rates spike
More new home builds planned for spring, despite construction slowdown
Denied for a loan in 2020? Now may be the time to reapply
HUD extends forbearance relief to homeowners
Signs of economic growth lead to a rates spike
Mortgage interest rates are rising as expected, but a recent spike reminds us that the pace of that rise, and the ups and downs within it, can be unpredictable. In the last week, rates have jumped up dramatically, with the 30-year fixed rate mortgage hitting its highest point since mid-November.
The market was responding to a couple key signs of economic growth—and good news for the economy usually means higher mortgage rates. Stimulus talks are reaching their conclusion in Congress, so it's likely that a relief plan is on the horizon. Meanwhile, the vaccine rollout is chugging along with no major unexpected setbacks. Much of the economy's recovery depends on that rollout, so its progress is likely to push rates up.
With the spike came a cooldown in the number of mortgage applications, which dropped 5% in the week ending February 12th compared to the week before. And for the first time since October, refinance applications made up less than 70% of the overall total.
Rates have been expected to rise over the course of the year, and if the economy gains more stability in the coming months, that rise may be more swift. That said, we believe that lenders will be motivated to keep their rates below 3.25% to maintain demand from applicants.
Rates are unpredictable, so if you're considering a refinance, it may be beneficial to see the rates available to you sooner rather than later. That way, even if you're not currently eligible for lower payments, you can learn what steps to take for a better deal when you're ready.
More new home builds planned for summer, despite construction slowdown
Builders are preparing for a busy summer season as construction permits hit a new high in January. 128,000 permits were issued, which is a whopping 22.5% more than in January 2020.
Meanwhile, active construction is taking a dip. The number of new homes started in January fell 2.3% compared to a year ago. Much of the drop can be attributed to winter weather and lumber challenges, but the increase in permits is a signal that builders are gearing up to boost the market's low inventory in the coming months.
Another good sign? Builder confidence is up one point from last month, to 84. The National Association of Home Builders says despite lumber prices rising, much of the industry's focus is on meeting buyer demand in lower cost markets.
While new construction provides the hungry market with much-needed relief, it would require years of robust building to fully close the gap between supply and demand.
Denied for a loan in 2020? Now may be the time to reapply
The Federal Reserve expects lenders to ease credit standards this year, which could be especially favorable for those who may have missed out on last year's mortgage boom.
In late 2020, $1.2T of mortgages were originated, and 70% of that went to borrowers with credit scores of 760 or higher.
The trend can likely be attributed to the way the market has changed since the financial crisis of 2008. In times of heavy mortgage demand, many lenders tighten credit standards to avoid risk, while borrowers have also become wary of taking on high amounts of debt.
Now, as the economy recovers from the pandemic and the vaccine rollout quiets the threat of the virus, many risks of lending may subside. At the same time, a record number of households have reduced their debt and improved their chances of being approved for a mortgage.
This all points to more loan opportunities on the horizon for applicants with lower credit scores. More jumbo and government loan credit is also available, which could help lower income and first-time buyers. And even though rates are on the rise, we expect them to remain below 3.25% throughout the year.
If you're hoping to apply for a loan, knowing your budget and greater financial picture is essential. Getting pre-qualified now can help set you up for a smoother homebuying experience down the road, and show you what steps you may be able to take to get a better deal.
HUD extends forbearance relief to homeowners
In an effort to relieve hardship for millions of homeowners, the government has extended the deadline for those with federally funded loans to enter forbearance. Owners can now request forbearance until June 30, 2021, and extend existing forbearance plans an additional six months.
Mortgage forbearance means putting payments on pause with the approval of a lender or bank. Now, as 2.7 million owners are in forbearance plans, these two announcements are said to cover 70% of current single-family loans. The extension should provide homeowners more time to recover financial stability after facing challenges during the pandemic.
Considering a home loan?
Get your custom rates in minutes at Better.com. Our team is here to walk you through your options and help you make an informed decision about which loan is right for you.