What to expect for your refinance process timeline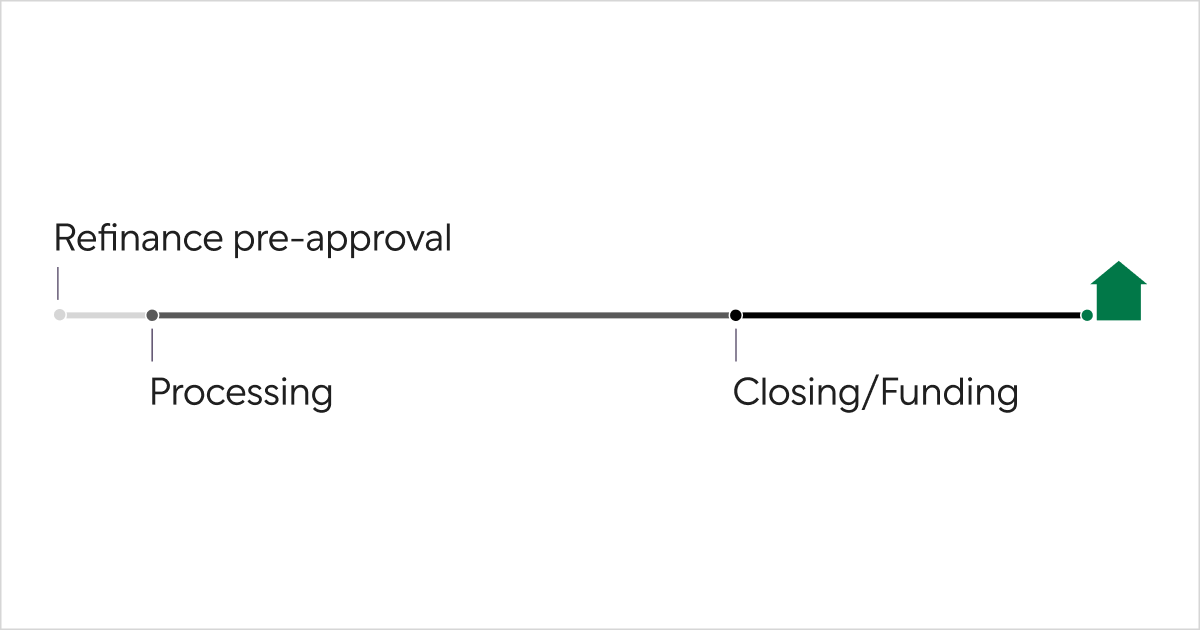 What You'll Learn
The steps involved in the refinancing process
How long you can expect the refinancing process to take
What your role will be in each step of the process
If you own a home, you've probably heard or seen a lot of buzz around refinancing in recent months, and you're not alone. Many homeowners are anxious to take advantage of market trends like low interest rates and high property values—two key factors in optimizing any loan—but what does the refinancing process look like and how long does it take?
Ultimately, when you refinance, you're exchanging your original mortgage for a new one. Ideally the new mortgage will lock in more favorable loan terms or help you secure some kind of financial benefit, such as reducing the amount of your monthly payments, changing the type of loan you currently have, getting rid of private mortgage insurance (PMI), or borrowing cash against your home equity. In the process, the original purchase mortgage gets paid off and is entirely replaced by the refinanced mortgage.
Sounds easy enough, right? It's actually a bit more complicated than a simple switcheroo. In fact, refinancing involves many of the same steps as getting a purchase mortgage and can take 5–7 weeks to complete with most traditional lenders. At Better Mortgage, our average closing time is 32 days—10 days faster than the industry average—and our online process provides a series of streamlined steps so you can refinance quickly and conveniently. Here's our breakdown of what you can expect when refinancing at Better Mortgage from start to finish.

Getting pre-approved: as little as 3 minutes
Before you can refinance your mortgage, you'll need to get pre-approved by your lender to understand the types of loans and interest rates available to you. Lenders review your financial history during pre-approval, including debt, credit score, and income. Getting pre-approved with Better Mortgage only takes a few minutes and doesn't require a hard credit check, meaning your credit score won't be impacted by this step. You will need to provide some basic information about your property, income/assets, and current loan, including the estimated value of your mortgage and reason for refinancing. After you apply, our system evaluates this snapshot of your financial profile and instantly determines if you're pre-approved.
Action Items
Have the following information handy when you apply: home information (address and property type), income details (type and amount), title holder information (name and email address), current mortgage information (estimated value, confirm lien holder), asset information (retirement, bank account, etc.), and reason for refinancing
What's next? Use your pre-approval to understand which loan and rate are best for you.
Choosing your loan: as little as 1 hour
Once you've been pre-approved, you'll be able to see different rate and loan options that are available to you. Compare mortgage options until you find a few that are best tailored to your goals: whether that's getting a cash-out refi, swapping from an adjustable to fixed rate mortgage, or just nabbing a lower interest rate. Comparing different loans will help you decide which rate to lock by giving you a sense of how different terms will impact your monthly payments and how many payments it will take before you offset the cost of the refi. Having a pre-approval helps you wade into the refinancing journey with confidence and start exploring mortgages that are compatible with your financial goals.
Action Items
What's Next? Narrow your search by comparing Loan Estimates and lock your rate.
Locking in your rate: as little as 1 minute
A rate-lock is when your lender agrees to honor a particular interest rate by "locking" it into your loan—usually for 30-60 days, or long enough to complete the underwriting process. After you get pre-approved, you'll be able to review Loan Estimates, which contain the breakdown of costs and fees associated with different mortgage terms and interest rates. Because they have the exact same formatting from one lender to the next, Loan Estimates are one of the best comparison tools in the mortgage shopping process. Use your Loan Estimate to examine the details of any refinance mortgage, including key elements like loan term (15-year or 30-year?), loan type (conventional or FHA?), loan amount, and estimated monthly payment. Once you figure out the best loan option for you, it's time to lock your rate by putting money toward an appraisal.
Until this point, your rate and loan amount have been based on the estimated value of your home. However, in the time that you've lived there, your home may have increased or decreased in fair market value. That's why it's important to get a new appraisal of your property, even though you likely went through this process when you originally bought your home. Locking your rate with Better Mortgage starts this formal inspection and appraisal process. The inspection and report cost varies, but we collect a deposit of $550 upfront. From there, our team will order the appraisal, title review, and start processing your request to lock your rate immediately.
Action Items
Choose the rate that's right for you
Pay $550 appraisal deposit to lock your rate
Coordinate with the appraiser to schedule your home inspection
Start collecting your initial documentation
What's Next? Submit your official mortgage application.
Initial document collection and processing: 5–7 days
After you lock your rate, you'll be ready to tackle the bulk of document submission. During any mortgage refinance, you'll need to gather and share various financial paperwork that helps a lender verify things like your income, employment history, and assets. Document collection and processing might seem tedious, but it helps ensure that your application complies with mortgage industry regulations and includes all the necessary components for underwriting review and approval.
Thanks to our fully digital approach, refinancing with Better Mortgage is simple and streamlined. We help you coordinate with third parties and track conversations online; we also keep all your to-dos in one place to minimize friction and reduce headaches. You'll receive clear, easy-to-navigate prompts and be able to upload items like paystubs, tax returns, and bank statements to your account. You'll also have access to a dedicated processing expert should questions arise. Once you've submitted all your documents, our underwriters will conduct an initial review to determine if you are conditionally approved for the loan—a.k.a. if the initial documentation you submitted satisfies the guidelines of your particular loan.
Action Items
Make sure to have income, asset, and property documentation handy when you apply, including: your most recent W2, paystubs, and 2 years of tax returns; your most recent bank statements and retirement account statements (2 months); your current insurance policy, HOA statement, and mortgage statement
What's Next? Take a breather! The biggest lift is off your plate. From here you'll either be moved through to conditional approval or asked to provide additional documentation to get conditionally approved, depending on the outcome of the underwriting review.
Conditional approval and final review: 10–15 days
Over the next week or so, we'll begin vetting and processing your loan application with the aim of getting it conditionally approved. This indicates that your documentation and assets have been preliminarily okayed by an underwriter, but our team may still have to review a few things before we give you the final approval on your loan. It's our job to ensure the title, appraisal, and homeowners insurance requirements are sorted and cleared. From here, our team will also do a more thorough examination of your credit history and debt-to-income (DTI) ratio to confirm there haven't been any significant changes since you started this process. New debts can impact your DTI ratio and jeopardize your eligibility for refinance. This part of the process typically involves a bit of back-and-forth communication as additional questions crop up, so be on the lookout for notifications about follow-up tasks in your account—for example, you might be asked to clarify any large, one-off transactions in your bank statements.
Action Items
Expect weekly updates from your loan team as we make progress on your refinance
Monitor your account and complete outstanding tasks as they arise
What's Next? Once the underwriter has done a final review and approval on your loan application, you'll be clear to close! If the underwriter doesn't approve your application after final review, don't lose hope—you may still be able to refinance. A processing expert can help you navigate next steps here, as it's likely more documentation or additional information will be required.
Clear to close: 3–5 days
A conditional approval is just that—conditional. Nothing is set in stone until the final review, when an underwriter evaluates all the documentation in your application for the last time. If everything looks good, your refinance will be approved and designated as clear to close! This means you're ready to pick a date, time, and location for your closing day; we'll coordinate those details with the title company and notary, then email you when the closing day logistics are confirmed.
After final approval, you'll also receive an Initial Closing Disclosure (ICD). This is one of the most important pieces of documentation in any lending process: similar to your Loan Estimate, it's a standardized form containing an itemized breakdown of all the costs associated with your mortgage. Unlike a Loan Estimate, however, the ICD includes specific figures. After you've carefully reviewed all the details, you'll need to acknowledge your Initial Closing Disclosure 3 business days before you're planning to close on your new mortgage.
If you have any questions or final changes you'd like to make on the Initial Closing Disclosure, you can use the 3-day grace period to call your loan team and have those made. No adjustment is too small— even if your name is misspelled or there's a typo in your address, you'll want to have that corrected before closing. We'll send you a revised Closing Disclosure, which you should check again. Then you'll receive your final Closing Disclosure, which you'll sign as part of the closing process.
Action Items
Review and acknowledge Initial Closing Disclosure (ICD)
Choose closing date, time, and location
What's Next? Put the finishing touches on the official closing disclosure and prep for closing day!
Closing day: 1–2 hours
Just like with a purchase mortgage, a refinance is officially sealed at the closing table. A notary, title agent, and attorney (depending on state requirements) will meet at the time and place chosen by you and your loan team. There, you'll review and sign the final closing disclosure and other closing documentation and make the payment on closing costs. Typically you'll have the option to wire your closing costs directly to the title company or bring a cashier's check with you. All costs and fees are included in the Closing Disclosure, so you'll know how much cash to close is required ahead of time.
Action Items
Wire or provide cashiers check for cash to close
Sign final closing disclosure and other refinance mortgage docs
After you close with Better Mortgage
After closing, the title company will pay off your old mortgage. If you've chosen a cash-out refi with Better Mortgage, you can expect disbursement within 3–4 days. We'll also begin servicing your loan (aka handling administrative needs like payment collection) so you can begin the payment process. Typically you'll be expected to make your first payment one month following the closing date of your loan.
In some cases, your loan may be transferred to a separate permanent servicer. We work with a large roster of reputable servicers and mortgage investors including major US banks, government-sponsored entities, publicly-traded mortgage companies, and specialized servicing firms. Whether your loan is serviced by us or transferred to another servicer, you'll be in good hands.
So, am I ready to refinance?
Refinancing can be a winding road, but we're here to simplify the process. If you think you're ready for refinance, it only takes a few minutes to get pre-approved with Better Mortgage. There's no hard credit check, and we're here to answer all your questions along the way. Get started with just a couple clicks.