What is in a closing package?
Published January 19, 2021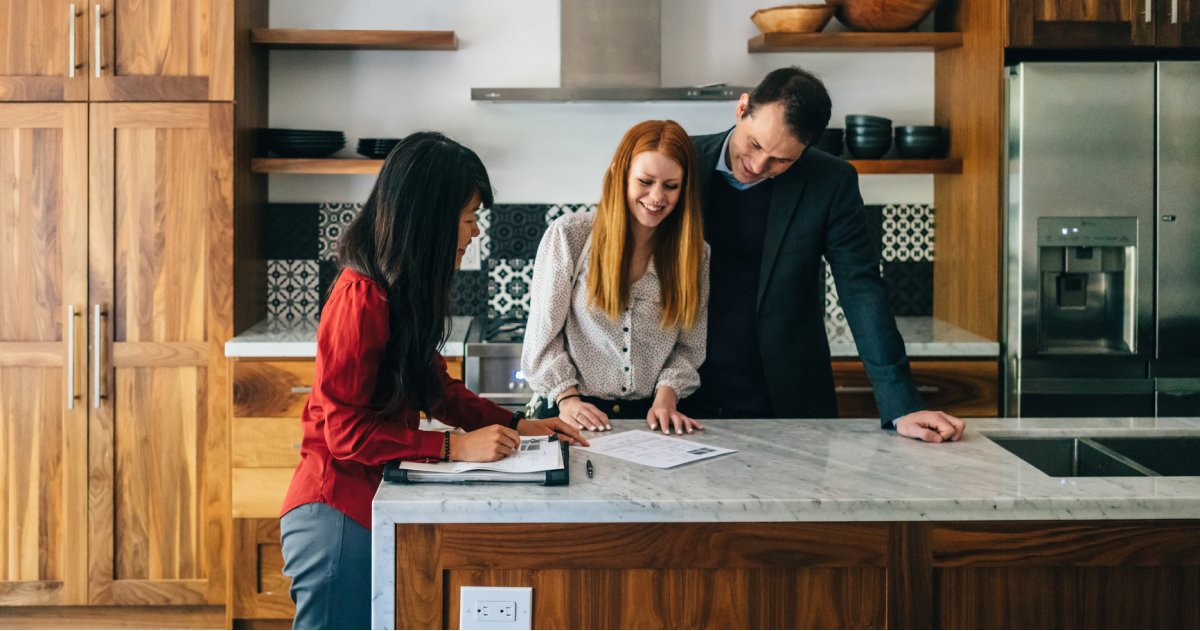 What You'll Learn
Who will be present on closing day
What documents are in a closing package
Why it's important to understand your closing documents
The day has arrived. You've submitted all your financial documents and received a "clear to close." Now, you may be wondering what else happens before your new home loan or refinance is official. At the closing table, the amount of paperwork you have to review and sign might seem overwhelming, but as with most steps of the homeownership journey, knowing what to expect can put your mind at ease.
Let's take a look at the documents you'll be reviewing in your closing package and what the closing process looks like.
Who will be present at closing?
Before we get into what's in your closing package, we'll review the key players at the closing table.
If you're purchasing a home, closing usually involves:
The buyers/borrowers (you and any co-borrowers who are also listed on the mortgage)
The sellers
Your real estate agent
The seller's agent
A settlement agent who will facilitate the paperwork (this person may be an escrow or title company officer, attorney, real estate agent, mortgage broker, or homebuilder)
Your real estate attorney, if you have one (not required in all states)
If you are closing on a refinance, you will likely have a smaller crew, including:
The borrowers (you and any co-borrowers who are also listed on the mortgage)
A title agent or notary who will provide and observe the signing of the paperwork (nearly all Better Mortgage refinances are facilitated by a mobile notary for your convenience)
When all necessary parties are present, you will have the green light to sign and initial your way through the closing package.
What is a closing package?
A closing package is a collection of documents that you're required to sign on closing day to finalize your home purchase or refinance. It includes title, homeownership, and mortgage documents. After you sign on each dotted line, you'll be legally obligated to meet the terms in these contracts, so don't be afraid to ask questions about anything that seems unclear.
The exact documents in your closing package will vary based on where you live and what kind of property you're buying or refinancing. But let's go through some of the most common closing documents you're likely to encounter.
Final closing disclosure
A closing disclosure, formally known as a "Final Truth-in-Lending Disclosure," is designed to ensure you understand the terms of your home loan. Your lender is required to provide the initial closing disclosure 3 days before closing, allowing you time to review and check for errors. Be sure to read it over carefully so that you can ask questions about your final closing figures.
The closing disclosure lays out all the details of your home loan, including the principal loan amount, interest rate, and your total monthly payment. This document also includes information about your closing costs and how much money you'll need to bring to the closing table.
Promissory note
A promissory note, sometimes simply referred to as "the note," is a document you sign to indicate that you promise to repay your mortgage. It outlines information about your home loan, including the amount you owe, any relevant repayment dates, and the total length of time for repayment. This document also explains what will happen if you decide to stop paying or are unable to pay your mortgage.
If any information in your promissory note is different from what you've discussed with your lender, contact them right away to get clarification and/or make necessary changes.
Mortgage or security instrument, aka the deed of trust
In exchange for lending you money to purchase the property, the deed of trust is the lender's guarantee you will pay off the loan as agreed. It reiterates the loan information outlined in both the closing disclosure and the promissory note. However, it also details the rights and responsibilities of the borrower and lender.
For the borrower, the deed of trust secures equitable title, which means you have the right to live at the property, make improvements, resell it, and benefit from any equity gained in the property through repayment of the loan or increased value.
The deed of trust also outlines the lender's rights in the case of default. For instance, most mortgages contain an acceleration clause. The acceleration clause states that if you are unable to abide by the terms of the loan, such as keeping an up-to-date homeowners insurance policy, the lender has the right to declare your loan in default and request payment in full. If you are unable to pay the loan off in full at that time, the lender has the right to start foreclosure proceedings.
Initial escrow disclosure
The initial escrow disclosure provides you with information about the specific charges you will be responsible for paying into escrow each month according to your mortgage agreement. These costs may include homeowners insurance premiums and property taxes. If you're required or have elected to let your lender manage your escrow payments, this disclosure will tell you how much of your monthly mortgage payment goes toward these amounts.
Each month, these amounts will be collected in a separate, independently managed account, known as an escrow account, so there's enough to pay your homeowners insurance provider and your taxes. Keep in mind that the lender may use escrow for other charges or premiums, such as private mortgage insurance (PMI).
Usually, the first time you see this document will be at closing. Lenders are only required to provide it within the first 45 days of establishing an escrow account for you, and it's likely that whoever services your loan will provide it. After the initial escrow disclosure statement, they must also send you an escrow account statement on an annual basis.
Mortgage servicing disclosure
The mortgage servicing disclosure lets you know that your lender has the right to sell your loan to another loan servicer. The loan servicer is who you make mortgage payments to each month. If your lender will not be servicing your loan, this document will outline pertinent information about the transfer and what to do should any issues arise.
Even if your mortgage servicer does change, nothing else about your mortgage will be adjusted—only where you send the payments.
Right to cancel form
If you are refinancing an existing home loan, you will also find a right to cancel form in your closing package. As the name indicates, this form allows up to three days to cancel your new loan. This document contains information about when and how you can cancel your home loan and what happens if you decide to do so.
This form only applies when you are refinancing, so don't expect to see this for purchase transactions.
What happens after you sign?
On closing day, you'll sign all of the paperwork in the closing package and provide any cash required for your down payment or closing costs (in the form of a cashier's check or bank wire). Soon after, your mortgage lender will fund your loan. And then your home purchase or mortgage refinance process will officially be complete!
Better Mortgage keeps you informed throughout the entire mortgage process. Plus, our resources help you understand what to expect and what you can do to prepare.
If you're looking for a lender that can get you through closing 10 days faster than the industry average, we can help you with that, too.