When is the best time of the year to buy a house?
Published February 2, 2021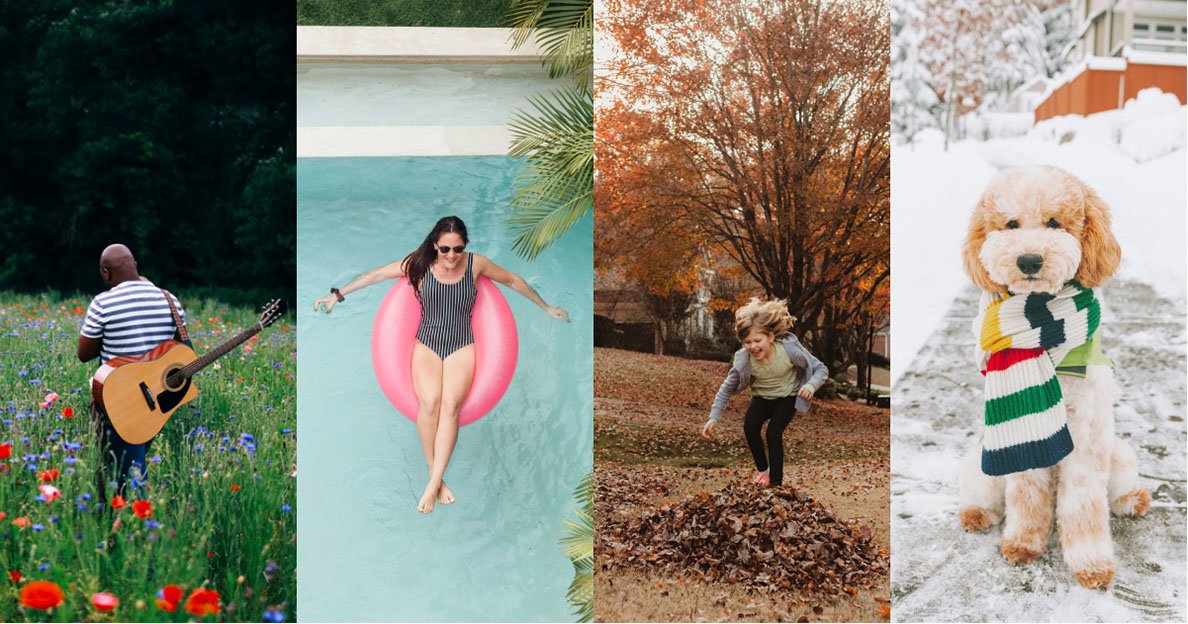 What You'll Learn
How seasons can affect house buying
Pros and cons of buying in each season
The best time to buy for you
Identifying the best time of year to buy a home is relative. While it's easy to choose the most popular time of the year to buy (hint: it's summer), that doesn't always mean it will be the best time for you. Each season has its pros and cons, and the truth is that you can snap up a great home at any time of year—it all depends on what's important to you: the widest selection, the best price, or the most convenient time to move. Here we'll explore how these three factors impact each season to help you identify your best time to buy.
What season is best for you? Find out with these questions:
Are you prepared to pay a premium for the most choice? Are you cool with competition?
Do you want to move in before the school year starts?
If yes, get shopping in spring.
Are you looking for choice, but don't want to pay top dollar for it? Can you make fast decisions under pressure? Are you comfortable working to a tight deadline with the school year looming?
If yes, you'll shine in summer.
Are you eager to strike a balance between choice and price? Would you like more power in a negotiation? Does the school year mean nothing to you?
If yes, you'll find a bargain in fall.
Are you okay with having the least choice if it means getting the best price? Do you prefer to make decisions on your schedule? Are you willing to put in some sweat equity (or renovate)?
If yes, you'll be a winner in winter.
Buying a house in the spring
Pros
Largest selection: More chances to find the move-in ready home you're after
Front yards and gardens look their best
Ample time to close before the school year starts
Cons
Fierce competition means bidding wars (and broken hearts)
Highest prices of the year
Competition-based pressure to make fast decisions
The weather's warm, flowers are in bloom, and homebuyers and sellers are ready to go. Spring is the season when the most homes come on the market. Sellers have spent the winter getting ready because they know that pent-up demand will drive higher prices. With so much inventory, this is the best season to see a wide variety of houses and find the perfect home with everything that you're looking for.
If you have children, spring is a popular time to buy because it gives you the summer to close and move in before the new school year starts. The trick is getting the home you want before other buyers with the same idea. If timing your move with the school year is important, don't hesitate when you find a home that ticks all the boxes. Put in an offer and be ready for a bidding war. For your best chance of success, Better Mortgage offers clients a Pre-Approval Letter to show agents and sellers that you're serious about purchasing a home.
The median days homes spend on the market before a seller accepts an offer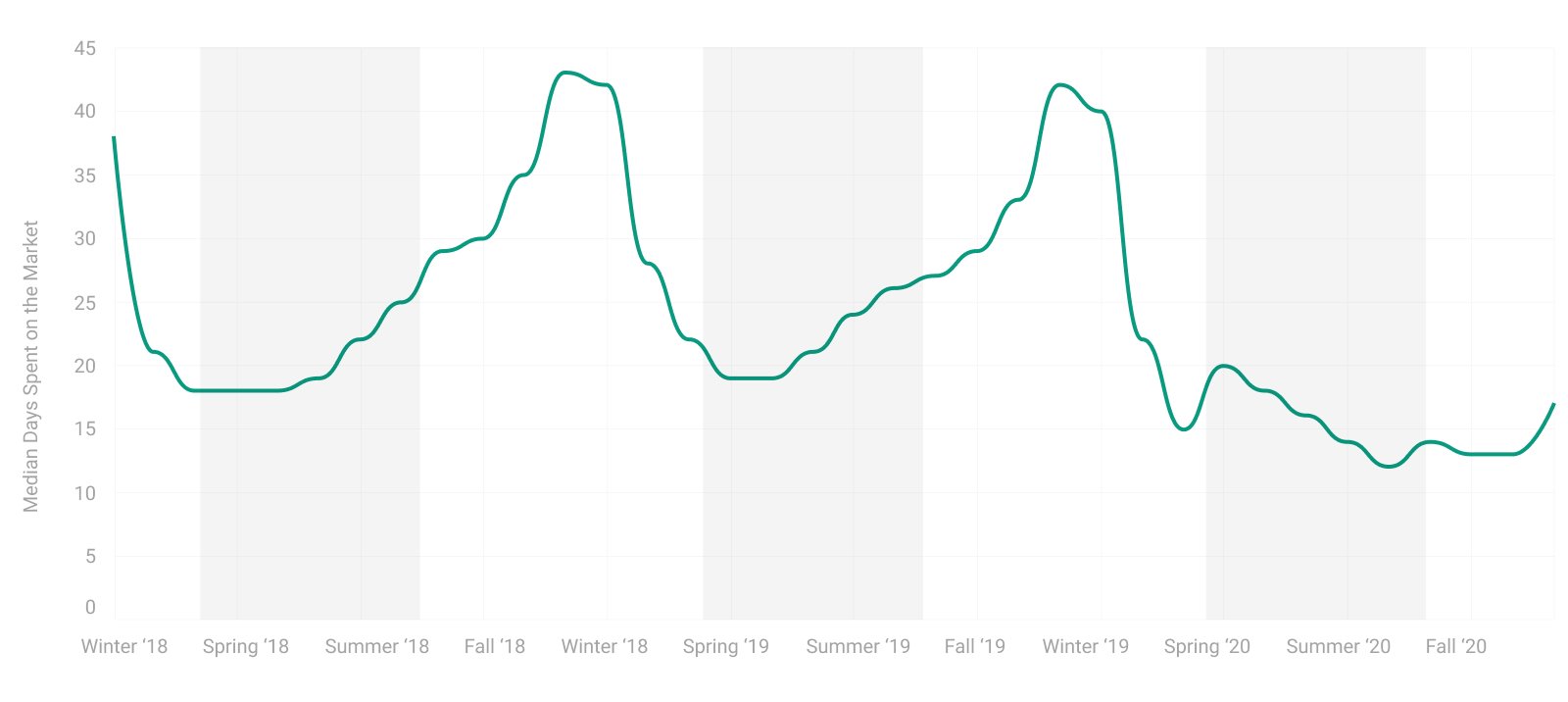 Source: Zillow
Note: Median days on market corresponds to the median number of days it takes a home to change to pending status on Zillow after first being shown as for sale.
Buying a house in the summer
Pros
High inventory
Lower prices than the spring peak
Great time to buy if you need to sell
Cons
Stiff competition and ongoing bidding wars
Higher prices than in the cooler months
Time-based pressure as it gets harder to close (and move in) before September
Summer is when most people are on the move: When the weather gets hot so does the real estate market. The competition for homes in spring often drives up prices, but in summer prices start returning to normal. This helps explain why May, June, July, and August are consistently the busiest homebuying months. The National Association of Realtors found that this four-month period accounts for 40% of the annual volume of home sales. With plenty of homes on the market, you'll have more opportunities to find a home with all the bells and whistles.
In this season, competition can be intense, especially at the cusp of spring and summer. But as summer's end approaches you may find sellers willing to negotiate. That said, this is no time to snooze. Come in with a strong offer and be ready to work with your real estate agent to ensure you're the buyer that clinches the deal.
Buying a house in the fall
Pros
Great balance of inventory and price cuts
Less competition
Maximum number of homes with at least one price reduction
Cons
Less choice than the warmer months
Buying at this time could disrupt your child's school year
Fall is a great time to buy for the price conscious as there's a relatively high number of homes still on the market and competition has tapered off. Buyers are no longer pressured by the start of the school year, but sellers are feeling pressure to sell before the temperatures drop.
If you're looking for house listings with at least one price reduction, August and September are when you'll find them. Wait until October and you may find your money goes even further: sellers eager to get a tax write-off before the end of the year will be more willing to negotiate. According to real estate market information company ATTOM Data Solutions, home sales that close when the weather gets colder tend to sell with the biggest discounts of the year. In fact, 7 of the 10 'best' days to close are in December. That means if you continue house hunting through Halloween and put in an offer around Thanksgiving, this could be your best time to score a deal.
Buying a house in the winter
Pros
Least competition of all the seasons
Best time of year to find a bargain
Closing can be faster as the real estate industry is slower in winter
Cons
Least choice of homes: some sellers take their homes off the market in winter
Harder to gauge a property's natural light when the days are shorter
Snow, rain, or dormant trees do nothing for a home's curb appeal
Winter is a buyers market. There are less homes to choose from, but the sellers tend to be more eager to sell. Real estate agents are also more open to negotiating closing costs and commissions if it will help them make a sale during the slow winter months. Buyers can take their time making decisions as there's less competition and less likelihood of a bidding war.
The weather is not ideal for showing homes at their best, so intrepid buyers with a good imagination should use this knowledge to their advantage. Although limited choices make it harder to find a home that checks everything on your wishlist, you're more likely to get it for a great price. And with the money you save plus a little sweat equity, you'll be free to do what it takes to make it your own.
When the temperature drops, so do mortgage applications and competition for homes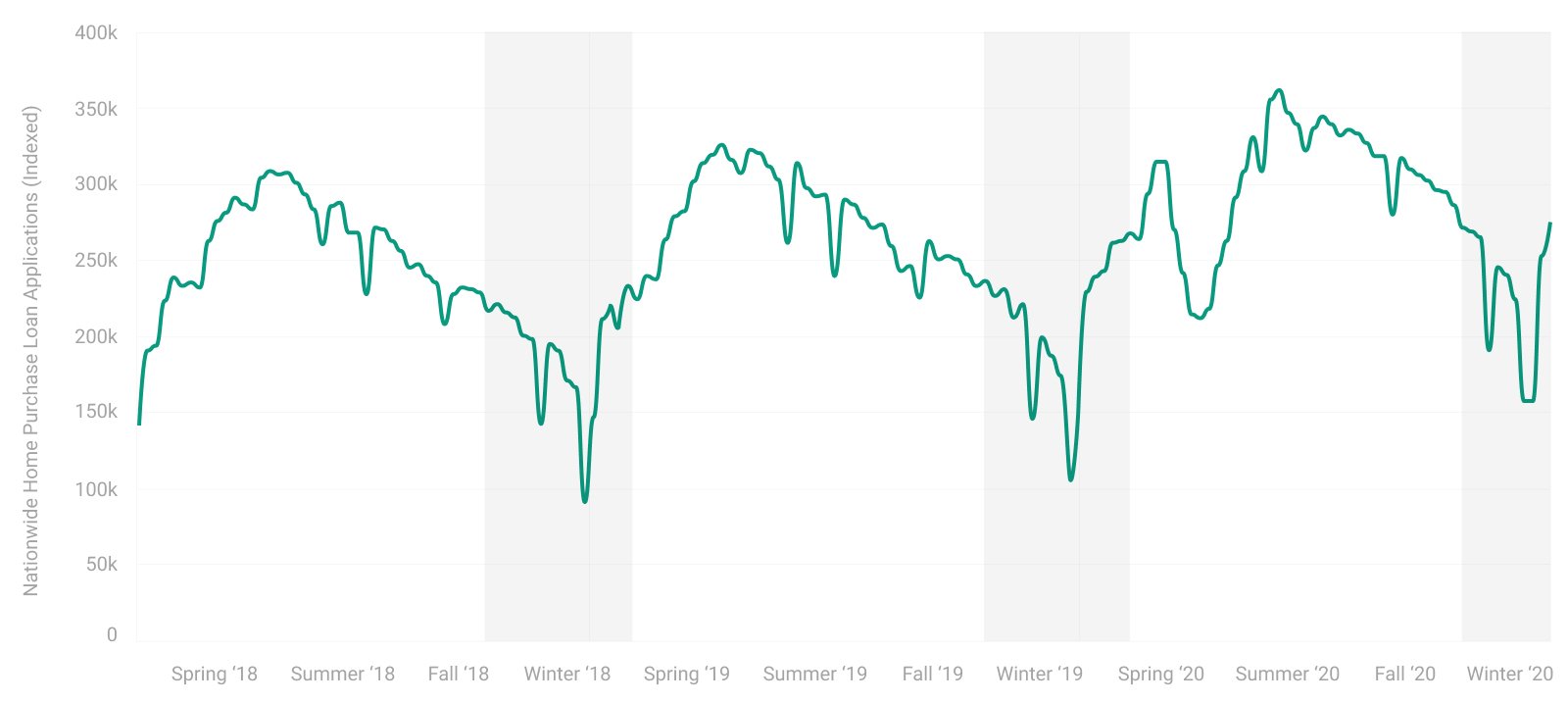 Source: Mortgage Bankers Association weekly survey
Your local real estate pro has more hot tips
When it comes down to it, predicting the best time to buy is never an exact science. It's possible to find a bargain in spring or have a bidding war in fall. Colder parts of the country are obviously more impacted by drops in home inventory and sales over winter than warmer destinations like Florida and Arizona. In fact, when snowbirds fly south for the winter many consider buying a second home or making the move for good. Examples like this highlight the importance of local factors on any real estate market.
Working with a local real estate agent can be a terrific way to determine the best time to buy in the area you're hoping to make a purchase. If you don't have an agent yet, Better Mortgage can match you with a local real estate agent. Your local pro can also give you the lowdown on real estate developments that may impact prices and insights into local buyer/seller behavior. So long as your finances are in a good place, any time of year could be your best time to buy.
Whenever you decide to buy a home, Better Mortgage can help get the ball rolling. See you how much you can afford, what's in your budget, and get matched with a local real estate agent to help you begin your homeownership journey.