How to keep costs down as home prices rise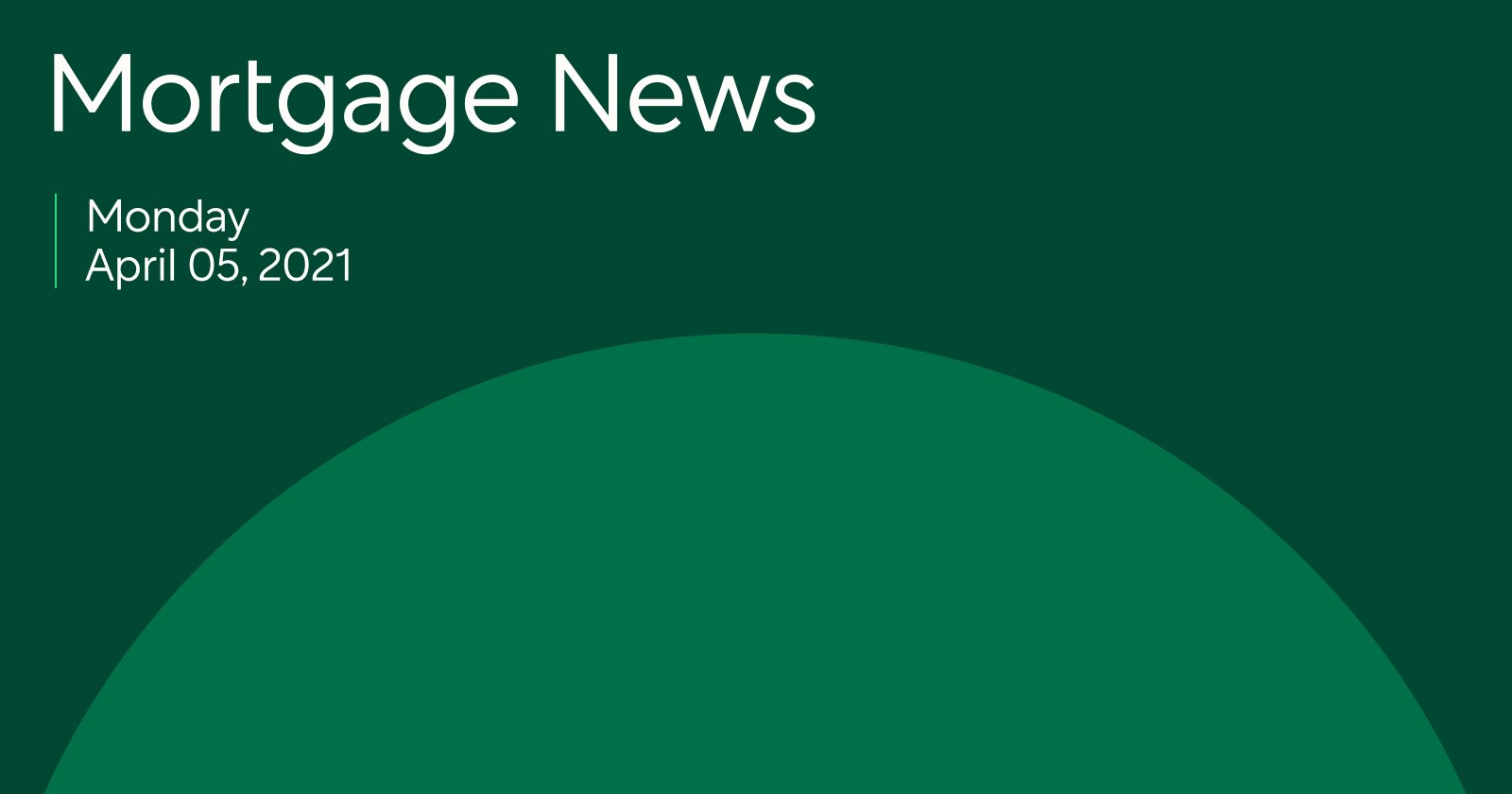 Here's a look at the latest developments in the mortgage market for the week beginning 4/5/21.
Home prices are rising at record speed—here's how to keep costs down
60% of buyers prefer a newly built home over an existing one
Twice as many buyers are shopping for second homes than primary homes
Tips for speeding up your refinance
Home prices are rising at record speed—here's how to keep costs down
With increasingly low supply on the market, home prices around the country are rising at their fastest pace in 15 years, growing by 11.2% year-over-year in January. It then comes as no surprise that only 51 of 175 major U.S. cities have a higher median income than the amount needed to own a home. Affording today's high prices is an ongoing challenge for buyers, but luckily, there are loan options on the market that can help remedy homebuying costs.
Many buyers cite the down payment as their largest barrier to homeownership, often assuming that 20% down is the standard amount. The truth is, a down payment can be as low as just 3-5%. Lower down payment options, through government-backed loans, for example, can be especially helpful for first-time buyers who have less on hand for upfront costs.
But buying a home doesn't end with a down payment. Closing costs are the fees and expenses homebuyers are charged at closing, which can often add up to around 2-5% of the loan total. Choosing to roll in closing costs lets buyers pay them back over the life of the loan instead, all at one interest rate. The amount of money this saves depends on how long the buyer plans to stick with the loan before potentially refinancing or selling, so it may require some calculation.
Even choosing a lender can come with added costs and fees. Many traditional lenders include commission, origination, and lender fees in their loans, while Better Mortgage uses a fast and simple online process that eliminates them entirely. Knowing the details of a mortgage can help inform a buyer's decision, which is why lenders are required to provide a standardized loan estimate that breaks down each cost in detail.
Economists expect home price growth to slow down by about half by the end of 2021, but the price tag on a home is just one aspect of its total cost. To get a sense of your entire homebuying budget, see how your finances stack up with today's rates. With the right loan options, your budget could stretch further than you think.
60% of buyers prefer a newly built home over an existing one
This year, homebuyer appetites appear to be leaning towards new construction, with 60% of surveyed buyers saying they prefer new homes over existing homes. Many may have chosen new homes for their modern features, like energy efficient air systems and up-to-date appliances. They're also often located in suburbs, which 30% of buyers cited as their ideal home location in the same survey.
The rise in popularity is likely to stick as homebuying season continues. New home sales are 8% higher than they were this time last year, and an influx of fresh inventory is expected on the market in the coming months.
New homes come with their own unique buying process. Before applying, for example, it's important to know the builder's timeline, since lenders can't close until the home is move-in ready. Working with builders has its advantage though—some may be willing to negotiate a purchase price, or upgrade materials at a buyers' request. With so much competition, shoppers who are already familiar with the ins and outs of new construction are often in the best position to buy.
Twice as many buyers are shopping for second homes than primary homes
There's a growing disparity between buyers who are relocating themselves and those who are shopping for a second home. New data shows that the number of rate locks to buy a second home grew by 84% year-over-year in January, while rate locks for primary residences increased by just 36% in the same time period.
While locking a rate doesn't equate to buying, it's a good indicator of demand on the market. Home shoppers who can afford a second home are likely competing alongside those who will live in their new home year-round, which only adds to the market's bidding wars and high competition. Meanwhile, buyers on the hunt for an investment property or second home may be recently affected by new government rules which increased prices for many lenders.
Tips for speeding up your refinance
Refinancing requires a lot of back and forth between lenders and homeowners, but when applicants are prepared with the documents they need, and proactive in their communication, the process may move more quickly. Learn what it takes to speed up your refinance by hearing how two homeowners each closed their loan in less than 21 days—over 30 days faster than the industry average.
Considering a home loan?
Get your custom rates in minutes at Better.com. Our team is here to walk you through your options and help you make an informed decision about which loan is right for you.