How to choose the right neighborhood when buying a house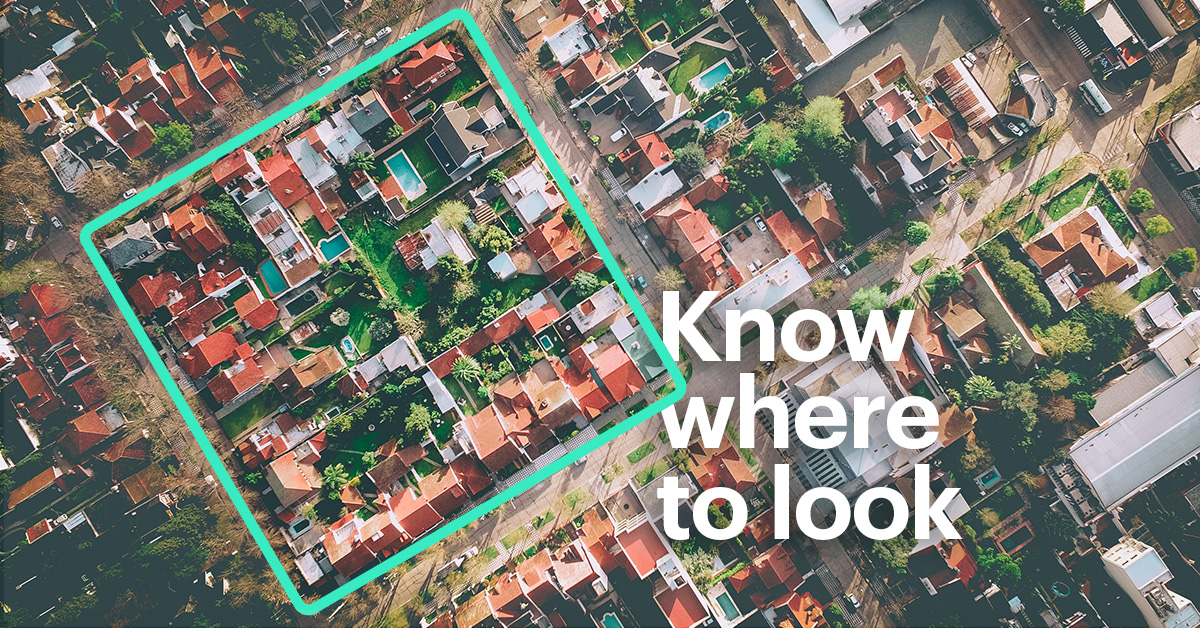 Location, location, location. It's every real estate agents' mantra and for good reason -- choosing the right neighborhood is one of the most important (and difficult) parts of the house hunt. Even if you have a general area in mind, it can be tough to narrow down exactly where you'd like to buy a home. Here are some tips to help you make that decision.
Research the market
For most of us, cost is a major factor in our location decision. That's why we recommend starting your house hunt by getting pre-approved, so you'll know how much you can actually afford. At Better Mortgage, you can get a basic pre-approval in just 3 minutes, with no effect on your credit score.
Once you've narrowed your price range, look at market trends and property values in neighborhoods you're considering. You can easily do this using the Better Market Report. Just enter the zip code of your desired neighborhood, and you'll get some quick stats on how the area's housing market has performed in the past and present.
To get a good idea of whether or not a neighborhood is in your budget, focus on the Median List Price and the Market Action Index. A Market Action Index less than 30 indicates that it's a buyer's market, so you may have some room to negotiate an offer below list price in this area. A Market Action Index above 30 means it's a competitive market, so you may have to make offers at or above listing price to win a house in this neighborhood. In this market, you might need to set your initial house hunting budget a little lower than your maximum budget. You can also make your offers more competitive in these hot markets by getting an underwriter-reviewed Verified Pre-Approval Letter.


Consider your monthly budget
Monthly expenses can also make a particular neighborhood more or less affordable in the long run. Let's start off with property tax rates. Property taxes are determined locally and can be quite high in certain neighborhoods, significantly adding to your monthly payment. Property tax rates also change over time, so this cost could potentially rise.
Do some research to see the current property tax rates. Also, take a look at how much they have increased in the last five years to get an idea of what you might pay in the future. Comparing tax trends in different neighborhoods may reveal which places help your budget go farther. For example, a $300,000 home in a neighborhood with a 3.5 percent tax rate might have the same monthly payment as a $350,000 home in an area with a 2.5 percent tax rate.
Monthly homeowners association (HOA) fees can also affect the affordability of a neighborhood. These fees are required in certain condo communities and single-family home neighborhoods to maintain and improve properties in the association. This additional expense, often several hundred dollars a month, can be significant over time. Look to see if HOAs are common in the areas you're considering (HOA fees are typically noted in the property listing). If you want to avoid HOA fees, that may help you narrow down your neighborhood pool. If you're willing to take on this expense, consider adding these fees to your monthly budget and adjusting your price range accordingly.
Look for a lifestyle fit
It's important to find a neighborhood that will support your current and future lifestyle. What kind of community suits you best? A lively area for singles or a quiet town that's family-friendly? An older neighborhood or a newer development? An area where condos are the norm or a white picket fence neighborhood? If you have the opportunity, drive through different neighborhoods and try talking to locals to get a feel for the community and how you might fit in.
Then there are some more tangible factors to consider, like school quality, safety, public transportation, commute times, and local amenities. Take some time to think about which of these factors you want to prioritize in your neighborhood search. What are your "must-haves" and "would-like-to-haves"? Then ask any friends, locals, your real estate agent, or do some online research to figure out how each neighborhood ranks on your list.
Tip: Even if you aren't looking for neighborhoods with good schools, keep in mind that homes in these areas can be a good investment.


Watch out for red flags
Remember that you're not just buying a house, you're investing in a neighborhood. As you explore different areas, look out for things that may affect the value of your home when you eventually decide to sell. Try visiting the neighborhood and see if there's any major construction happening that may affect your day-to-day life or the future value of your home. Is there a new highway or commercial development in the works? That may boost home prices in the area in the long term, but you might not want to deal with the hassle that these projects may cause, like increased traffic and loud construction noise.
You should also pay attention to signs that a neighborhood might not be in the best shape. Are there an overwhelming number of abandoned buildings or foreclosures in the area? Have property values rapidly decreased in recent years? These issues may indicate that a house in this neighborhood might not have the highest return.
Need some guidance as you search for the right neighborhood? A local real estate professional may be able to help. Better Mortgage can help you save time and energy by introducing you to one who has been vetted by our team. While there is no obligation to use our suggested agents, every agent we suggest has a strong track record of success in your area. Schedule a free consultation to learn more.