What a First-Time Homebuyer in Texas Should Know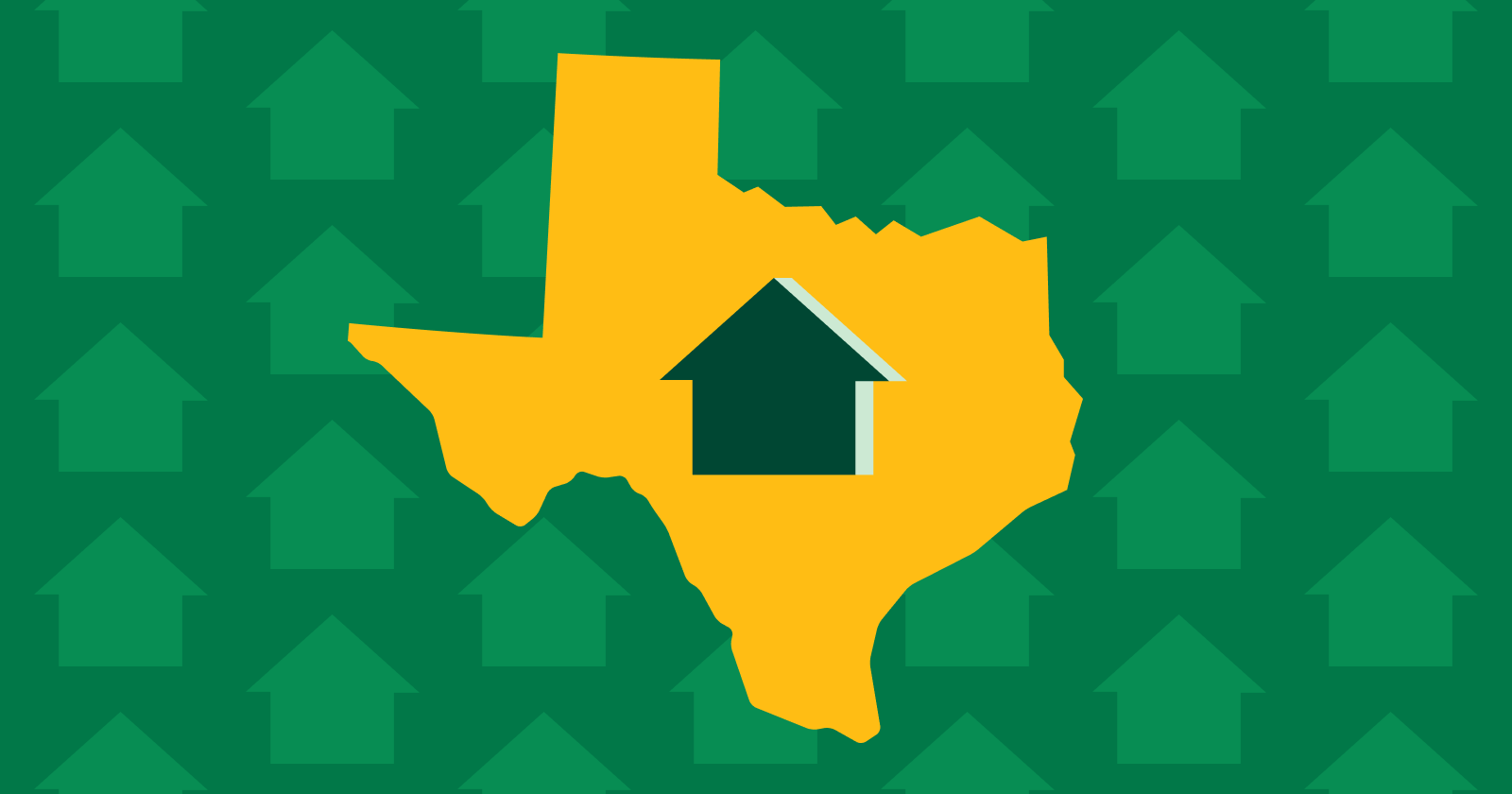 What You'll Learn
More than 400,000 Texas homes sold in 2021, accounting for nearly 6% of all homes sold in the U.S.
Texas offers multiple money-saving benefits to homeowners.
It's possible for buyers with minimal down payments and credit scores to buy a home in Texas.
Out of the nearly 7 million homes sold in 2021, more than 400,000 had a Texas address. Needless to say, the Texas real estate market is hotter than a billy goat in a pepper patch.
If you're ready to buy a home in the Lone Star State, then our Texas homebuyer's guide will provide all the details you should know, including helpful facts, standard mortgage requirements, and what to expect during the homebuying process.
Is it a good time to buy a house in Texas?
With rising prices and shrinking inventory, Texas natives and newcomers alike will likely enter a seller's market. But, this hasn't held hopeful homebuyers back so far.
In fact, three out of the top five fastest-growing large cities in the U.S. are in Texas. And the 2022 Texas Homebuyers and Sellers Report revealed that 32% of all Texas homebuyers were first-timers.
But early projections show a potential cooldown in the market, which could shift properties into more affordable price ranges. So, now might be the right time to grab a slice of the Texas real estate pie.
Benefits of buying a house in Texas
You know what they say: "Everything is bigger in Texas." that includes the following benefits.
It may be easier to cover necessary expenses in Texas than in other more costly states. According to The Council for Community and Economic Research, the average cost of living in Texas is 7% lower than the national average. This includes housing, healthcare, education, entertainment, and food.
Just keep in mind that every town has its own unique living costs. While some parts of Texas boast a 23% lower cost of living, other cities rank 12% higher in cost than the average U.S. city.
No state income tax
With no state income tax, Texans can keep more of their paychecks in their bank accounts. And while Texas does have a state sales tax rate of 6.25%, many common food items (including bread, milk, and produce) are exempt.
Diversity
Texas is a unique southern state in that it offers four distinguishable seasons. Properties are also diverse, with ranch homes sitting on sprawling acreage and penthouse apartments nestled in the center of some of America's largest cities. And almost every corner of the state features thriving multicultural communities that can make everyone feel at home.
Requirements needed to buy a house in Texas
Whether Texas is already your home or you're moving from elsewhere for greener pastures, here's what you'll need to buy a home in this state.
Down payment for a house in Texas
You'll typically need to save for a down payment when buying a home in Texas. But the amount will vary depending on the home's price tag and the type of mortgage you're applying for.
A loan through the Federal Housing Administration (FHA), for example, can require a down payment as low as 3.5%. Conventional mortgages typically require you to put at least 5% down (but anything less than 20% may incur an additional monthly fee for private mortgage insurance). Homebuyers eligible for USDA or VA loans may not need a down payment at all.
Just remember, the more you put down, the more affordable your monthly payment will be.
Credit score to buy a house in Texas
Your credit score is based on your past payment and borrowing history. This three-digit number falls between 300 and 850. A higher score means not only are you more likely to be approved for a mortgage, but you'll also generally qualify for a better interest rate.
However, different loans and lenders have various credit score requirements. To qualify for a government-backed FHA loan, you'll need a credit score of at least 580. Yet, for conventional loans, you can typically expect a credit score requirement of 620 or higher.
What you need to do to buy a house in Texas
Here are six steps to buying a home in this hot housing market:
1. Determine your budget
How much of the Texas landscape can you afford? It depends on your income, down payment savings, credit score, and other financial matters. Use the Better Mortgage Homebuying Affordability Calculator to crunch the numbers so you have a better understanding of how much house you can likely afford.
2. Get a pre-approval
While you may be ready to hit open houses, it's smart to get pre-approved for a loan before you start officially home shopping. This step will help you confirm your price range and give you more leverage when you're ready to make an offer. Don't skip this process, as sellers may ask for a pre-approval letter as proof that you'll be able to receive financing if your offer is accepted.
3. Work with a local Texas real estate agent
Finding a local housing market expert can make all the difference in your home search. Not only can a real estate agent offer you insights and guidance during the homebuying process, but they can also help you craft the right offer.
If you're ready to contact a local real estate professional, then try Better Real Estate's Find an Agent tool. You may even save up to $2,000 on closing costs* when you partner with both Better Real Estate and Better Mortgage.
4. Search for homes
Once you know your budget and have a real estate agent to point you in the right direction, it's time to find your Texas dream home.
Check out our tips and house hunting checklist for pointers on how to make the most of each home tour.
5. Make an offer
When you find the perfect home, get ready to crunch the numbers. Your real estate agent can help you pull comparable home values and other insights to help determine where your starting offer should be.
If you're dealing with a competitive market, then you may want to consider how you might sweeten the deal to increase the likelihood of your offer being accepted.
After you've nailed down your offer amount and contingencies (like whether you'll require a home inspection), your real estate agent can submit a written offer on your behalf.
6. Apply for your mortgage
Offer accepted? It's time to start your official mortgage application. A loan application helps a lender determine your eligibility for a mortgage. Therefore, you'll need to submit more extensive financial documentation than for the pre-approval.
You'll typically need to share W-2s, bank statements, tax returns, and information about the property you are considering.
Your lender must provide you with a loan estimate—a standardized document that discloses your monthly payment, interest rate, and other associated mortgage costs.
Traditional lenders can take up to three days to supply a loan estimate. With Better Mortgage, you'll get a Loan Estimate in seconds.
Helpful things to consider when buying a house in Texas
Now that you know how to buy a house in Texas, here are some other financial factors to keep in mind.
Property taxes in Texas
Let's start with the honest truth that all potential Texas homebuyers should know—property taxes in Texas can be pretty steep. Texas property taxes are calculated by county, with the average rate at 1.80%. So, if you buy a home valued at $300,000, you can expect your property taxes to be $5,400 per year.
But don't let higher property taxes deter you from buying a home in Texas. With the absence of income taxes and vehicle property taxes, it can still be much more affordable than in other areas in the country.
Typical closing costs for homebuyers in Texas
Closing costs cover a variety of fees you pay when securing a mortgage. These expenses typically include your credit check, title search, appraisal, attorney fees, and transfer taxes (if applicable). The average national closing costs are $6,837, which can be a big financial pill to swallow after coming up with a down payment.
However, some states—including Texas—have no transfer taxes. Homebuyers in Texas may also enjoy lower closing costs, with an average total of $4,548.
Why choose Better Mortgage
Whether you're looking for a condo in Dallas with a view of Reunion Tower or a pecan farm in Plano, the Texas real estate market can likely accommodate your dream dwelling at a price that makes financial sense for you.
Remember, one of the first steps to buying a home in Texas is to get pre-approved. And with Better Mortgage, you can get pre-approved in as little as 3 minutes.
When you work with Better Mortgage, you get a team that's committed to providing a fast, transparent digital mortgage experience. And Better Mortgage never charges unnecessary lender fees—that means no origination fees, application fees, processing fees, or underwriting fees.
Terms and conditions apply. See here
Better Real Estate, LLC dba BRE, Better Home Services, BRE Services, LLC and Better Real Estate is a licensed real estate brokerage and maintains its corporate headquarters at 3 World Trade Center, 175 Greenwich Street, 59th Floor, New York, NY 10007. A full listing of Better Real Estate, LLC's license numbers may be found here. Equal Housing Opportunity. All rights reserved. Better Real Estate employs real estate agents ("Better Real Estate Agents") and also maintains a nationwide network of partner brokerages and real estate agents ("Better Real Estate Partner Agents"). Better Real Estate Partner Agents work with Better Real Estate to provide high quality service outside the service area covered by Better Real Estate Agents or when Better Real Estate Agents experience excessive demand.
Home lending products offered by Better Mortgage Corporation. Better Mortgage Corporation is a direct lender. NMLS #330511. 3 World Trade Center, 175 Greenwich Street, 57th Floor, New York, NY 10007. Loans made or arranged pursuant to a California Finance Lenders Law License. Not available in all states. Equal Housing Lender. [EHO LOGO] NMLS Consumer Access