What is an FHA loan and what it does for you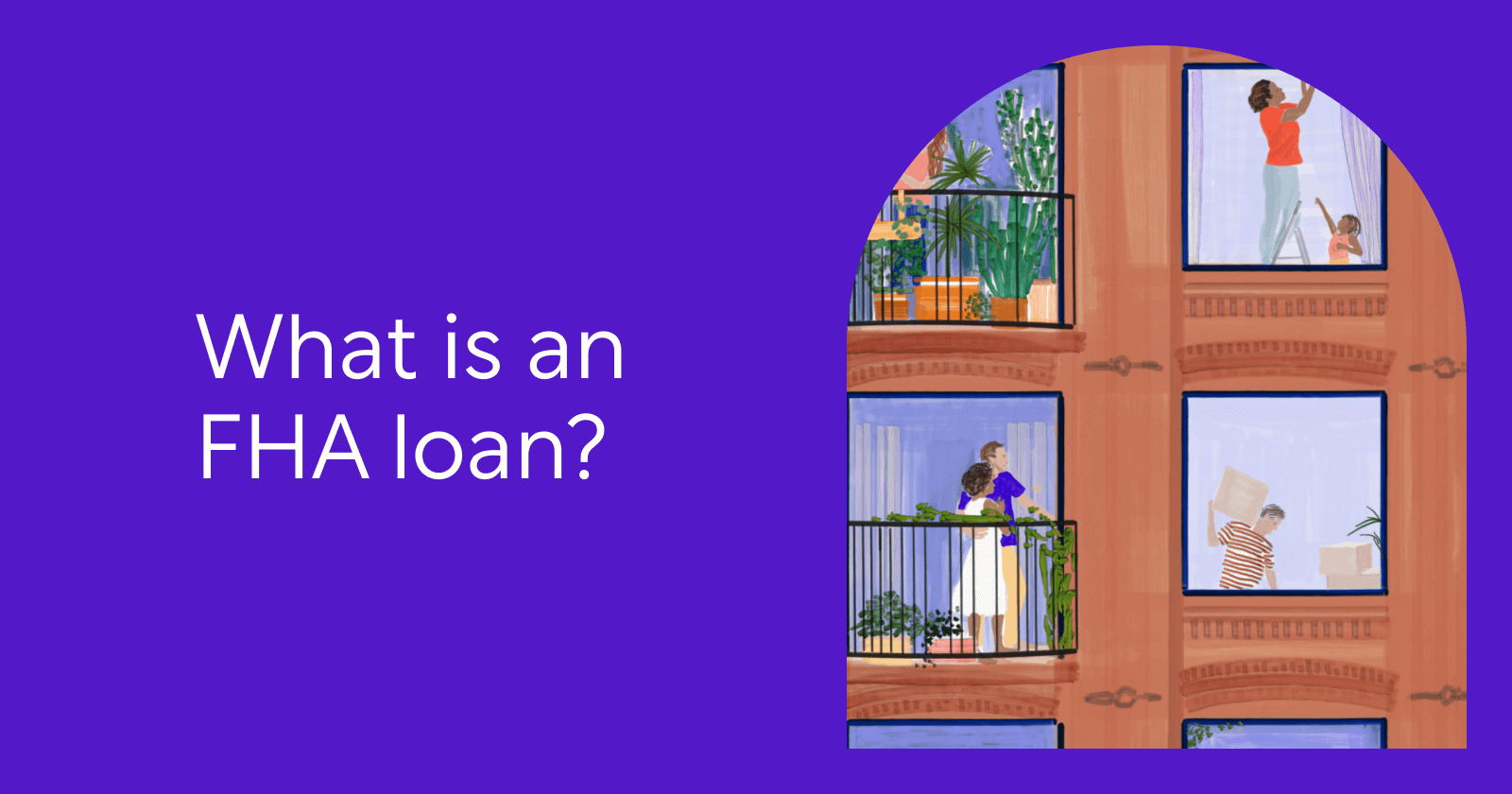 So you want to buy a home, but you don't think you'll get approved for a loan—maybe you have a below average credit score, minimal savings set aside for a down payment, or a high debt-to-income ratio. All these factors could theoretically count against you if you were to apply for a conventional loan. The good news? Conventional loans are not the only path to homeownership.
FHA loans are easier for some borrowers to get approved for because they have more lenient qualifying guidelines, especially when it comes to savings and credit scores. Here's a quick dive into FHA loans: what they are, who issues them, how to qualify, how to apply, and how to figure out if they could be a good fit for you.
What does FHA stand for?
FHA stands for Federal Housing Administration, and the FHA is a government agency that insures mortgages. It was created just after the Great Depression, at a time when homeownership was prohibitively expensive and difficult to achieve because so many Americans lacked the savings and credit history to qualify for a loan. The government stepped in and began backing mortgages with more accessible terms. Approved lenders began funding FHA loans, which offered more reasonable down payment and credit score standards.
Today, government-backed mortgages still offer a safety net to lenders—because a federal entity (in this case, the FHA) is guaranteeing the loans, there's less financial risk if a borrower defaults on their payments. Lenders are then able to loosen their qualifying guidelines, making mortgages available to middle and low income borrowers who might not otherwise be approved under conventional standards.
What's the difference between FHA and conventional loans?
A conventional loan is any mortgage that is not insured by a federal entity. Because private lenders assume all the risk in funding conventional loans, the requirements to qualify for these loans are more strict. Generally speaking, FHA loans might be a good fit if you have less money set aside to fund your down payment and/or you have a below-average credit score. While low down payment minimums and competitive interest rates are still possible with a conventional loan, you'll need to show a strong credit score to qualify for those advantages.
Each loan type has advantages and disadvantages—including different mortgage insurance requirements, loan limits, and property appraisal guidelines—so choosing the one that works best for you really depends on your financial profile and your homebuying priorities.
FHA loans pros and cons
FHA loans are meant to make homeownership more accessible to people with fewer savings set aside and lower credit scores. They can be a great fit for some borrowers, particularly first time homebuyers who often need lower down payment options, but you should weigh the costs and benefits of any mortgage before committing. Here's a breakdown of the key pros and cons when it comes to FHA loans:
| Pros | Cons |
| --- | --- |
| Low down payment. Down payments make up the majority of cash to close in any purchase loan, and saving up for one can be a significant barrier for some borrowers. FHA loans make it possible to put down as little as 3.5% upfront and still get competitive rates. | Mandatory MIP payments. FHA loans are more lenient, but they also come with insurance costs to mitigate risk to the lender. You'll have to pay Mortgage Insurance Premiums (MIP) no matter what—either for 11 years or for the life of your loan, depending on your down payment. |
| Lower credit score. Credit scores can be a major hurdle when it comes to conventional loans, but borrowers with credit scores starting at 500 can qualify for FHA loans. | Less competitive. Sometimes sellers can be more hesitant to accept FHA loans. In a competitive market, you might not win out against conventional loan bids. |
| Higher DTI accepted. Your debt-to-income (DTI) ratio gives lenders an understanding of other major financial obligations in your life. This ratio is a key factor in any loan application because it indicates your ability to afford a mortgage based on current household income and existing debt. Again, FHA loans offer more leniency here and borrowers at or below 43% DTI can qualify. | Stricter property standards. To offset risk and further protect lenders, FHA loans have strict criteria when it comes to assessing the condition of any property being purchased with an FHA loan. The downside? The house you want to buy might not qualify for an FHA loan. The upside? You're less likely to be financially burdened by a home that requires expensive repairs or updates. |
| No income limitations. It's a common misconception that FHA loans are only available to first-time homebuyers or borrowers with limited income—but they're not. There's no maximum income limit that would disqualify you from this type of loan. | Loan limits: FHA loan limits are typically lower than conventional loan limits, which means you might not be able to get funding for more expensive houses. This isn't necessarily a bad thing, since it helps ensure that borrowers get loans they can afford to repay. |
How to qualify for an FHA loan
Qualifying for an FHA loan is generally easier than qualifying for a conventional loan, but you'll still need to meet some basic minimum standards set by the FHA. While the government insures these loans, the funding itself comes through FHA-approved lenders (like Better Mortgage) and each lending institution may have slightly different qualifying guidelines for its borrowers. Keep in mind that, while these FHA standards offer a basic framework, you'll need to confirm the individual qualifying rules with your specific lender.
Credit score minimum 500. Your exact credit score will play a big role in determining your down payment minimum; typically, the higher your credit score, the lower your down payment and the more favorable your interest rate.

Debt-to-income ratio at or below 43%. DTI is a standard way of comparing the amount of money you earn to the amount you spend paying off other debts, and FHA loans are more lax on this number.

Steady income and proof of employment. Being able to provide at least 2 years of income and employment records is a standard requirement for all loans.

Down payment between 3.5%-10%. The down payment minimum for an FHA loan is typically lower than conventional loan, and can be as little as 3.5% depending on your credit score and lender.

Property standards apply. You won't qualify for an FHA loan if the house you want to buy doesn't pass the appraisal process, which is more strict with this type of loan than conventional mortgages.

Maximum FHA loan amount. The amount of money you borrow cannot exceed the FHA loan limits; this number changes based on your county and is determined by how expensive the local market is; the maximum FHA loan limit in 2021 is $822,375 (check HUD resources to confirm the latest limits.)
Steps to getting approved for an FHA loan
Step 1: Decide if an FHA loan is the right fit for you. The first step in the FHA process is determining whether this type of loan truly suits your needs. If you're having trouble qualifying for a conventional mortgage, either because of an imperfect credit score, high debt-to-income ratio, or limited down payment savings, an FHA loan might provide a feasible path to homeownership. Review the qualifications above to get a sense of whether you meet the minimum requirements for FHA borrowers, and then take a look at your credit score and savings to see what kinds of specific FHA lending options might be available to you.
Step 2: Choose which lender you want to work with. Keep in mind that there are more conventional loan lenders than approved FHA loan lenders, so you may need to do some research before finding one. Better Mortgage offers both options and our FHA loans are available in all 50 states. As a digital lender, we've eliminated unnecessary processing, origination, and commission fees that can drive up the cost of working with traditional lenders. On top of that, our online tools make it easy to instantly compare loan products and see detailed estimates to understand how different down payment amounts and interest rates impact the overall affordability of any mortgage. Note: if you apply for an FHA loan with Better, you'll need a 580 minimum credit score.
Step 3: Get pre-approved to find out how much you can borrow. Once you know the lender you want to work with, get pre-approved to find out how much you can borrow with your FHA loan. Most lenders will want to see a set of basic documentation, like proof of identification, proof of employment, proof of residence, and valid W2 and tax forms for the past two years. At Better, our online process is super simple—we'll ask you about your income and assets then do a soft credit pull (this won't affect your credit score). Then voila! You'll have a free, no commitment pre-approval letter that gives you an accurate estimate of your homebuying potential. Because different lenders offer different rates, you should shop around to find the most competitive option by comparing loan estimates.
Step 4: Submit your application when you find a home you love. If you want to increase your chances of getting approved for an FHA loan, make sure you meet the minimum requirements outlined above: namely, be sure to have a credit score of at least 500, a debt-to-income ratio of 43% or less, and enough money set aside for a down payment between 3.5% and 10% depending on your exact credit score. Beyond these minimums requirements, keep in mind that you may have trouble qualifying for an FHA loan if you have insufficient credit history, a track record of making late payments, significant outstanding debt, or any recent foreclosures or bankruptcies. When you work with Better Mortgage, you'll be assigned a loan consultant who will walk you through the process and address any questions you have.
Apply for an FHA loan online today
Many people encounter financial setbacks and challenges in the homebuying process. If conventional loans aren't flexible enough to fit your needs, it doesn't mean you can't qualify for a mortgage. Work with the right lender to explore different loan products and decide whether an FHA loan might be right for you. Better Mortgage currently offers FHA loans for purchase customers in all states. Get pre-approved in as little as 3 minutes and explore your loan options.