It's cheaper to buy than rent in many cities
Published January 13, 2021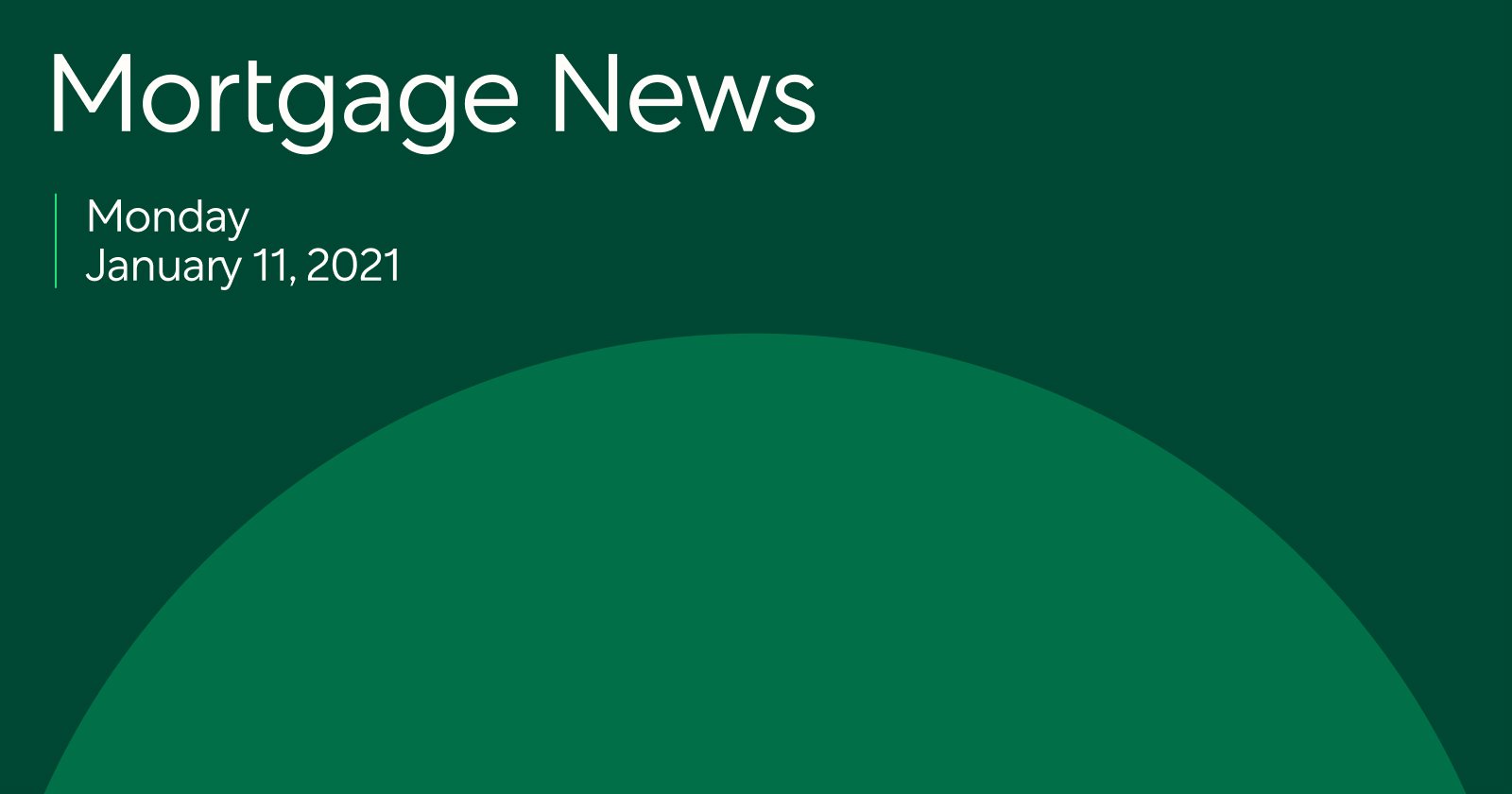 Here's a look at the latest developments in the mortgage market for the week beginning 1/11/21.
Even at today's prices, it's often cheaper to buy than rent
Rates rise faster than expected in response to undivided Congress
Homebuilders prepare for a strong spring and summer
Both buyers and sellers are less confident in the housing market
Even at today's prices, it's often cheaper to buy than rent
Homes are a lot more expensive than they were a year ago, but even as prices continue climbing, buying is still more affordable than renting in a majority of the country.
Home prices rose again in November 2020, with a year-over-year increase of 8.2%. The median price of an existing single-family home was $315,500 that month, compared to $274,100 in November 2019.
Even still, median priced three-bedroom homes were found to require smaller monthly payments than median-priced rentals in 63% of 915 U.S. counties, according to a new survey. This tends to be true in cities with populations lower than one million, like Cleveland, Miami, and Phoenix.
To use Miami as an example, the median rent for a 3-bedroom is $2,245 and would cost the average resident 46.7% of their monthly income. Meanwhile, the median price of a single-family home in the city is $322,000 and with an assumed 3% interest rate, would cost a homeowner only 42.2% of their monthly income, taxes and insurance included. Even in scenarios where the monthly costs could be close, buyers are still likely getting more space for their dollar.
But with a down payment to consider, how expensive is it for a renter to make the leap towards buying? Understanding your budget is a good first step. The average deposit on a new home is now significantly less than 20% (around 6-12% as of 2019). So play with the numbers, and see how they would affect a monthly mortgage payment before making the call.
Rates rise faster than expected in response to undivided Congress
The results of the Georgia Senate runoff are starting to impact the market, as bond prices have begun moving up and mortgage rates are rising faster than expected this week.
Because Democrats now have control of the Senate (with Kamala Harris breaking ties as VP) the government can likely approve spending more efficiently over the next couple of years. That spending requires the Treasury to fund the market with more 10-year bonds. The more bonds there are, the lower their price. That means their yield is higher, and mortgage rates move with the yield of bonds, so they would likely both rise.
With a stimulus bill in the works, and programs for infrastructure and green energy on the table, it's likely that economic growth will drive rates up, since good economic news means higher mortgage rates.
Homebuilders prepare for a strong spring and summer
Homebuilders are gearing up for a busy season as residential construction spending continues to surge. Over $300B was spent on building new single-family homes in November—that's 18% more than the same month in 2019.
With this new construction comes more housing inventory, which could be the release valve the industry may need to entice more buyers. Sales are currently on the decline, but that may only mean more shoppers are deferring their homebuying, rather than losing interest.
Because new homes usually take 6-8 months to build, homebuilders are likely banking on buyers coming out of the woodwork when the weather heats up. Similarly, the construction spike from last fall is set to take effect and offer new inventory by spring.
Both buyers and sellers are less confident in the housing market
Homebuyer confidence has been dropping since the fall, and according to a new consumer survey, it looks like sellers are starting to feel the same way.
The Home Purchase Sentiment Index tracks people's attitudes toward the housing market, and in December's results, 5% fewer of those surveyed think it's a good time to buy compared to the month before. Meanwhile, the percentage who say it's a bad time to buy increased 4%.
The outlook on the seller side isn't much brighter. After feeling confident in October when prices were high, 9% fewer homeowners now think it's a good time to sell compared to the last month, and 8% more think it's a bad time to do so.
This likely has a lot to do with the pandemic being worse now than it was in the spring, and its effects on the economy being widely recognized. But while the market may cool down temporarily, experts agree that 2021 will generally be another big year for homeownership.
Considering a home loan?
Get your custom rates in minutes at Better.com. Our team is here to walk you through your options and help you make an informed decision about which loan is right for you.