Housing sales likely to climb, evolving into a more sustainable market in 2021
Published December 17, 2020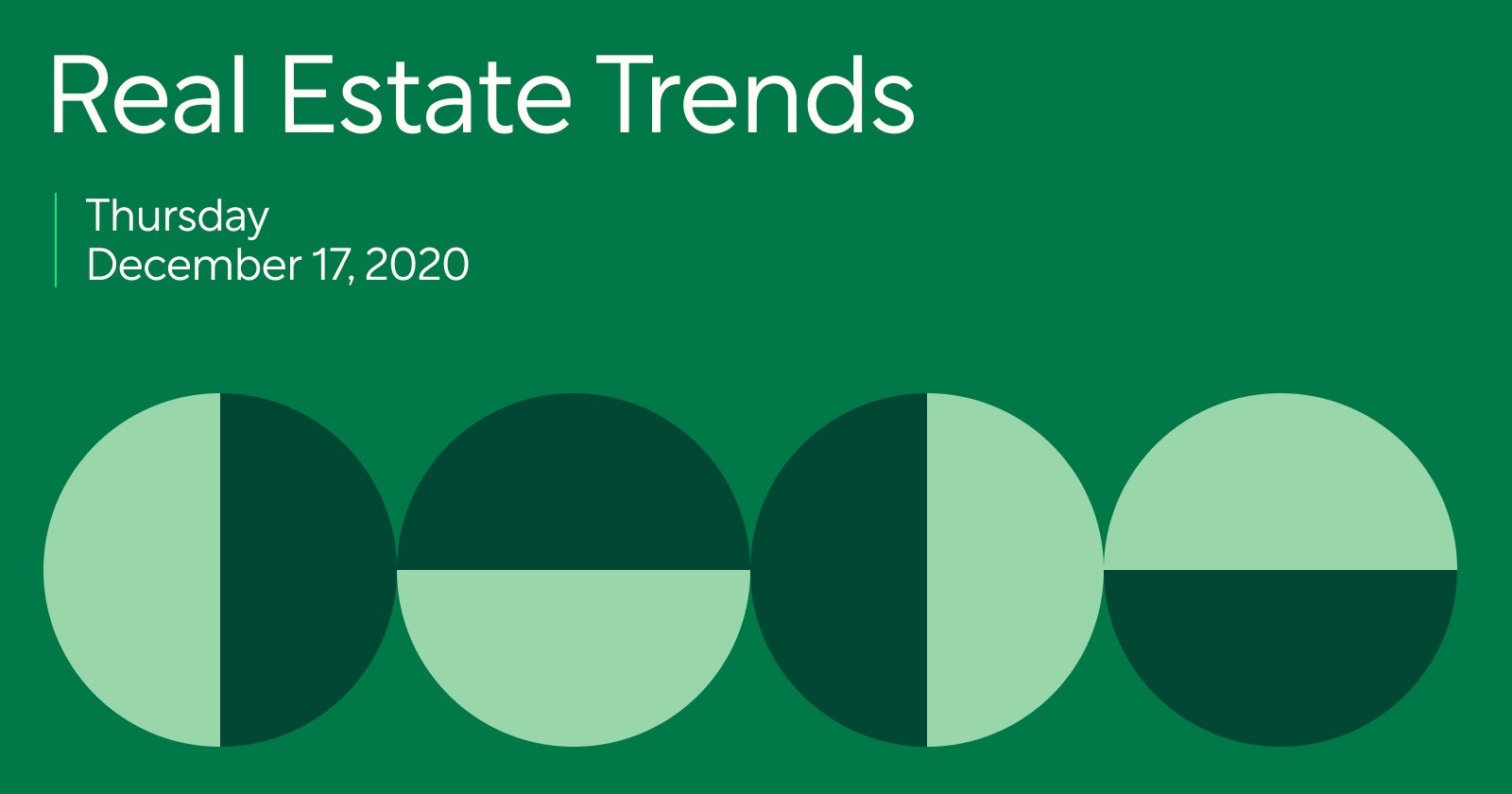 As we all look toward new beginnings in 2021, it seems that the bidding wars and above-asking-price offers that have defined the recent housing market are here to stay. Pent-up demand from homebuyers who took a holiday break will fuel January sales, and agents will seize the opportunity to educate first-timers on buying a home in the New Year. (Side note: Our streamlined pre-approval process can help create loyal, confident clients who are ready to make strong offers and get under contract.)
Low interest rates may also continue through the first quarter of 2021, which may see potential sellers take advantage of attractive refinancing offers in lieu of putting their homes on the market. The result: inventory constraints across in-demand suburban single-family markets. The good news is that those low rates will keep buyers hungry. "I have a buyer who was initially on the fence about buying, but now we are aggressively looking because we believe that the rates may go up at the beginning of 2021," says Jennilee Bennett, a Better Real Estate Agent in Seattle. "We want to take advantage of the historically low-interest rates."
Interest rates are not expected to reach above 3.4% in 2021, according to Realtor.com. Dara Blume Clewley, Director of Financial Risk and Economics at Better, breaks down the fundamentals: "The Federal Reserve has made clear it does not want to remove its monetary stimulus too quickly and originators have added capacity; both of which should help keep mortgage rates from rising too quickly."
Freddie Mac Primary Mortgage Market Survey (PMMS) Rate* vs Better Mortgage Market Rate** (February - December 2020)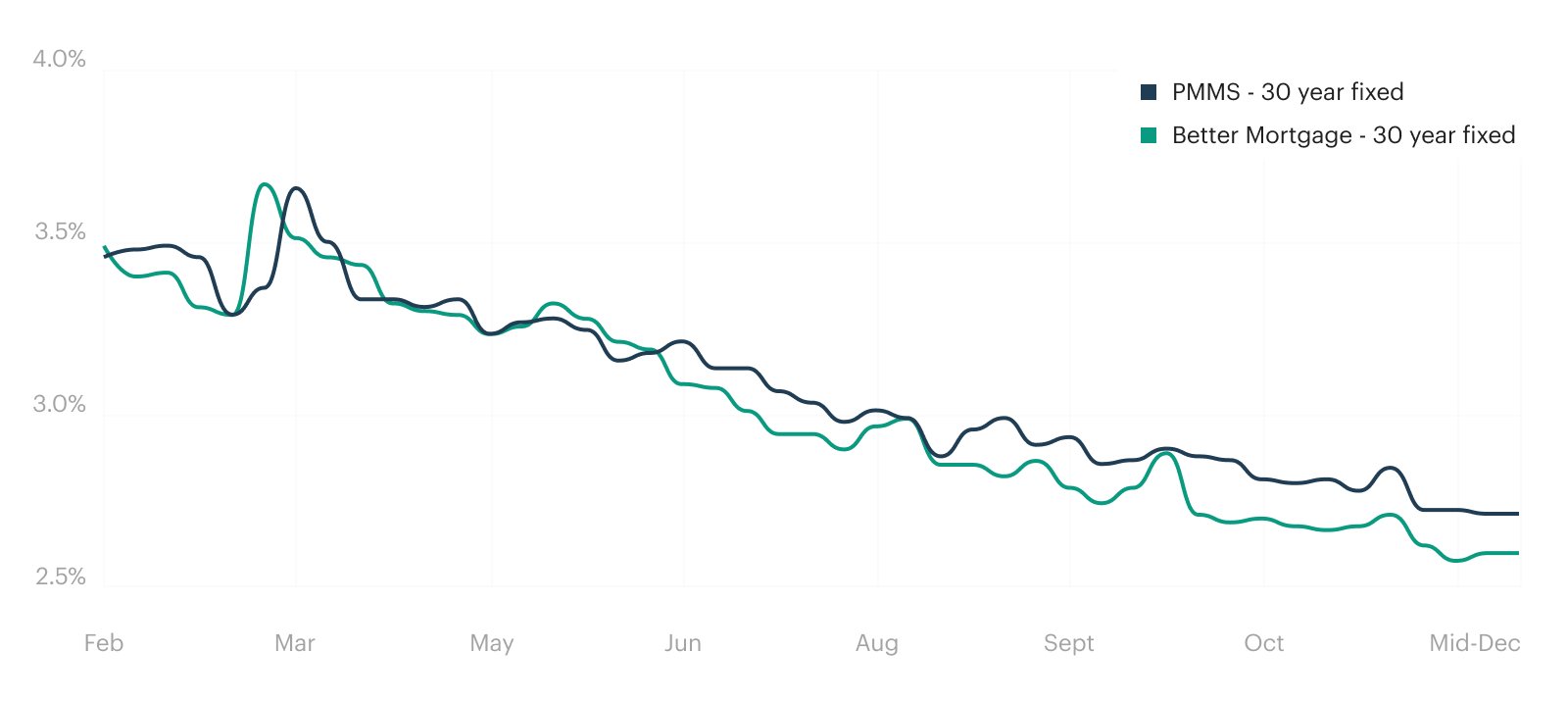 This is not a commitment to lend. Interest rates are for informational purposes only. Details on rate calculations below.
Work from home continues to bolster markets
Continued work from home mandates into 2021 will bring more buyers into the market as they consider affordable housing options further away from corporate headquarters. Better Real Estate Agent Mondy Cole reports, "I'm hearing a more optimistic tone in the conversations I'm having with buyers about their home purchasing plans for 2021. Some are excited about the prospects of their employers deciding to continue with the current work from home model or adopting a hybrid model that will only require them to commute to the office once or twice a week over the next few years."
Industry leaders (especially those at the helm of tech-based companies) are asking: "Does our workforce need to return to the office in pre-pandemic numbers?"
Business Insider looks at the "20 major companies that have announced employees can work remotely long term." Among them, Google continues its work from home policy until at least summer 2021.

According to USA Today, Microsoft plans to create a flexible, "hybrid workplace" for its workforce after the pandemic, which will reduce the number of days employees have to be physically present. That makes longer commutes even more viable for young families who are looking to purchase away from urban centers. In 2021, this market segment shows significant growth potential for agents willing to expand their geographical boundaries.
"This new work model will make longer commute times more tolerable and open up the possibilities for them to consider buying in towns that are farther away from NYC where they can get more bang for their buck with lot size and square footage," adds Mondy Cole.
Positive market news kicks off 2021
We analyzed estimated price appreciation and home sales activity from Realtor.com's 2021 Housing Market Predictions and Forecast.
Existing home median price appreciation: Home prices are expected to rise 5.7% year over year by the end of 2021. For context, the year-end median price appreciation for 2020 will be about 7.6% above 2019.

Existing home sales: Forecasted existing-home sales for 2021 look to be 7% above 2020. Much of that can be attributed to the traditional homebuying seasons that are expected to return as vaccines are rolled out in communities nationwide.
Summary of Realtor.com 2021 Housing Market Forecasts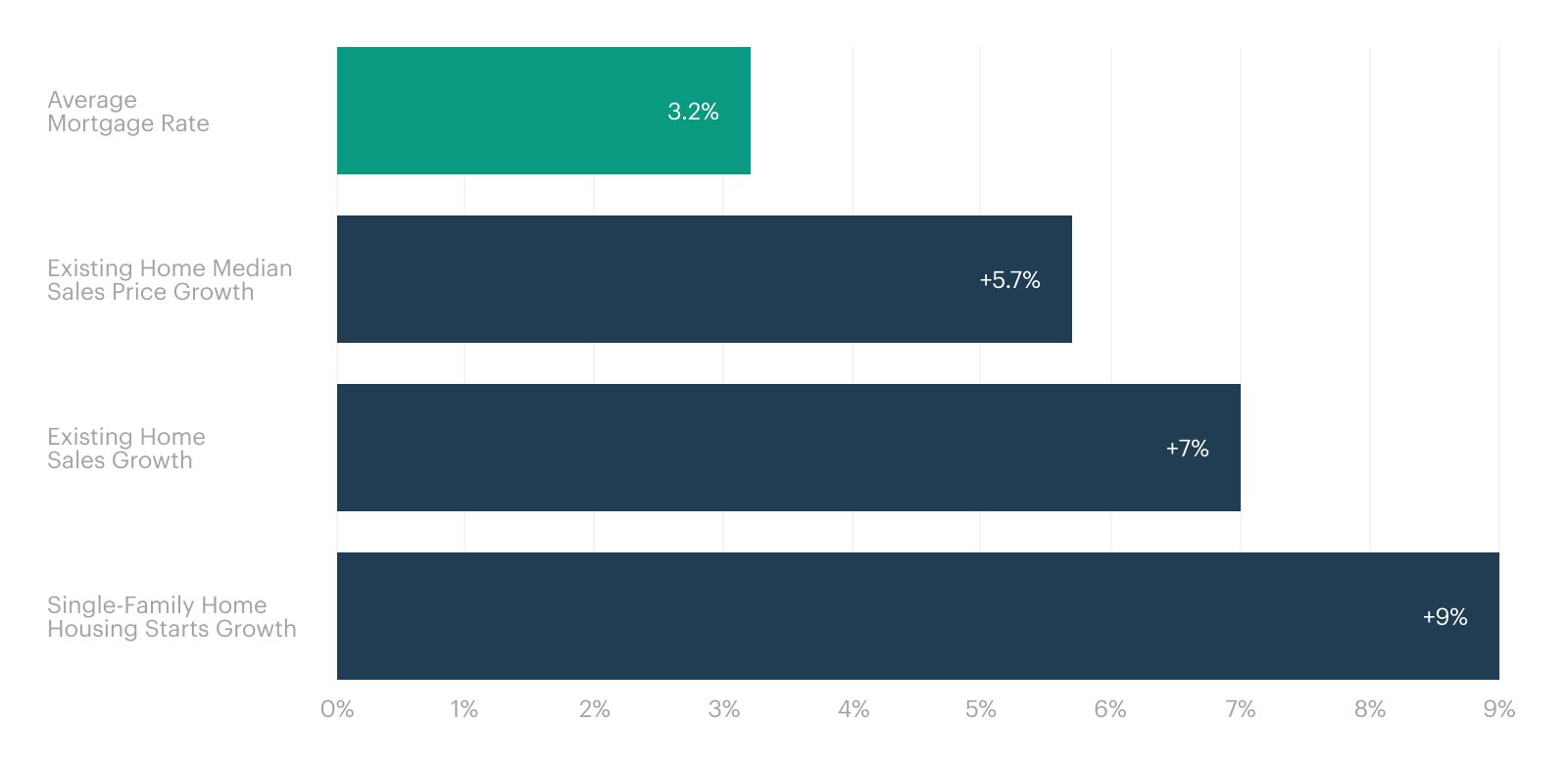 What we are seeing at Better
Dara Blume Clewley provides further insights into 2021:
Mortgage Industry
"A perfect storm of low interest rates, pandemic-driven relocation, and an already strong purchase market have made 2020 a record-breaking year in the mortgage industry. It will be hard for 2021 to beat this, but we think it will still be a strong year for the industry, too. One wildcard for 2021 is government policy. On the one hand, the Biden Administration is likely to focus on affordable housing and expanding access to financing. On the other hand, if there was to be a hard stop to either the stimulus policies which have supported incomes and or the forbearance policies which have offered debt relief, that could force originators to tighten credit standards once more."
Mortgage Rates
"Mortgage rates hit their 12th all-time low of 2020 two weeks ago, but there are indicators that the conditions which supported the downward trend may be about to change. While rates are always unpredictable, sustained record lows are looking less and less likely, considering recent events. All things considered, if the government is able to pass stimulus measures, deployment of coronavirus vaccines continues, and the Fed pulls back its mortgage-backed securities purchases, there may be a relatively short window to secure a record-low rate. Conversely, failure in these areas could keep rates low, but would translate to unexpected setbacks. Trying to time the market is never advised, but given these factors, prospective home loan applicants may want to assess if it makes financial sense to pull the trigger sooner than later."
What real estate agents can do next
Reach out to existing buyers to see if they are ready to start looking again after the holidays, while interest rates remain low for Q1 2021.

Contact reluctant sellers and educate them on all the safety measures and tools in place to prep, show, and sell their home. They do not want to miss out on those Q1 2021 buyers coming back into the market after the holidays.

Share this report as a client prospecting tool for buyers and sellers.
Interested? Schedule a call to find out more.
*Better Mortgage Market Rates were calculated from an average of rates using the assumptions below to provide a representative offered interest rate for each month. Assumptions include: $200K, $300K, $400K, $500K loan amount; 30-Year Fixed purchase, 30-Year Fixed rate and term refinance; borrower with above average credit (i.e., FICO score of 760 or higher); loan-to-value ratio of 80%; subject property is a Single Family Residence; subject property is borrower's primary residence; subject property is located in one of our six highest volume metropolitan statistical areas.
**Freddie Mac PMMS Rates are the result of surveys to lenders on the rates and points for their most popular 30-year fixed-rate conventional mortgage products, and an origination-weighted average of lender responses. The survey is based on first-lien prime conventional conforming home purchase mortgages with a loan-to-value of 80 percent. This average is widely regarded as the industry standard tracker of mortgage rates week over week.