Rates drop, but may not stay down for long
Published January 20, 2021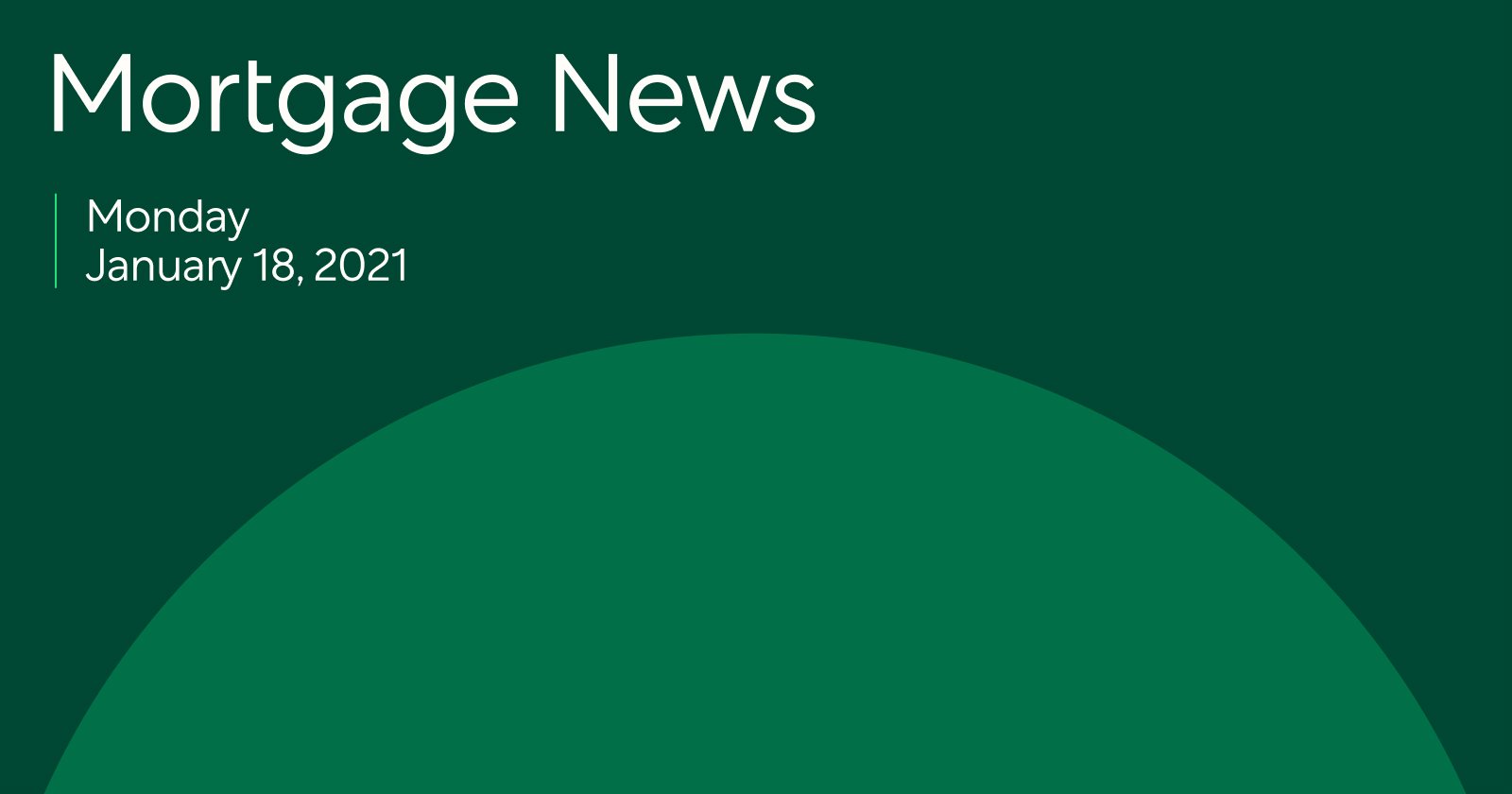 Here's a look at the latest developments in the mortgage market for the week beginning 1/18/21.
Rates are unlikely to drop any lower this year — here's why
More jumbo loan credit just became available
Prices of the least expensive homes are rising the fastest
Refinance applications hit their highest point since March
Rates are unlikely to drop any lower this year — here's why
After a brief spike following Georgia's Senate run-off election, mortgage rates have settled back down. But with a single party leading the House, Senate, and presidency, they aren't expected to drop any further from here.
Biden recently unveiled a spending plan of over $1T that includes programs for vaccine distribution, expanded healthcare, clean energy, and more. It's likely easier to pass the legislation through an undivided Congress, which would in turn drive rates up.
Why, exactly? Well, government spending is supported by issuing treasury bonds. The more bonds available, the lower their price. When bonds are priced lower, their yield is high and that's what mortgage rates move with. To learn more, see what affects mortgage rates.
Given the predictions of the year ahead, and what's been set in motion with Biden's win, home loan applicants who act now may be more likely to get the lowest rates available this year.
More jumbo loan credit just became available
Good news for those looking for a jumbo loan: more credit became available for them in December, according to the Mortgage Bankers Association. Jumbo loans have larger limits than conforming loans, and require a slightly stricter set of eligibility requirements in order to be approved.
The Mortgage Credit Availability Index, which measures how much credit lenders are able to extend, saw a 1.4% increase for jumbo loans while the overall index was down just 0.1%. For context, the index has been on the decline throughout 2020 but now starts to show signs of leveling off with a smaller dip.
When more credit becomes available, it often means lenders' standards are loosening, and that's the case here. The jumbo loan increase is partially driven by a larger supply of credit for those with lower credit scores and higher loan-to-value ratios.
Jumbo loans are helpful for those who need to borrow more than the conforming loan limit, like buyers shopping in a high-priced area, or homeowners refinancing an existing larger-balance mortgage. Ultimately, it depends on the size of the loan you need and how well a borrower fits the eligibility criteria.
Prices of the least expensive homes are rising the fastest
As home prices continue to break records, the cost of buying a home on the more affordable end of the spectrum is rising fastest month-over-month. This is largely because of the amount of young first-time buyers entering the market.
Adults aged 22 to 39 were the largest share of homebuyers last year, making up at least 50% of mortgage purchase requests in 43 of the 50 largest cities. Many are first-time buyers: 86% of 22-29 year olds, and 52% of 30-39 year olds.
The rise of first-time buyers may be driving up low-priced homes for a couple of reasons. One being that most tend to have smaller budgets, so they're often competing for affordable homes, which puts upwards pressure on prices. The other is that first-time buyers, by definition, don't have existing homes to put back on the market.
Now the supply of affordable homes is dwindling faster than can be replenished. New listings inventory has dropped every week since the start of 2021, reaching a record low of 685,000 listings on the market.
Contractors are scrambling to fill the supply gap with new construction which is expected to start hitting the market this spring. In the meantime, first-time buyers can prepare by getting pre-approved for a mortgage. Pre-approval can help understand how much you can afford, and how to increase buying power so you can move quickly when the time comes to put down an offer.
Refinance applications hit their highest point since March
The first full week of 2021 brought with it a surge of mortgage applications, 16% higher than the week before. Of that, refinance applications led the pack with 74% of the total. That's the most refinance activity since March 2020.
This is likely because a lot of homeowners are rushing to take advantage of low interest rates while they can, as the rates for refinancing are expected to rise as the year goes on.
To get started sooner rather than later, comparing your current mortgage against today's rates would be a good first step.
Considering a home loan?
Get your custom rates in minutes at Better.com. Our team is here to walk you through your options and help you make an informed decision about which loan is right for you.