Expect rates, prices, and sales to rise gradually in 2021
Published December 16, 2020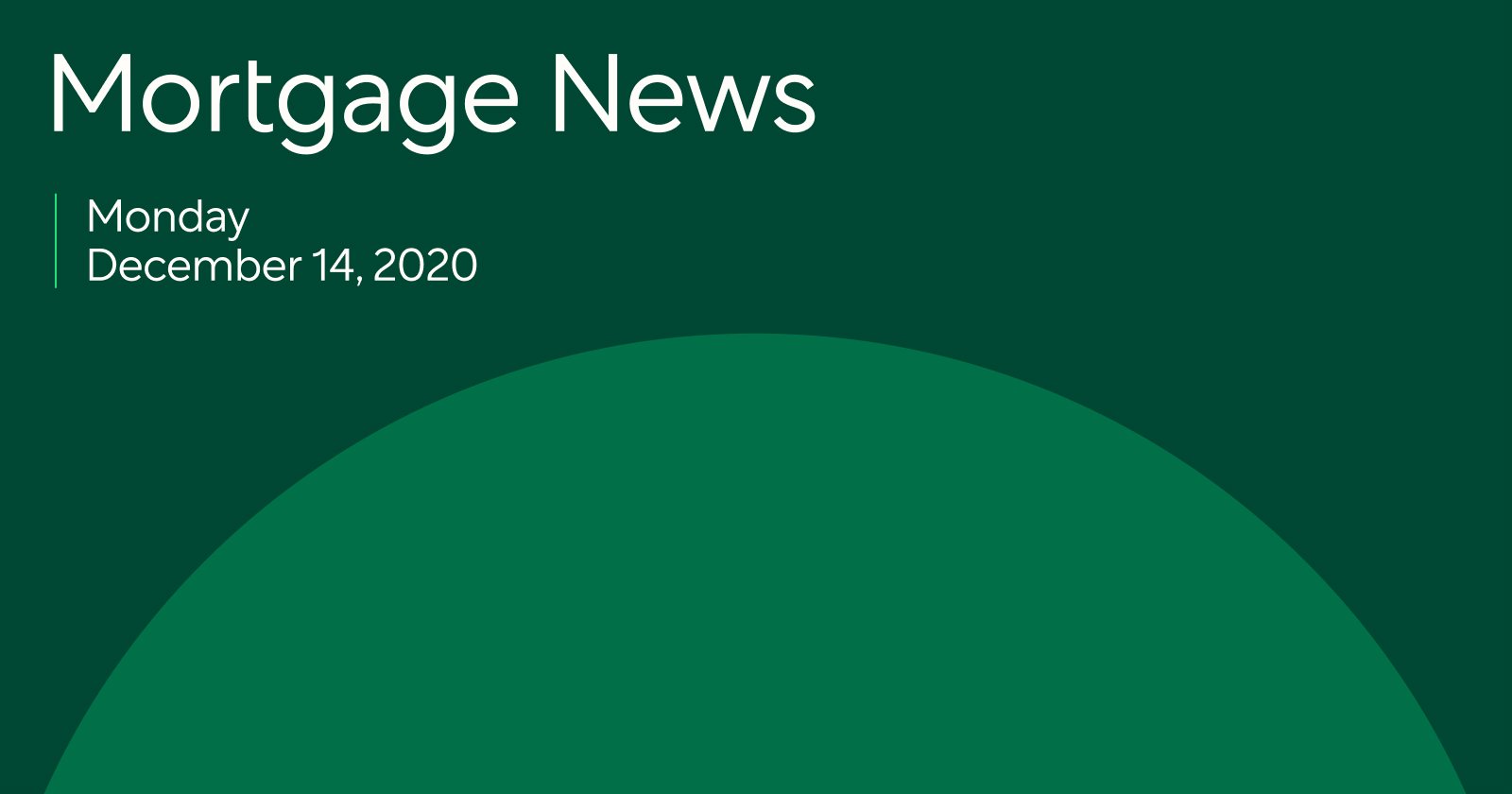 Here's a look at the latest developments in the mortgage market for the week beginning 12/14/20.
2021 predictions show rates, prices, and sales slowly climbing
Total loan applications take a dip but refinancing stays high
Homeowners now share a collective $1T in home equity
Credit standards for home loans are easing up
2021 predictions show rates, prices, and sales slowly climbing
2020 was a unique year for homeownership. The economic impact of COVID-19 continues to play out, and while interest rates are expected to return to pre-pandemic levels eventually, home prices are likely to continue rising. It's expected that these increases will happen gradually however, so early in the year may be the best time to make moves.
Median home prices are expected to rise 5.7% year-over-year by the end of 2021 thanks to healthy competition between homebuyers driving them up. For context, home prices in 2020 increased by 7.6% from 2019. Regardless of higher prices however, Realtor.com reports existing home sale activity is expected to increase by 7% from 2020 to 2021. That could in part be driven by an economic response to the vaccine rollout, as homebuyers gain more mobility and purchasing power.
Interest rates are also expected to creep up to an expected 3.4% in 2021. With near-record-low rates currently available, the recent wave of homeowners refinancing is likely to continue through March. Lower monthly payments can incentivize potential sellers to hang onto their homes longer, which could result in fewer available homes in high-demand, suburban, single-family markets.
2021 housing predictions show plenty of opportunity for homeowners and homebuyers to secure low rates and take action throughout the year, but it appears the best deals are likely to be found early on.
Total loan applications dip overall but refinancing is up
According to the latest Mortgage Bankers Association (MBA) survey, overall loan applications came down 1.2% week-over-week, between Thanksgiving and December 4th. The same period showed a 2% rise in refinance applications, which is a whopping 89% higher than the same week last year. It appears that fewer applications for new home purchases, specifically, brought the total number down, but within it is a larger share of applicants refinancing.
Record-low interest rates are likely part of the reason many homeowners are choosing to refinance now, with the 30-year, 15-year and FHA (Federal Housing Administration) loans recently hitting their lowest levels yet.
Homeowners now share a collective $1T in home equity
Home equity grew massively in 2020 and has now reached an aggregate national gain of about $1 trillion. This is the highest total in over six years, and individually, equates to an increase of roughly $17,000 per home.
The growth is a result of higher home prices through the summer and fall, as homebuyers came out of lockdown and competed for a low supply of homes for sale.
This is great news for homeowners who may be considering a cash-out refinance to kick off a renovation, pay off debt, or make a new investment, among other things. Cash-out refinancing allows owners to draw on the equity they've built in a home, which can be an increase in the property value, the amount of money paid into a mortgage, or a combination of the two.
These equity gains are likely to persist over the next few months as buyer demand remains high, but are expected to slow down as more supply enters the market in 2021.
Credit standards for home loans are easing up
The MBA reported that access to mortgage credit has increased 0.7% from October to November. This is a sign that lenders are loosening credit standards and home loans are now more available to borrowers, though still 30% less than last year.
Back in April, as the economic impact and job losses of COVID-19 took hold, many mortgage lenders chose to tighten their credit standards as a way of mitigating the increased risk of default and late payment. Then, as interest rates continuously dropped to record lows, many applicants with lower-end scores were held back from taking advantage of the opportunity. Now, as signs of economic recovery pick up and lenders have less need to tighten their standards, borrowers' availability to credit is opening up.
Happy Holidays from Better.com
Mortgage News will return January 6th after a holiday break. Keep an eye out for our Year In Review before then, to learn how Better.com has made homeownership more accessible to everyone in 2020. In the meantime, get to know more about what makes Better, better.
Considering a home loan?
Get your custom rates in minutes at Better.com. Our team is here to walk you through your options and help you make an informed decision about which loan is right for you.