Lagging economy slows rising mortgage rates
Published February 3, 2021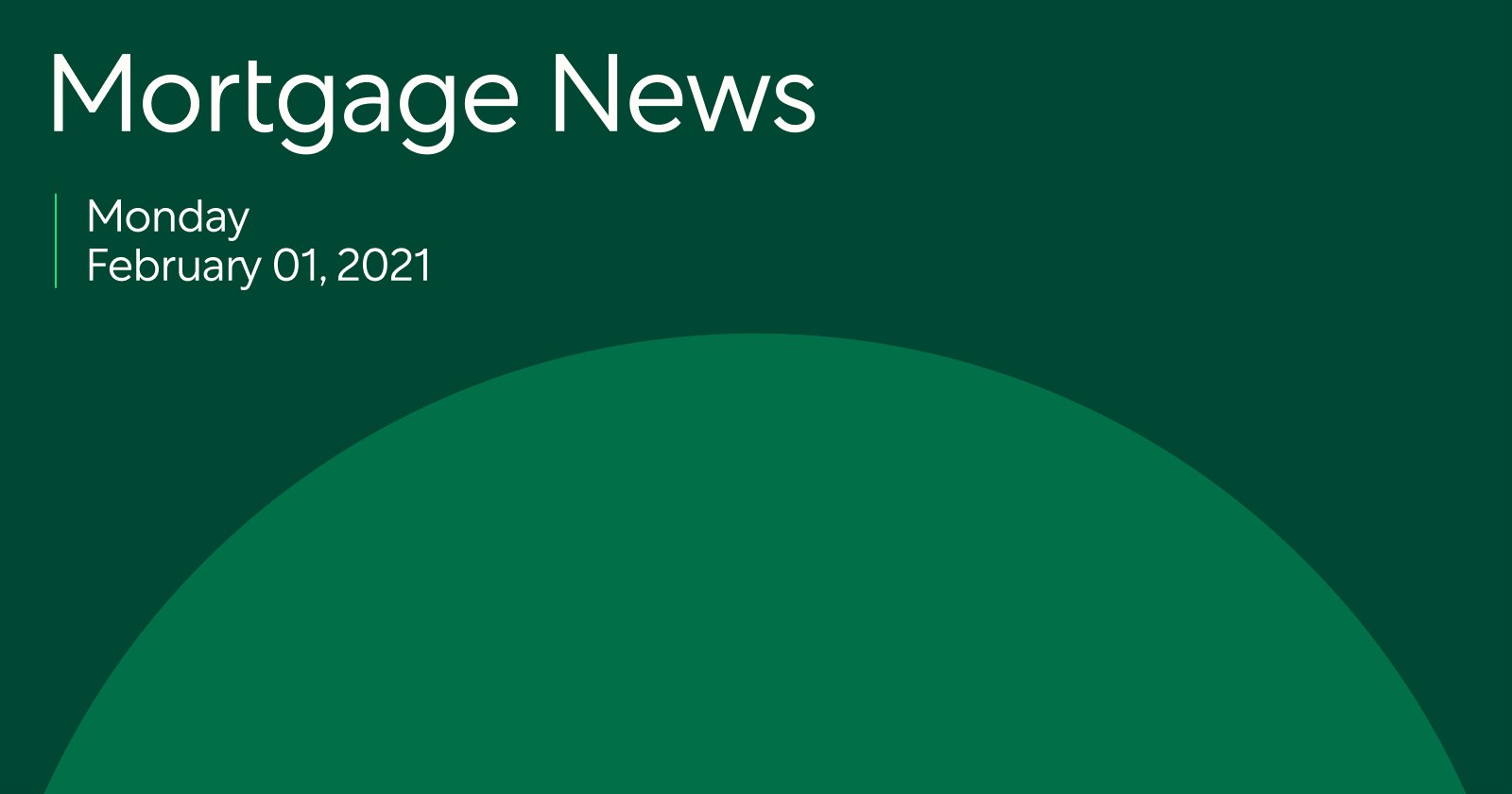 Here's a look at the latest developments in the mortgage market for the week beginning 2/1/21.
Pandemic concerns keep rates from rising
2020 new home sales are lower than predicted, but higher than 2019
FHA extends deadline as more loans go into forbearance
Planning to buy a home in the next year? You're not alone.
Pandemic concerns keep rates from rising
After spiking early in the month, mortgage interest rates took a surprising dip in the last two weeks of January. The drop is likely driven by mounting concerns about the pandemic's prolonged economic impact.
While rates didn't hit new record lows, they came closer to what they were before the year began, with the 30-year fixed rate down to 2.73%. Since then, they've come back up but haven't spiked significantly.
Rates were predicted to rise in 2021, alongside increased sales activity and home price growth. While this dip hasn't reversed the general upward trajectory, it may have held them back from rising more quickly.
The market was likely reacting to slowed economic recovery as the vaccine rollout has been met with inefficiencies, the next stimulus plan is still being debated, and new strains of the virus threaten to further its spread. All of this points to a growing uncertainty around how much or how long the pandemic will affect our economy.
In moments of extreme uncertainty like this, the Federal Reserve buys bonds from lenders and banks in order to keep the market flowing and the economy healthy. Buying more bonds lowers the amount of money they return to the seller, which in turn lowers mortgage rates.
At the beginning of the pandemic, The Fed promised to purchase $120B in bonds each month to keep rates low, and so far that hasn't changed.
If the vaccine rollout improves and case numbers decline, then the pandemic may loosen its grip on the economy. With less uncertainty in the market, bond purchases would likely taper off and bond yields (and therefore, rates) would rise more quickly.
January's activity shows that rates are always unpredictable. Locking in when it makes the most financial sense is your best bet. Check your rate options to see if you could stand to get a deal.
2020 new home sales were lower than predicted, but higher than 2019
New homes were being constructed at record high rates and their year-end sales numbers show that buyer demand is just as strong.
2020 saw a seasonally adjusted total of 842,000 new homes sold, which comes in under economists' predictions of 995,000 homes. Even though it's lower than expected, this is a notable 18% increase from 2019, when only 683,000 sold.
Sales activity is expected to rise even further this year, especially as new inventory creates more listings in the spring.
FHA extends deadline as more loans go into forbearance
The economic recession caused by the pandemic continues to test homeowners, as 20,000 more loans went into active forbearance plans last week.
That means there are now an estimated 2.76 million homeowners with their loans in forbearance—5.2% of the country's 53 million active mortgages.
The Federal Housing Administration (FHA) recently announced they've pushed back the deadline to qualify for forbearance or extend existing plans by an additional six months. Homeowners with FHA loans now have until March 31 to apply. There is also a ban on foreclosures and evictions for those borrowers, which has been extended to the same day. These are important steps towards helping FHA-insured homeowners facing financial hardship.
Forbearance allows owners to put their mortgage on pause without accruing interest or fees, but any missed payments need to be paid after the forbearance term ends. This is why it's often seen as a temporary solution. Another viable option could be a refinance, which allows homeowners to replace their current mortgage with a new one, potentially with a lower rate or different terms. Learn about the differences between the two to know which is right for you.
Planning to buy a home in the next year? You're not alone.
A National Association of Home Builders (NAHB) buyer perception survey showed that the number of adults considering buying a home in the next 12 months went up by 15%. That's the largest year-over-year gain in the survey's three-year history.
This increase in prospective buyers speaks to the way the pandemic has changed America's homebuying plans now that so many are spending more time at home. It's likely to create more competition during peak buying season, especially as new inventory enters the market.
In a competitive market, being prepared is always an advantage. Get started early by getting pre-approved, so you can move fast when the right home for your budget comes along.
Considering a home loan?
Get your custom rates in minutes at Better.com. Our team is here to walk you through your options and help you make an informed decision about which loan is right for you.