Are record-breaking rates behind us?
Published November 11, 2020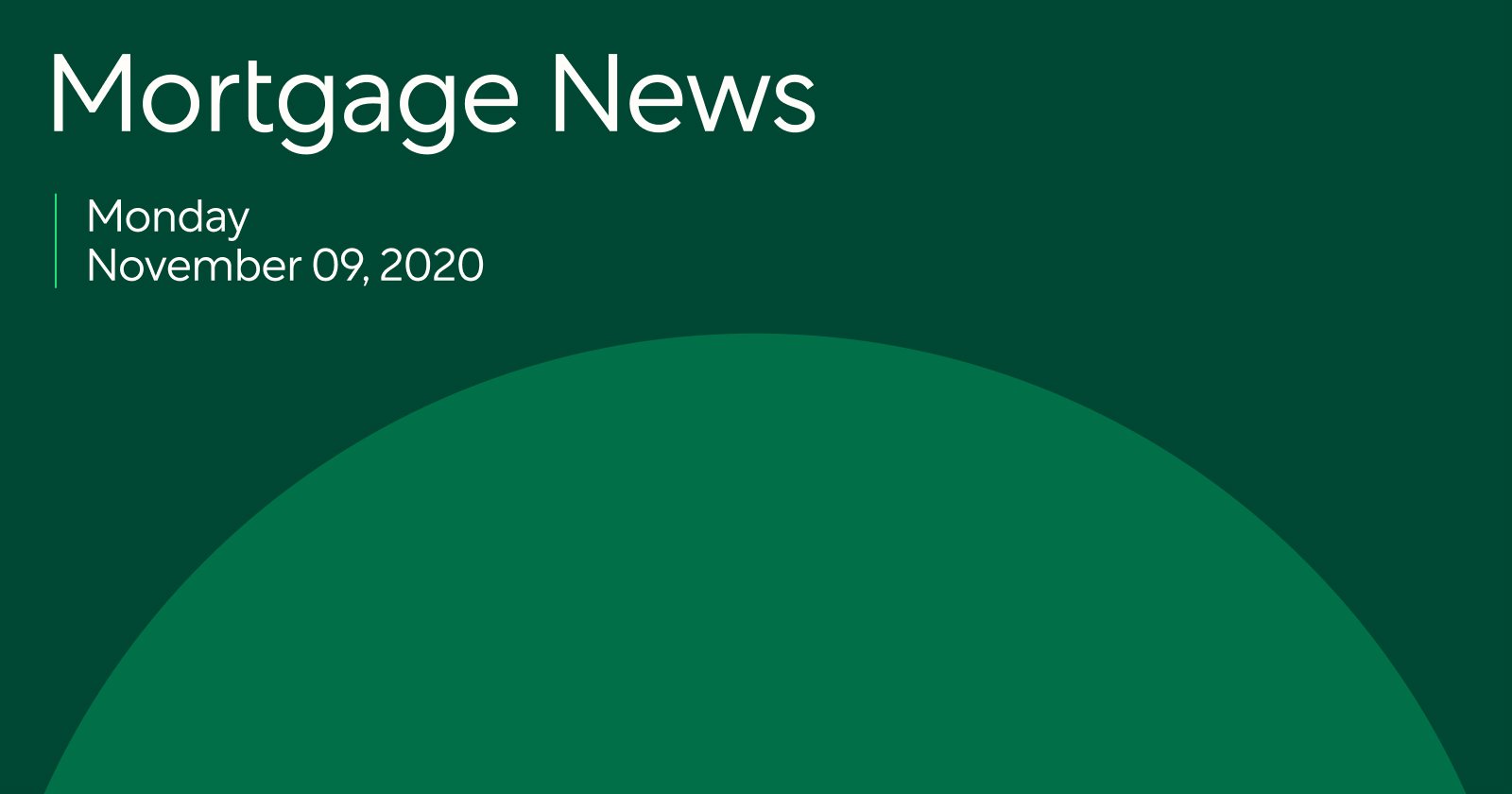 Here's a look at the latest developments in the mortgage market for the week beginning 11/9/20.
Are record-breaking rates behind us?
These small cities are growing most due to urban flight
Forbearances drop to early pandemic levels
Home appraisal guide
Are record-breaking rates behind us?
Mortgage rates hit their 12th all-time low of 2020 last week, but there are indicators that the conditions which supported the downward trend may be about to change. While rates are always unpredictable, sustained record lows are looking less and less likely in light of recent events.
For example, rates jumped on Monday when pharmaceutical giant, Pfizer, announced its Covid-19 vaccine had shown 90% efficacy in trials. Goldman Sachs analysts pointed to the encouraging progress of vaccine research as a reason to think the economy may sustain a "V-shaped" recovery, bouncing back quickly to pre-pandemic levels.
Top economists say that the ability of Congress to finally pass a stimulus package will also impact the speed of the country's recovery from the current recession. Further government aid could prevent a looming wave of foreclosures and bankruptcies and dramatically improve the near-term economic outlook. Good news for the economy, though, usually means higher rates.
Then, there's the question of the Federal Reserve's response as the economy improves. At the start of the pandemic, the Fed began buying up Mortgage Backed Securities (MBS) in an effort to soothe the markets. The Fed has yet to indicate if they will taper their MBS purchases, but Wall Street experts expect cutbacks in the first half of next year. Though the Fed has pledged to support the economy "for as long as it takes," any signal that they will be withdrawing support is likely to increase mortgage rates.
All things considered, if the government is able to pass stimulus, research into coronavirus vaccines continues its progress, and the Fed pulls back its MBS purchases, there may be a relatively short window to secure a record-low rate. Trying to time the market is never advised, but given these factors, prospective home loan applicants may want to assess if it makes financial sense to pull the trigger sooner than later.
These small cities are growing most due to urban flight
Remote workers have been leaving major cities in favor of more space and lower housing costs. But where are they moving to?
Cities outside of major tech hubs like Santa Barbara, Buffalo, and El Paso are, of course, seeing large inflows. Proximity to established communities combined with less density and lower prices are likely draws. Less central areas, though, like Burlington, Vermont and Tulsa, Oklahoma, the latter of which actually pays people to emigrate, are also growing.
For homebuyers considering relocation, especially those transitioning from renting to owning, watching trends like these can be helpful in deciding where to put down roots. With more buying opportunity potentially opening up this winter, it may be a good time to explore a wider range of options.
Forbearances drop to early pandemic levels
The number of mortgages in forbearance decreased last week to its lowest level since the start of the pandemic. Last week's report from data analytics firm, Black Knight showed 2.86 million active forbearance plans—about 5.4% of all mortgages. This was the lowest number since mid-April.
Whether or not this is an indicator that homeowners are recovering from the financial impact of the pandemic, however, is unclear. 57% of new forbearances last week were actually renewals, showing that homeowners who had exited forbearance have now returned.
The role of appraisals in the home loan process
Record-low rates have made mortgages more accessible, but certain costs associated with getting a loan are fixed. Appraisals, which are required in the majority of mortgage transactions, are one such cost that applicants should be aware of. Whether you're a homeowner or a homebuyer, Better.com's guide to appraisals will help you navigate the process.
Considering a home loan?
Get your custom rates in minutes at Better.com. Our team is here to walk you through your options and help you make an informed decision about which loan is right for you.