Rates rise upon news of COVID-19 vaccines
Published November 18, 2020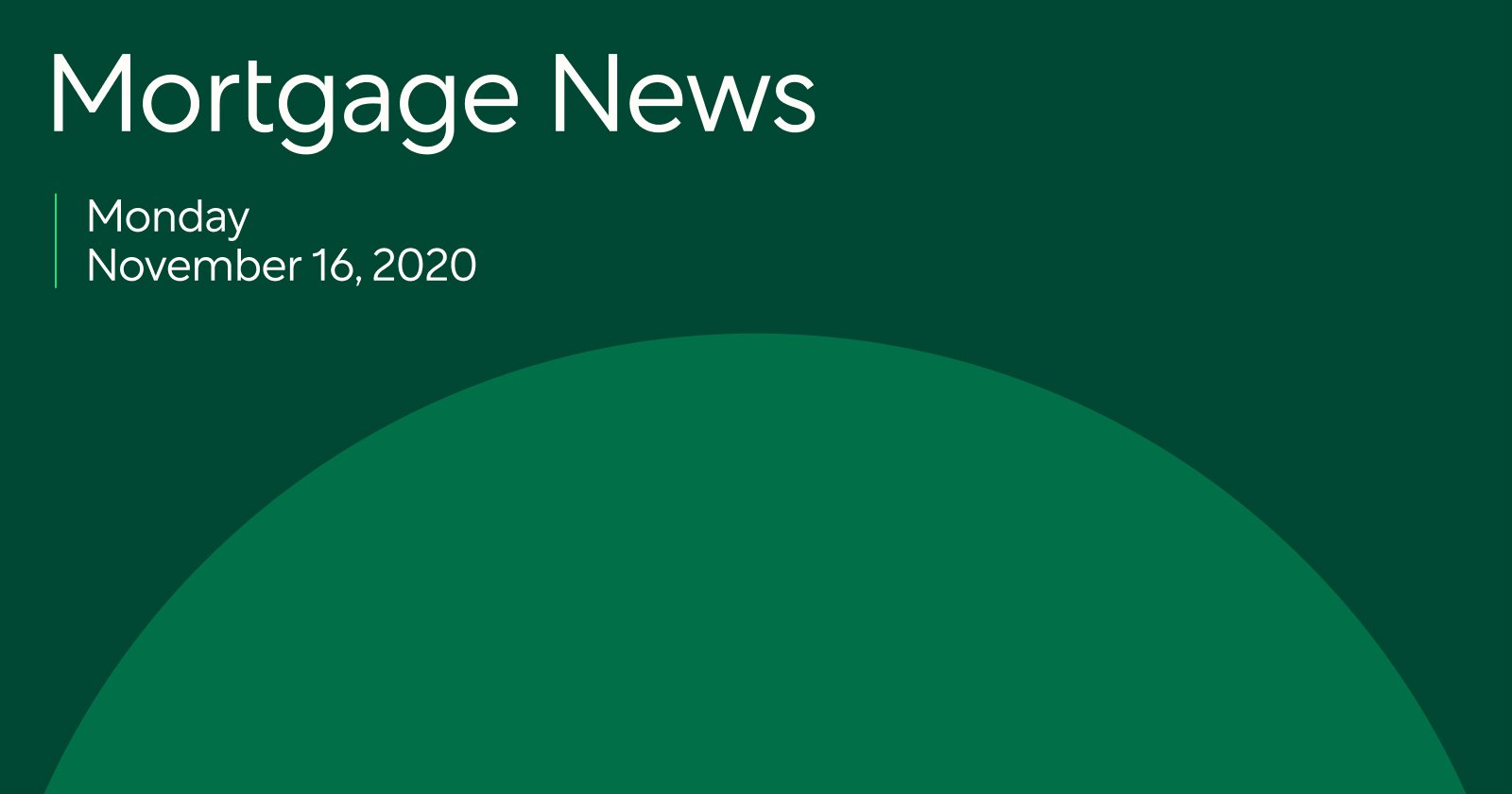 Here's a look at the latest developments in the mortgage market for the week beginning 11/16/20.
Mortgage rates are up—for now, at least
All signs point to new conforming loan limits
The mortgage forbearance rate falls yet again
Mortgage rates are up—for now, at least
US markets rallied on renewed optimism for economic recovery this week, spurred by the announcement of a new experimental COVID-19 vaccine from biotechnology company Moderna. Stock prices and bond yields are up, and there's reason to believe that mortgage rates will continue rising.
Last week, when Pfzier broke news of their own vaccine, we noted that the record-low mortgage rate environment that we've seen this year may be on its way out. That's because a healthier economy usually means higher interest rates.
With that said, there is some uncertainty on when we'll see a more complete economic recovery. With the reality of upcoming lockdowns and a deadlocked Congress unable to agree to a stimulus package, rates could foreseeably reach new lows again. But it's never a good idea to try to time the market. The best time to lock your rate is whenever you can achieve your unique financial goals.
All signs point to new conforming loan limits
Later this month, the Federal Housing Finance Agency (FHFA) is expected to announce a raise to the maximum limit for conforming loans. This will be the fifth straight year that the FHFA has increased the limit. Prior to that, the limit hadn't changed for a decade.
As a quick refresher: a conforming loan is a type of mortgage that is backed by a government-sponsored entity (GSE), such as Fannie Mae or Freddie Mac. Conforming loans are easier to apply for than their jumbo loan counterparts, and they usually have lower interest rates as well.
The current limit for conforming loans is $510,400 in most counties. If you want to borrow a larger amount, you have to take out a jumbo loan, which usually comes with a few extra hurdles. Analysts are predicting that the soon-to-be-announced FHFA change could bring the loan limit up to around $550,000.
The mortgage forbearance rate falls yet again
For the second consecutive week, the number of mortgages in forbearance decreased to its lowest level since the start of the pandemic. As of November 10, there were 2.7 million loans remaining in forbearance plans, representing about 5% of the 53 million active mortgages nationwide.
Forbearance can be a crucial lifeline—providing temporary relief and protection from foreclosure. However, it's not the only path forward.
6 reasons to refinance your mortgage
With news of rates set to climb, you may be wondering if now is a good time to refinance your mortgage. We can take you through 6 different scenarios where a refinance might be a wise financial option.
Your guide to renting vs buying a house
With rates at near-historic lows (for now), you may be wondering if it's a good time to make the jump to homeownership. We put together a helpful guide on the pros and cons of renting vs buying.
Considering a home loan?
Get your custom rates in minutes at Better.com. Our team is here to walk you through your options and help you make an informed decision about which loan is right for you.