Here's what first-time homebuyers priced out of the market need to know
Published November 1, 2021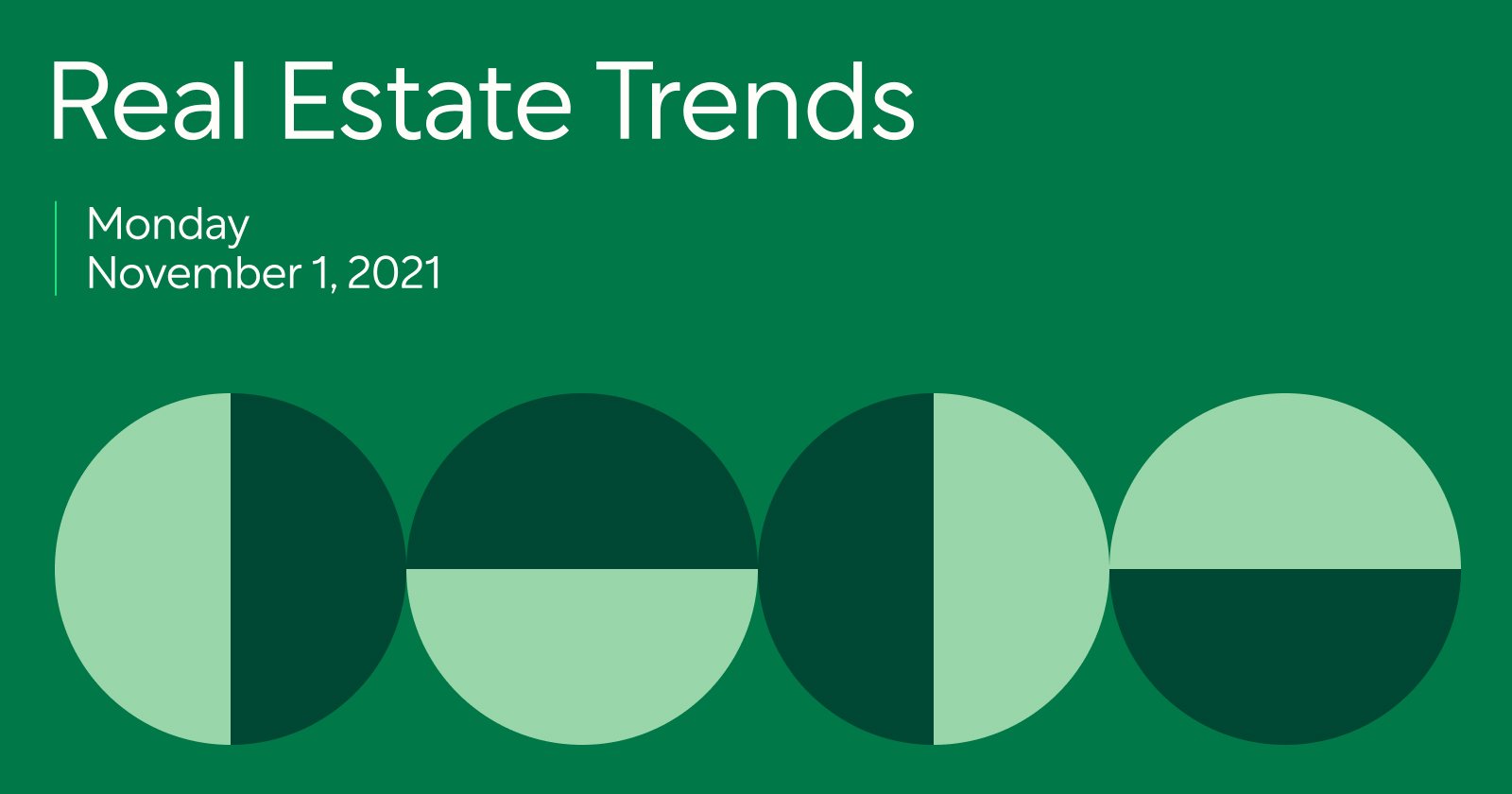 Here's a look at the latest developments in the real estate market.
First-time homebuyers are being priced out of the market, with only 29% of existing-home sales in August going to first-time buyers, according to Bloomberg.com.
The 12-month rise in home prices reached a record-setting 18.1% in August, the highest in the 45-year history of the index, reported CoreLogic.
Industry Trend
In August, only 29% of existing-home sales went to first-time homebuyers, as first-time homebuyers find themselves priced out of the market. That is the lowest share for first-time buyers since January 2019, according to The National Association of Realtors. The problem is a shortage of "affordable" homes on the market and an influx of first-time buyers thanks to low interest rates and the increased attraction of homeownership.
As home prices continue to increase, there are fewer choices for first-time buyers who are at a competitive disadvantage simply because first-time homebuyers don't have equity from existing homes to use for their next home purchase. If buyers can wait and save more for a down-payment through year-end, they will have a more competitive edge. Industry experts expect more homes to come on the market as we move into 2022.
"Home prices continue to escalate at a torrid pace as a broad spectrum of buyers drive demand for a limited supply of homes," explains Frank Martell, president, and CEO of CoreLogic, a real estate data and information firm. "First-time buyers and those in more financially constricted situations are struggling to find a home they can afford, compared to peers who have more financial flexibility or equity wealth to support a purchase."
As we approach the Holiday season, traditionally a slower time with fewer buyers out looking, it's an opportunity for first-time buyers to double down on their efforts. Buyers in colder climates may have the advantage of less competition as moving in January or February is typically a deterrent from buying.
Aaron Pinkston, a Better Real Estate Agent from Charlotte, North Carolina, talks numbers for first-time buyers, "Price is one component of affordability. Interest rates are the other because, for most first-time homebuyers, it comes down to total payment. What's wild is interest rates and payments have about a 1 to 8 relationship, so for every 1% increase in interest rates, first-time homebuyers can afford 8% less home."
What We Are Seeing at Better Mortgage
In 2021's third quarter, Better Mortgage is seeing first-time buyer applications grow 150% compared to the same time last year. Year-to-date first-time buyer applications have increased 179% over last year.
Lucy Randall, Director of Customer Communications at Better Mortgage, explains some steps first-time buyers can take to be competitive. "In today's hot market, anything that a customer can do to increase the certainty of their offer in the seller's eyes will help. That's why cash offers and contingency-free offers typically win. There are multiple ways that potential borrowers can increase the strength of their offer.These include getting pre-approved (which you can do in as little as 3 minutes at Better Mortgage.), getting a verified pre-approval, or even becoming a cash buyer."
First-time buyers and their agents should reach out to Better Mortgage to discuss how to show sellers they mean business. And how to increase their chances of making a successful offer.
Realtor.com Reports Homeownership Still More Affordable For Millennial Buyers
Despite home prices skyrocketing to new highs in 2021, homeownership is still more affordable for the typical 2021 household than in previous years, according to a new Realtor.com report.

In May, monthly mortgage payments accounted for a smaller share of median household income (20.9%) than during the 2008 Great Recession (25.3%).
Industry Trend
Danielle Hale, chief economist at realtor.com, does a deeper dive. "Millennial homebuyers are trading up, keeping the resale market competitive. Even though prices are at record highs, low mortgage rates are keeping monthly payments more manageable," explains Hale. "Then you add in rising incomes as employers compete for workers to the picture. That does offset the rise in prices to some degree," Hale adds.
What We Are Seeing at Better Mortgage
While interest rates are low, Millennials should contact Better Mortgage to take advantage of these low rates and offset their monthly mortgage payments.