How to refinance your mortgage in 3 weeks
Better Mortgage aims to cut the time to refinance in half. In this article, we share the experiences of two real borrowers who closed their loans in under 21 days and give you tips on how to do it.
---
Anyone who's gone through a typical loan refinance can tell you the roller coaster of frustration, mental exhaustion, and inefficiencies that come with the process. Typically a 5-7 week process, a refinance is often a struggle between the borrower and the numerous parties involved. That struggle intensifies when the borrower feels a loss of control over the process — the fate of his or her loan is in the hands of some nameless underwriter.
That's not the case when you refinance with Better Mortgage. In fact, Better Mortgage aims to cut that time by more than half. When my borrowers ask when they'll get their loan, I tell them we can often complete the entire process in under 3 weeks if the borrower is willing to move quickly. Can you imagine, 3 weeks? Yes, it's possible.
2 real loans that closed in under 3 weeks
I'd like to share the experiences of 2 of my real borrowers (we'll call them John and Jane to protect their privacy) who coincidentally closed on the same day in February 2017, both in less than 3 weeks.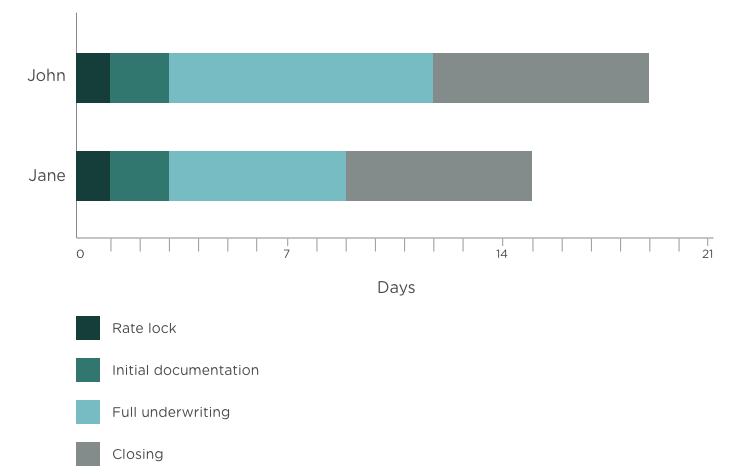 John and Jane's actual loan timelines
Compare these examples to the industry average of 51.42 days1 average application-to-close and you'll see how much faster Better Mortgage can be!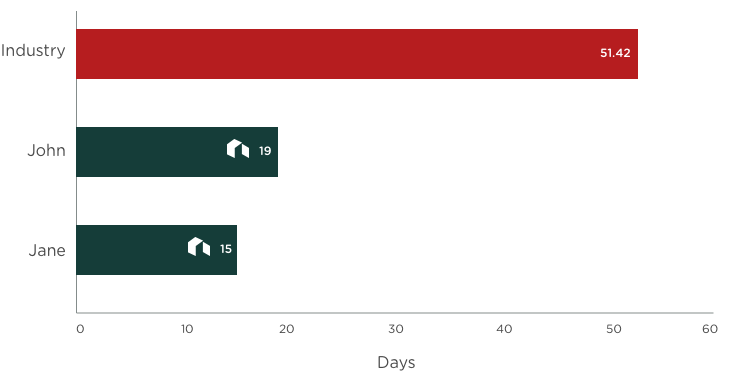 Industry average application-to-close compared to John and Jane's loans
As you can see from the timelines, the Better mortgage process is fast! Our team analyzed the reasons behind the successes of these case studies. While Better Mortgage's innovative technology was a key factor, the most important component was actually the borrower.
"Both John and Jane drove the entire process and we, Better Mortgage, kept up that pace."

Sarah Pierce, Mortgage Expert
3 tips for how you can drive the process
Our team came up with 3 tips for current and future borrowers who are ready to get a loan in 3 weeks or less.
1. Be prepared
While every loan requires slightly different documentation based on the borrower's financial details, there are some standard financial documents that every loan will require, such as:
2 years of W2 forms and personal tax returns
The most recent 2 months of paystubs and bank statements (from all accounts)
Updated insurance policies
Of course, since we're a digital lender, we ask you to provide these documents electronically. If you round up these documents in PDF form, you'll have a head start.
Both John and Jane had all the required documents ready, uploading the initial income and asset documents within 24 hours of locking their rates.
2. Be proactive
The most important thing you can do is respond quickly to any questions and documentation requests. The fastest borrowers, like John and Jane, respond to requests within hours and never wait for a reminder to complete outstanding tasks.
In John's case, just a couple days before closing we identified a need to obtain an additional statement from a previous lender. When we told John of the need, he immediately called the lender to get the statement. His quick action ensured we could close the loan on schedule.
3. Be communicative
If anything is unclear or requires additional discussion — email, call, or send us a message. We encourage questions. A big part of our role is to educate and help you make informed decisions.
Even though John and Jane's loans took only 3 weeks, our loan team had the pleasure of getting to know them well. John in particular gave day-to-day updates on his progress, which was fantastic.
"Our goal is to get our borrowers to the closing table ASAP. Good communication is always a key to making that happen."

Sathi Roy, Mortgage Expert
Get started
If you're prepared, proactive, and communicative, you could be only 3 weeks away from closing your refinance. Why not get started today? Try out our handy refinance calculator to see how much you could save. Or get a rate quote in just 3 seconds.

Our entire loan process is digital. Our people are here to provide support, not sales. Give us a try.
EllieMae Origination Insight Report, February 2017 ↩