Vishal Garg, Founder and CEO of Better
Published February 15, 2021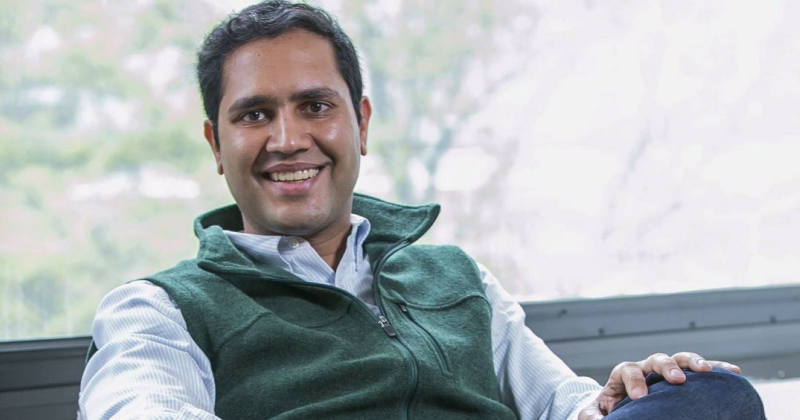 Vishal Garg's background in tech and finance made him qualified to build a digital mortgage lender. His personal experience with the broken homebuying industry made him passionate about fixing it.
Founder and CEO of Better Vishal Garg was inspired to design a digital mortgage experience based on his firsthand struggles with buying a home.
A comprehensive online platform backed by a team of lending experts helps Better Mortgage save borrowers time and money.
To date, Better Mortgage has done over $46.9 BN in home loans and helped thousands of people navigate the homebuying process.
Vishal Garg is the Founder and CEO of Better, an all-in-one digital homeownership company. From finding a real estate agent and getting a mortgage, to shopping for homeowners insurance and title services, Better and its affiliates take customers through the entire homebuying process online.
Vishal wasn't looking to start a new company back in 2012. He and his wife were expecting their second child at the time and, like many parents with growing families, they needed more space. They wanted to buy something and make it their own. As lifelong renters, investing in a home would give the Gargs a chance to settle down and put their stamp on someplace permanent. So they talked to a mortgage broker and started looking at listings.
It didn't take long for the Gargs to get bogged down by their brick-and-mortar lender—slow processes, predatory fees, and outdated technology made the experience painful and sluggish. When they finally found a house they loved, they encountered delays and inefficiencies while getting their pre-approval letter. When they tried to pivot to a different lender, they encountered more confusing processes and loan officers motivated by commission rather than compassion. Eventually, the seller received another offer from an all-cash buyer and they lost the house. Discouraged, frustrated, and no closer to owning a home, Vishal realized that the mortgage process itself needed an overhaul and that his unique background in tech and finance made him well-suited to the task.
Vishal became interested in the lending industry early in his career. At 21 years old, he started MyRichUncle, which became the second largest private student lender in the United States and went public in 2005. Although the business was later acquired by Merrill Lynch and eventually shut down, this experience sparked a lasting interest in leveraging technology to create more transparency in lending. By the time he founded Better, Vishal had a keen understanding of how digital tools could close gaps in the mortgage industry and empower people to make more informed financial decisions.
Financing a home has historically involved tons of headaches, paperwork, and daunting financial decision-making. Some people say that homebuying is more stressful than getting divorced and filing for bankruptcy. Better's digital-first approach revamps home financing, bringing much-needed innovation to an outdated industry. Borrowers can get pre-approved online in minutes and see competitive rates from the comfort of their couch rather than having to wait on manual processes.
In the last 5 years, Better has digitized and streamlined the bulk of the homebuying process. This online approach has also eliminated needless commissions and fees, making home financing more affordable and easier to navigate. Better Mortgage offers easy-to-use resources (tools, calculators, and educational content) backed by a friendly team, with mortgage experts available to answer questions, assign to-dos, and share updates every step of the way. This seamless platform has won numerous awards, including a spot on Forbes' Best Online Mortgage Lenders of 2021 and #15 on CNBC's Disruptor 50 for 2020.
In recent years, Better has done over $46.9 BN in home loans through Better Mortgage and provided over $16B in cumulative coverage through Better Cover and Better Settlement Services, the insurance affiliates of Better. Better has raised over $400M in equity capital and is backed by SoftBank, L Catterton, Kleiner Perkins, Goldman Sachs, Ally Bank, American Express, Citi and other investors. With historically low interest rates and remote work policies adopted in many businesses, buying or refinancing a home has become even more popular during the pandemic.
In addition to his role at Better, Garg serves as the founding partner of One Zero Capital, an investment holding company focused on creating and investing in consumer finance, technology, and digital marketing businesses. In 2021, Vishal led Better's partnership with the Fund for Public Schools in NYC, donating nearly $2M to buy chromebooks, ipads, wifi hotspots, books and uniforms for over 20,000 New York City public school students from low income backgrounds to better cope with at home and online learning during the COVID pandemic.
The Gargs currently live in New York City with their 3 children and a rotating cast of rescue dogs.
Learn more about Vishal Garg and Better:
Vishal Garg's Crunchbase profile
Vishal's Linkedin
Vishal's Twitter
About Better
More:
How Better.Com Quietly Became A $7.7B Unicorn: Personal Insights From Founder Vishal Garg
Masa invests $500M in Vishal Garg's Better Mortgage
Better.com CEO Vishal Garg Talks IPO RefiNow and Bullying Allegations