How to Successfully Close on a New Home
Published November 9, 2018
With a PhD in financial economics, Sean Hundtofte is here to help you understand how macro and micro economic forces affect homeownership — from homebuying to real estate to refinancing and beyond. A former research economist for the Federal Reserve Bank of New York, Sean's goal is to help you make more informed decisions about homeownership.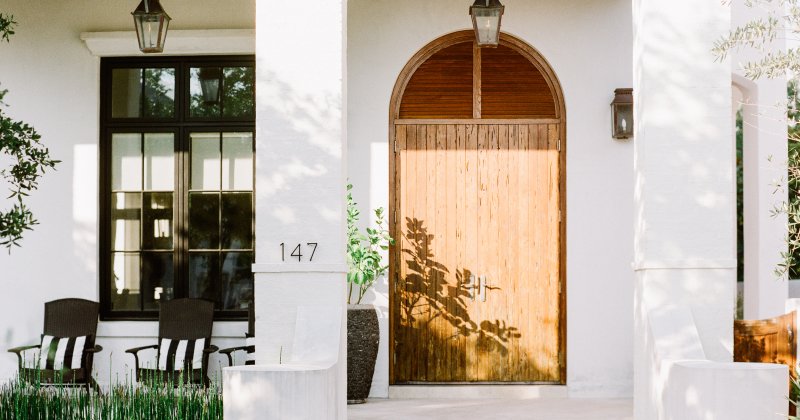 If you're buying a home for the first time, you might be unsure how it will play out. Will your offer be accepted? Are you getting a good deal on your mortgage? Will you be approved in time? When we face situations we haven't encountered before, like buying a home, it's normal to feel a bit uncertain and look for guidance from someone who's been through it.
At Better Mortgage, our goal is to provide the education and support you need to approach your homebuying journey with confidence. In this article, we'll share the best ways to prepare for and avoid common home shopping and mortgage obstacles.
1. Choose the right lender
Your lender plays a major role in the homebuying journey, from deciding the total cost of your mortgage to determining if you reach your closing date in time. Your realtor might suggest that you go with a local brick-and-mortar lender that they've worked with in the past. However, research from the Federal Reserve Bank of New York shows that an online lender might actually be a smarter choice.
Online lenders close their loans 20% faster than traditional lenders. These tech-savvy lenders also finish more than 70% of their loans before the industry's average time, so there's less chance that your loan will take longer to process than expected.1
We see this same pattern at Better Mortgage. Thanks to our unique combination of efficient technology and dedicated customer support, our borrowers reach closing 5 days faster than the industry average.2 And, using our best estimates of closing dates for potential Better Mortgage customers who ended up funding with another lender, we find a similar answer. It looks like switching to a different (and more inefficient) lender cost the borrower 6 days on average.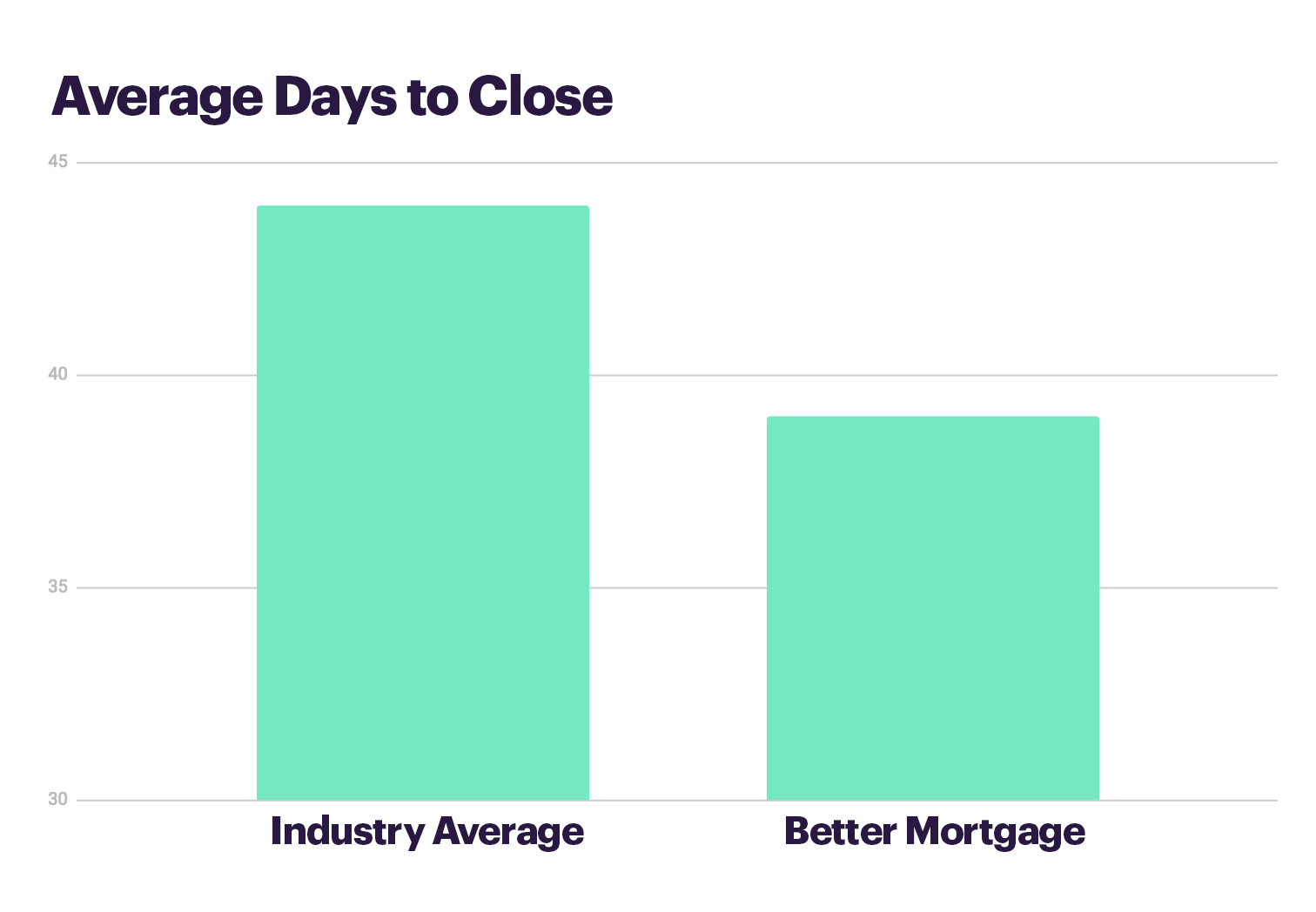 Another quality to look for in a lender is efficiency throughout the process, not just at closing. The last thing you want is radio silence after you've submitted an application, followed by a late denial or a last-minute push to reach your closing date. At Better Mortgage, we're streamlining every step of the mortgage process to make it, well, better. As a result, we're able to give you a decision on your purchase loan application 10 days earlier than lenders historically have, saving you time and giving you peace of mind.3 Learn more about assembling the right homebuying team.
2. Keep your finances in good shape
For your mortgage application, we'll ask you for some financial information to help us understand if you can comfortably afford your mortgage now and in the future. National mortgage data tells us that credit score and debt-to-income (DTI) ratio issues are the cause of most mortgage application rejections. In fact, these two numbers explain around half of rejected applications the unfunded loans in national data, and a similar amount (just under 50%) of loans that Better handles.
The good news is that you may be able to avoid these potential roadblocks with some preparation. Start off by checking your credit score. Your credit score gives lenders an idea of your borrowing history so they can evaluate your ability to pay back your loans. When you get pre-approved with Better Mortgage, you'll get your credit score without impacting it. From there, one of our loan consultants can talk you through your options and how your credit score affects them.
At Better Mortgage, we can currently provide loans to customers with a credit score of 620 or above (given that other factors like debt-to-income ratio have been satisfied). That said, the higher your credit score, the better your rate options will be, and the less likely it is that something else will become an issue (as investors place tighter constraints on other factors the lower a credit score is). Read more about credit scores and how to improve them.

Next, calculate your debt-to-income ratio.

Your DTI ratio is all your monthly debt payments (such as student loans, car loans, credit card bills, and your future mortgage payment) divided by your gross monthly income (how much money you earn before taxes).
At Better Mortgage, we offer loans with DTIs of up to 50% for creditworthy borrowers. However, the lower your DTI, the more financing options will be available to you.
The closer you are to the credit score or DTI cut-offs on a particular loan product, the more careful you need to be to ensure the financing option you want. Read more about how to calculate your DTI and how to improve your DTI.
3. Make a smart bid
Unless you're buying with cash, the appraisal of a property can restrict what you're able to pay for it. The good news is that how much you bid and the property you choose are in your control, and these two things can affect the likelihood that the appraisal ends up being an issue. The appraisal and other property issues arise in that period between locking your loan and closing on a property, the final stretch of the homebuying process. And they pose a material risk: just under 20% of unfunded loans in 2017 were for property-based reasons (source: HMDA).
The appraisal needs to meet or beat the price you agreed to with the seller, and the appraisal value is driven by comps or comparables. So the lower your bidding price compared to these comps, the less you have to worry about the appraisal coming in low.
Have questions about avoiding these obstacles? Ready to discuss your homebuying plan? Talk to one of our non-commissioned consultants for clarity and guidance.
1 "The Role of Technology in Mortgage Lending" https://www.newyorkfed.org/medialibrary/media/research/staff_reports/sr836.pdf
2 https://static.elliemae.com/pdf/origination-insight-reports/Ellie_Mae_OIR_JULY2018.pdf and Better Mortgage data. "Days to Close" is time from completing application to closing, where all loans are being used for purchase.
3 Choi, Choi, & Kim 2018 "Clogged Intermediation: Were Home Buyers Crowded Out?" and Better Mortgage data.