First-time homebuyers, single women are bringing their A-game
April's need-to-knows
Single women are flexing their homebuying power
If you're looking to sell, the best the best week to list is April 10–16
Everyone's moving to Phoenix, AZ, for good reason
Who's buying? All the single ladies
"Homes before hubbys," say roughly 2 in 3 single women who don't want to wait until they are married to buy a home. After married couples, single women are the largest homebuying group. Case in point, nearly a third of all female homeowners in the US bought a home while they were single.
In the 50 largest metro areas in the US, single women own more homes than single men. And more than any other homebuying group, single women stated that being close to friends and family was a major factor in their decision of where to buy. While the fiercely competitive housing market has continued to set double-digit price increases, the market power of women homebuyers remains strong.
What the experts are saying
Danielle Hale, Chief Economist for Realtor.com, shared her insights on women homebuyers. "While the pandemic undoubtedly created unique challenges for working women, who are often primary caretakers, it also created opportunities for some. Those with flexible work arrangements—women and men—have taken advantage to better balance their dual responsibilities," says Hale.

Tips for buying a home alone:
Get pre-approved to see your max homebuying budget without impacting your credit score
Save as much as possible to cover the down payment and closing costs
Improve your credit score — borrowers with higher credit scores are typically offered lower interest rates
Thinking of selling? List on April 10
Knowing the right time to list your home is key to getting the sale price you're looking for. Realtor.com's fourth annual Best Time to List Report determined that the best week to list nationwide is April 10–16. Sellers who list during this week—dubbed the Realtor.com® Listapalooza—can take advantage of all the highlights the spring buying season has to offer: strong demand, high asking prices, quick home sales, and less competition from other sellers.
Why it matters
29% more homebuyers will be looking at listings compared to the average week in 2021
12.9% less sellers list at this time (less competition) compared to the average week in 2021
Asking prices $39k higher than at the beginning of the year based on 2021 trends
Homes likely to sell 27 days faster than the average week in 2019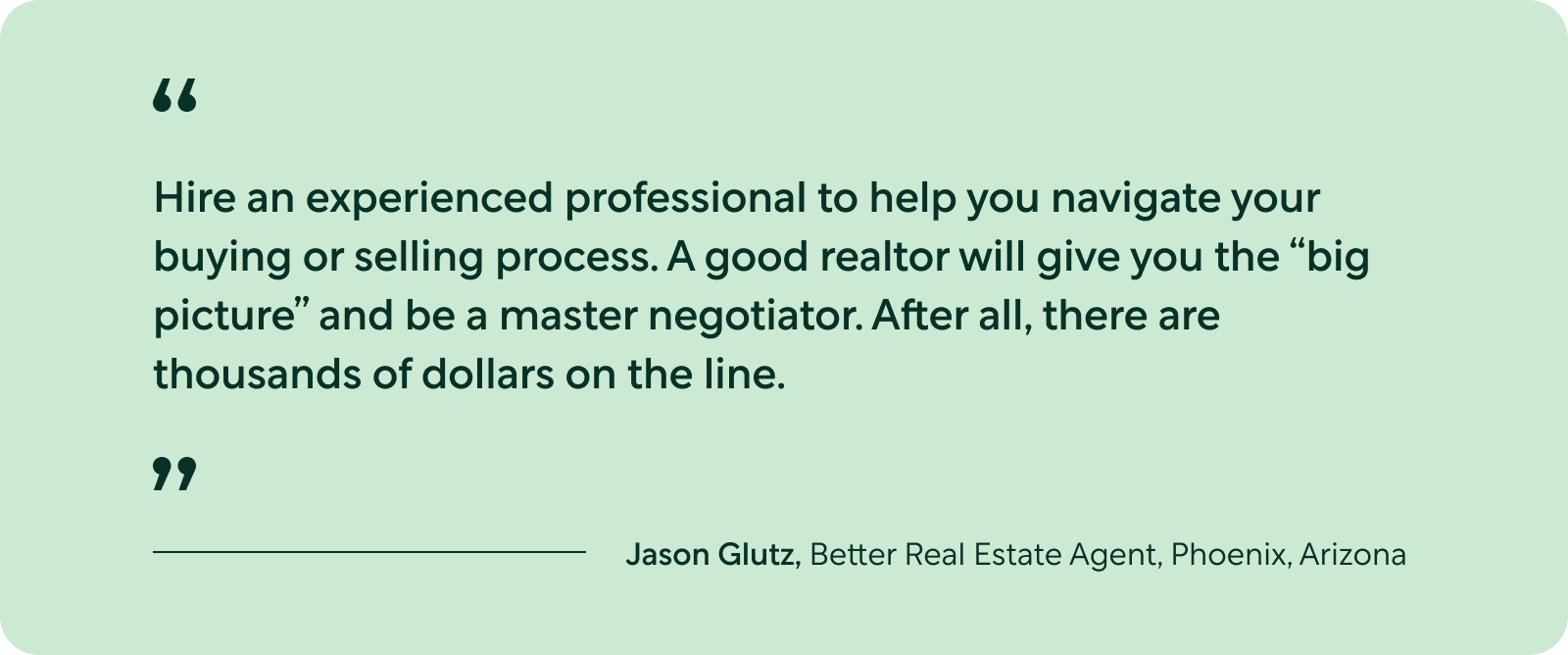 Homeowner advice
Start the listing process now as it can take 2–4 weeks
Make your home move-in ready so you can sell it faster at a higher price
Buy your new home with the Better Cash Offer and you'll have somewhere to stay while you sell your old home*

Local spotlight: Phoenix
Great weather, a wealth of economic opportunities, and a laid-back lifestyle explain why Phoenix has seen the fastest growth of any major city in the last 10 years. "With over 59,000 new residents in 2021, Maricopa County [which includes Phoenix, Scottsdale, Mesa, and Chandler] has continued to lead the nation in population growth," says Jason Glutz, a Better Real Estate Agent in Phoenix.
"We are experiencing some post-COVID 19 migration, and people are choosing to buy in this beautiful place now that many employees have the option to work remotely. Buyers are facing fierce competition, as almost half of the homes sold go for over the asking price. It's a classic story of supply and demand. With homes averaging only 8 days on the market, buyers are forced to come to the table with the best terms," adds Glutz.
👀 See homes for sale in Phoenix
Monthly roundup
🛒 Buying a new home before you sell your old one
Pro: You can take the time you need to find 'the one.'
Con: Including a home sale contingency in an offer can make it less appealing to sellers.
Learn more about buying and selling a home at the same time
💰 Fund Fact
Spring into a few home renovations this year. Landscaping, building a deck, and giving your home a new coat of paint can all increase your home's value.
📖 What everyone's reading
How to win a real estate bidding war in a competitive market
---
The Better Real Estate Trend Report is your monthly update on the news that matters to homebuyers and homeowners. Speak to a Better Real Estate Agent for personalized advice on your next real estate move.
*See Better Real Estate Cash Offer terms and conditions
This newsletter does not constitute an endorsement or recommendation of Better Mortgage Corporation; Better Real Estate, LLC; Better Cover, LLC; Better Settlement Services, LLC; or their services. Better Cover is solely responsible for homeowners insurance services. Better Mortgage is solely responsible for making all credit and lending decisions with respect to mortgage loans.