Second homes and investment properties now turn buyers heads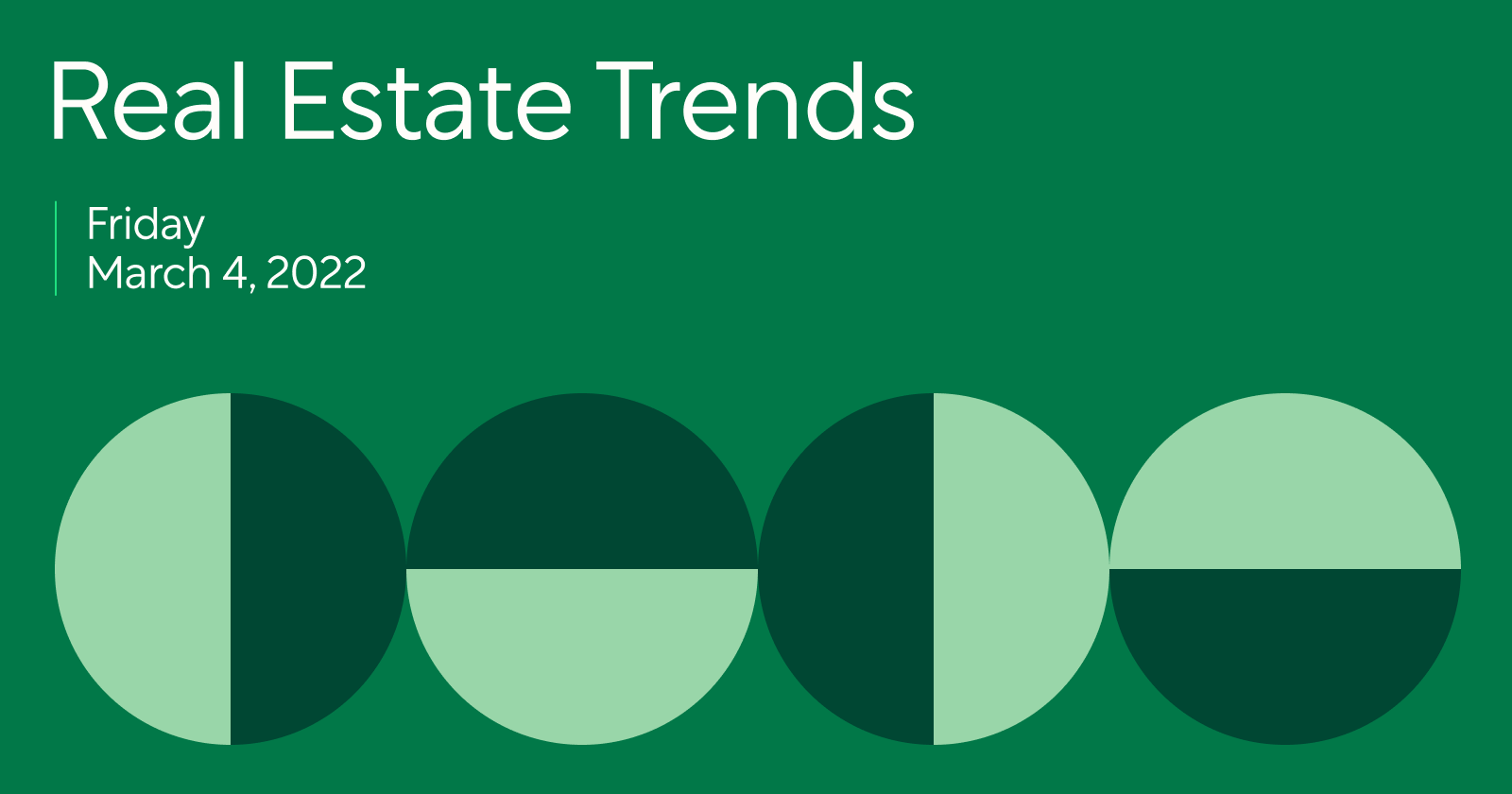 March's need-to-knows
A growing number of millennials' first homes are technically second homes
With equity up and vacancy rates down, homeowners are becoming landlords
Get spoilt for choice and ready to make an aggressive offer to buy in Los Angeles
Vacation homes are the new starter homes
Millennial first-time homebuyers are increasingly making vacation homes their first home purchase. A vacation home can be a low-cost way to get a foothold in the property market, especially if 2-bedroom condos often sell for over a million in your urban area.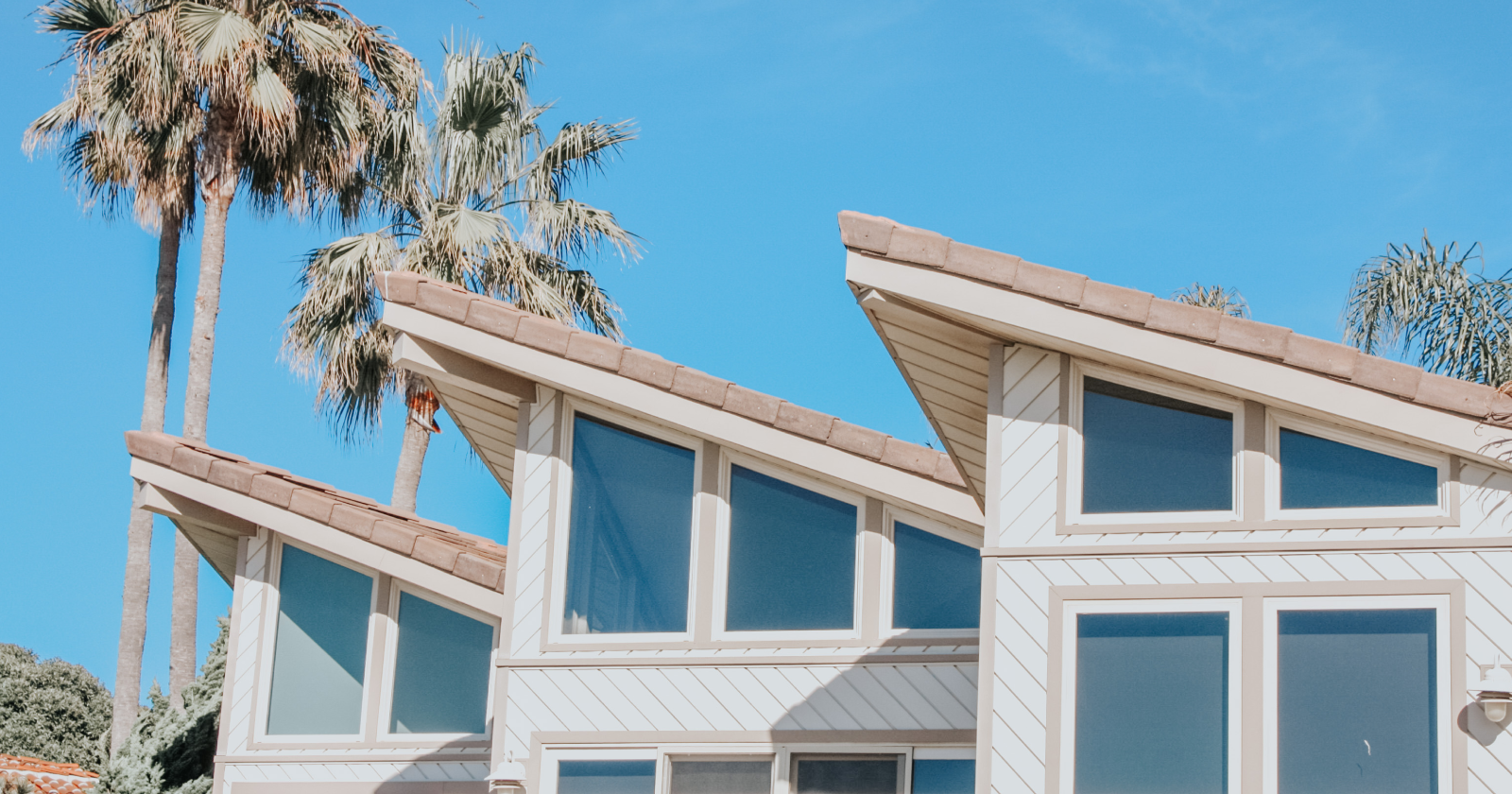 Rising home prices continue their second-year run stretching the limits of affordability. Despite that, competition for homes remained at an all-time high according to the realtor.com Monthly Housing Report. New year home buying competition made January the fastest-moving ever. "Compared to January's national pace, homes sold even more quickly in the 50 largest US metros, with listings flying off the market in 36 days or less in Nashville, TN; Raleigh, N.C; San Diego, San Jose, and Denver," realtor.com reported. The market remains so competitive that according to realestatewitch.com, 90% of millennials would buy a house sight unseen—that's a 10% increase from 2021.
Millennials priced out of expensive urban areas are now looking to vacation homes for personal use and investment, and Zillow predicts, "More Gen Zers and millennials will buy a 'second home' before a primary residence."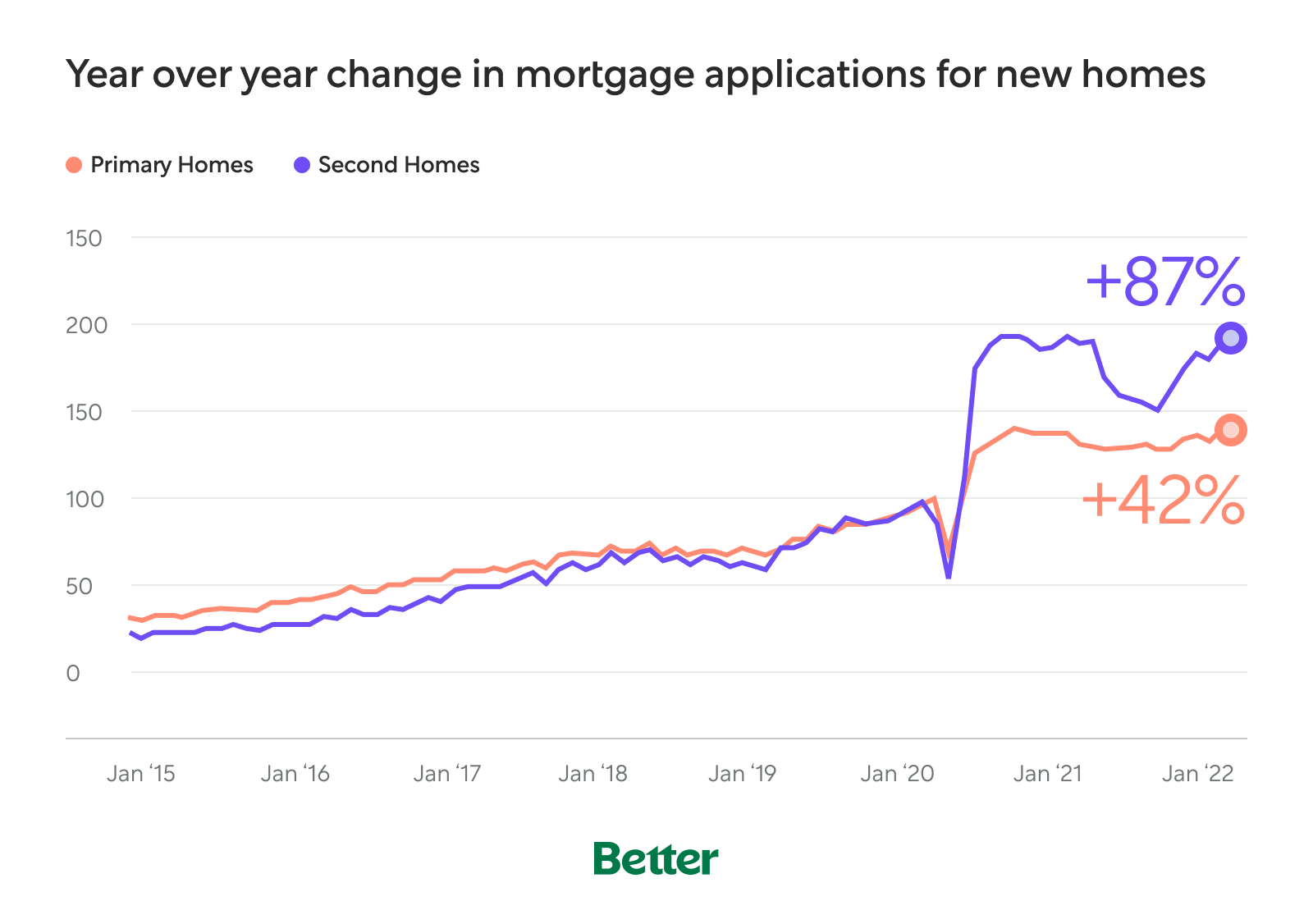 Source: Redfin
The vacation home market took off last year, and while second home purchases are down from fall 2020, overall, the vacation home market hasn't stopped its upward trajectory. "Homebuyer demand for second homes was up 87% from pre-pandemic levels in January" according to a report from Redfin. This increase in second home applications is more than double that of loan applications for primary residences.

Vacation home buying tips
Buy a home over 50 miles away so lenders don't treat it as an investment property.
Boost your income by renting it out up to 180 days a year.
Not that rental income from the vacation home can't help you qualify for your mortgage.
What to know about buying a second home
Equity-rich homeowners seeking passive income are snapping up investment properties
As a hedge against inflation, small-scale investment properties could make sense for homeowners with equity to spend. With vacancy rates down, becoming a landlord is now a tempting investment opportunity for homeowners.
"The apartment market is very strong these days," Colliers Research Director Jeff Myers told Bisnow. "The vacancy rate for apartments has fully recovered back below pre-Covid levels. If you're an apartment landlord out there, you have to be really happy." Leveraging equity to purchase a rental property may make sense for your investment strategy. Consider buying a lower-priced single-family home in a neighborhood with a strong rental market.
What the experts are saying
"A cash-out refinance can help you tap your home equity for a down payment on an investment property," says Better Mortgage Senior Home Advisor Meenakshi Janardhanan. "You need at least 20% home equity to qualify for a cash-out refinance," she continues. "If you can maintain a debt-to-income ratio of less than 50%—after getting a cash-out refinance and a new loan—you could consider buying an investment property."

Learn more about investment property loans
Homeowner advice
If buying an investment property is the right move for you, here's how to get started:
Find an estimate of your home's value (Zillow or Redfin is a good place to start)
Get pre-approved for a cash-out refi
Use the cash for your down payment

"The broad range of homes in LA makes it challenging for first-time home buyers and new residents to decide and make very aggressive offers from the get-go," says Ken Wei, a Better Real Estate Agent in Los Angeles. "There are classic homes that are 100+ years old in historic preservation zones that fetch a million and newly built tri-level boxes for the same price. In addition, the anticipation of rising rates and rental costs exceeding mortgage payments means homebuyers are more driven than ever."
"Consider buying a duplex to live in one unit and rent out the other to cover your mortgage costs. This potentially increases your overall net worth and also enables you to be in a part of town that you may otherwise not be financially qualified for. A solid strategy for a first-time investor is to leverage both property value and rental value. Invest in a property in the mid to low range of the market that needs updates but has current tenants that pay rent to cover the mortgage. When the tenants eventually move out, you can renovate and upgrade the units to improve the property value and increase rental cash flow," Wei adds.
How to win a real estate bidding war in a competitive market
Monthly roundup
🌴 Buying a vacation home as your first home
Pro: If you're priced out of your town, a vacation home could build equity and boost your cash flow.
Con: In a down-trending real estate market, vacation home values are the first to drop.
💰 Fund Fact
Despite years of avocado roasts, Millennials made up the largest share of 2021 homebuyers at 37%.
📖 What everyone's reading
4x your odds of winning your dream home with an all cash offer. For free*
---
The Better Real Estate Trend Report is your monthly update on the news that matters to homebuyers and homeowners. Speak to a Better Real Estate Agent for personalized advice on your next real estate move.
*See Better Cash Offer terms and conditions
This newsletter does not constitute an endorsement or recommendation of Better Mortgage Corporation; Better Real Estate, LLC; Better Cover, LLC; Better Settlement Services, LLC; or their services. Better Cover is solely responsible for homeowners insurance services. Better Mortgage is solely responsible for making all credit and lending decisions with respect to mortgage loans.