So you're considering a local mortgage lender
Sarah Pierce (a non-commissioned Mortgage Expert at Better Mortgage) breaks down the questions to ask when you're considering a local lender
---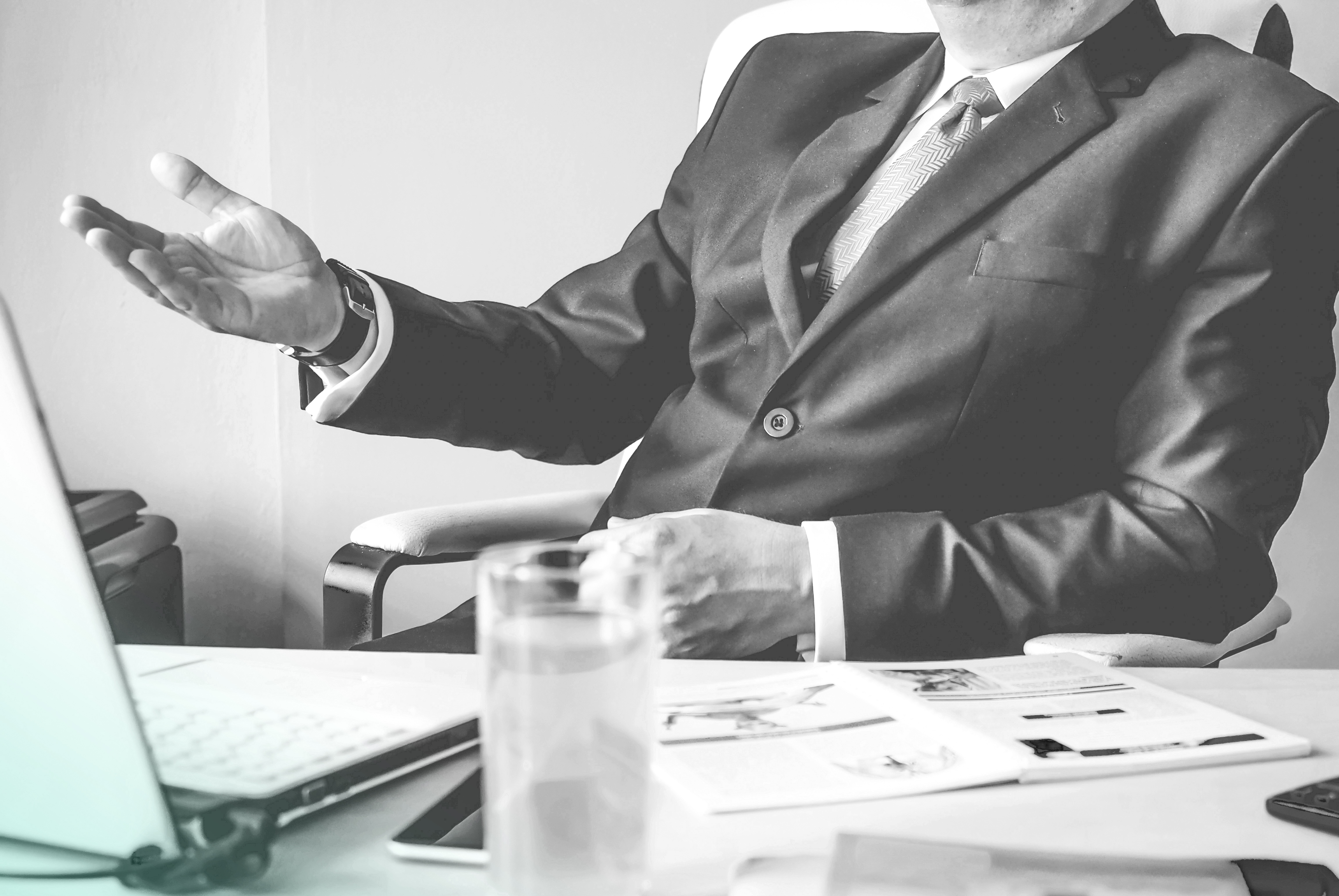 With big banks, you risk getting lost in the shuffle
Consumers have been burned dealing with large national banks who can't commit to when they will get back to you, who will get back to you, or when you'll be able to get your loan closed.
We understand why going with a local lender can be appealing. That person-to-person "handshake" is how business has always gotten done, and that's powerful. It can create a sense of safety and certainty in a daunting process.
But we built Better Mortgage with the sole focus of putting homebuyers back in control of the mortgage process, and we know we can service most homebuyers' loans even better (and with more speed and certainty) than a local lender can. We've built smart, thoughtful technology and paired it with helpful, non-commissioned Mortgage Experts and underwriters to keep your loan moving smoothly, quickly, and transparently.
We're obviously biased, so let's talk about the pros and cons. We'll arm you with the questions you can ask yourself, your local lender, and your real estate agent to ensure you're making the right choice.
Factors to consider
Do you care about speed and certainty?
Do you care about affordability and rates?
Do you care about transparency?
Do you care about face-to-face interactions?

Do you care about speed and certainty?
A personal referral to a local lender who has a track record of being responsive and closing on time is hard to ignore. But our technology empowers our team to be even quicker.
Better Mortgage, by the numbers
Get a basic pre-approval in 3 minutes by entering some basic financial details. You can change the terms and re-check the estimate instantly. No fee, no strings attached. (This can take days with brick and mortar lenders.)
For qualified borrowers, we can provide a Verified Pre-Approval Letter from our underwriters, detailing exactly how much house you are actually approved to borrow. No fee, no strings attached.
We have a closing commitment of 21 days or less from the date of lock for our Verified Pre-Approval borrowers who are purchasing single family or detached units, and 25 days for other types of applicants. (The industry average is 30 days.)
Just because we're an online lender doesn't mean we don't have boots on the ground, helping us close in record time. With appraisal panels in competitive markets1, we average a 5 day turnaround on appraisals (and in some cases shortened to 2 or 3 days if the process needs to be rushed, with no additional charge to you). Your local lender may be using an Appraisal Management Company (AMC) which would mean they have less control over their speed (and the fees passed on to you, which we can get into later if affordability is what you're looking for.)
With our technology working around the clock and underwriters in multiple time zones, we can run the numbers and let you know about any change in the status of your loan instantly. Instead of spending time "selling" other customers or realtors, our dedicated non-commissioned Loan Consultants are available to help via text, phone, or email.
Ask your local lender:
How long it will take to get a pre-approval (this should be based on financial documents you've submitted, which is different from a pre-qualification estimate)
How often their customers' closing dates need to change due to issues with the loan
Whether they fully underwrite their loans (if they're working with outside parties, this could add time-consuming back-and-forth during closing)
What the turnaround time is for appraisals across all their loans (get it in writing if you can)
As of this posting, Better Mortgage has appraisal panels in Seattle, WA; Denver, CO; San Diego, CA; and Alameda, CA ↩
Do you care about affordability and rates?
Many local lenders make it a point to help you get the best rate, especially if you can show them numbers from shopping around. But their access to investors may be limited, limiting the savings options they can pass on to you.
Better Mortgage has developed strong relationships with dozens of investors, ranging from Fannie Mae to most of the largest banks and insurance companies in America. And our technology instantly matches your attributes to investor demand and delivers the best price we can offer, in a way no individual mortgage broker can.
Better rates and affordability
We can guarantee competitive rates: Because we've killed commissions, developed relationships with a range of reputable investors, and streamlined clunky processes, we can pass the savings to you. We're confident we can get you the best rate.

We don't charge lender fees: With most mortgage lenders, closing fees are comprised of both lender fees and third-party fees. Better Mortgage does not charge lender fees, so there are no loan officer commissions, lender origination fees, application fees, or underwriting fees. Our investors pay us a one-time fee when they purchase the loan.

We work to keep third-party fees down: As mentioned earlier, we've set up our own appraisal panels in many competitive markets with an average turnaround time of 5 days. When "surge pricing" is necessary to complete an appraisal even faster (anywhere from $550-$1500 for a 2, 3, or 5 day turnaround time), we absorb those costs to make sure our borrowers are never charged more than $550. If your appraisal ends up costing less than $550, we'll refund you the difference at closing.
Ask your local lender:
For a Loan Estimate
If they have a rate match program
If they have lender origination fees, application fees, or underwriting fees
The average cost of appraisals across their loans (Get everything in writing if you can.)
Do you care about transparency?
This is a big one, and we can't speak to the practices of your specific lender.
Better Mortgage transparency
Financial transparency: A less-reliable loan officer may be incentivized by shady commission structures, mutually beneficial relationships with real estate agents, or other third-party relationships. At Better Mortgage, we've eliminated commissions and done our best to absorb fluctuations in third-party costs, passing the savings to you (like with the appraisal panels mentioned above). That means no "hidden fees" or surprise costs when it comes to closing.

Process transparency: When it comes to transparency throughout the underwriting process, a local lender may not have the technology or bandwidth to keep you completely up to date during that crucial closing period.

Better Mortgage's online mortgage process also means that you (and your agent, should you choose to share) can get real-time updates on any information we may need from you to keep your loan process moving along. Our loan and underwriting teams are also available to give you updates on the status and expected timeline of your loan by email, phone, or text – whatever works best for you.
Ask your local lender:
What the relationship is between them and the title insurer charging you for "title insurance" (If their firm owns any part or gets compensation of any kind from the title insurer, you might want to shop around for a better deal.)
What the commission amount is for loan officers at their company
How you can expect them to keep you updated during the underwriting process
Ask the real estate agent referring you to a local lender:
If they have a Marketing Services Agreement with the lender
If they have a rent or facilities sharing agreement with the lender (lenders frequently pay for office space in realtors offices.)
Do you care about face-to-face interactions?
This is one area where a local lender can beat Better Mortgage (unless you live in New Jersey, Connecticut, or Pennsylvania. We'd be happy to meet you at our New York offices!). If having face-to-face interactions are even more important to you than speed, certainty, affordability, and transparency, then a personally referred local lender may be the right option for you.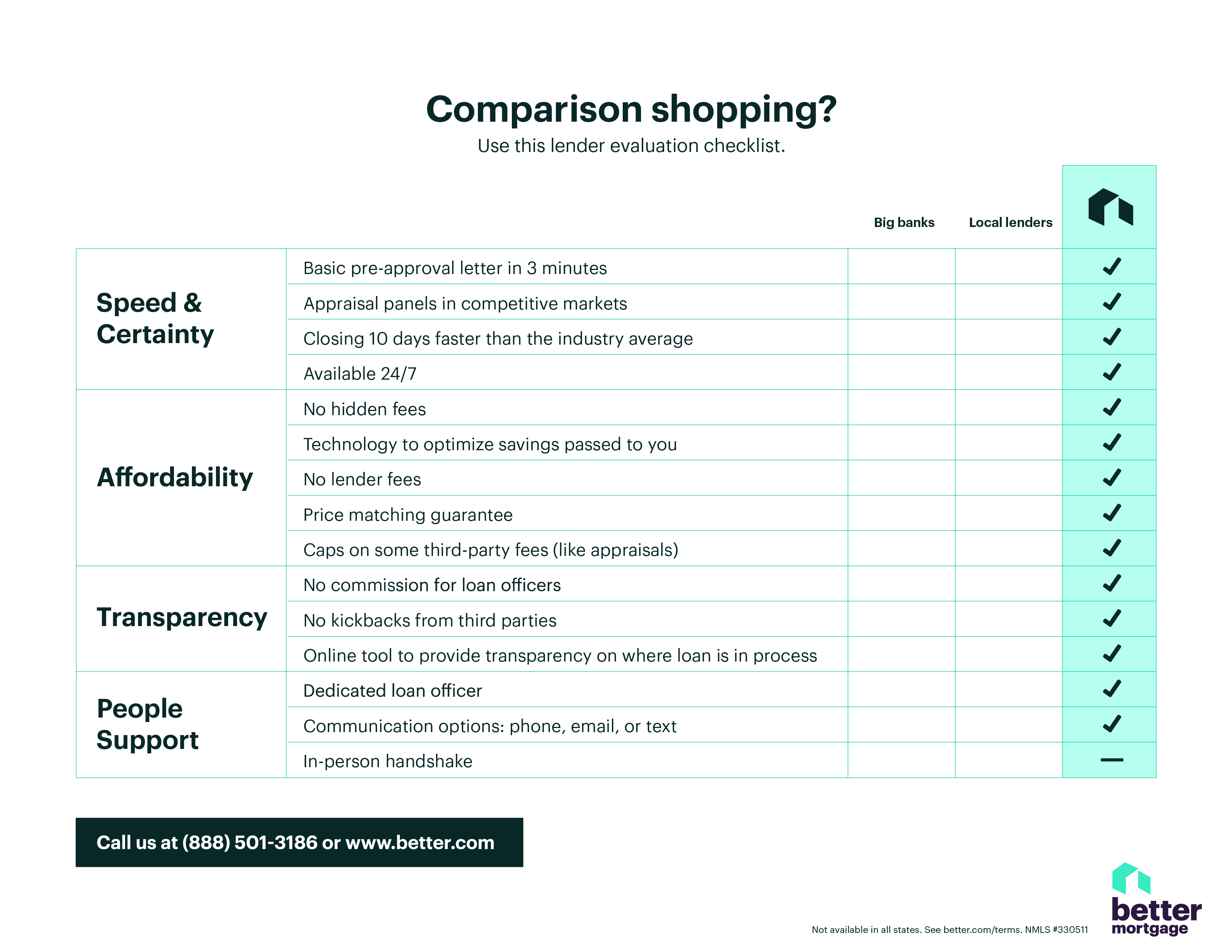 The bottom line
Going with a local lender isn't necessarily bad advice when you consider some of the other options out there. A personally referred lender who is more personable and dedicated than a big bank can be appealing, especially if an in-person relationship is your top criteria.
We believe that our innovative online process paired with our helpful and responsive non-commissioned Mortgage Experts can ensure clarity, transparency, speed, and peace-of-mind even better than a local lender.
If you do decide to go with a local lender (or any other lender), reach out to us after you've closed your home. We will be happy to refinance you, and waive any appraisal or title fees associated to get you the better mortgage you deserve.
Ready to see our speed, certainty, affordability, and transparency in action? Start by getting a basic pre-approval with us in just 3 minutes.