How to win a real estate bidding war in a competitive market
Published October 20, 2021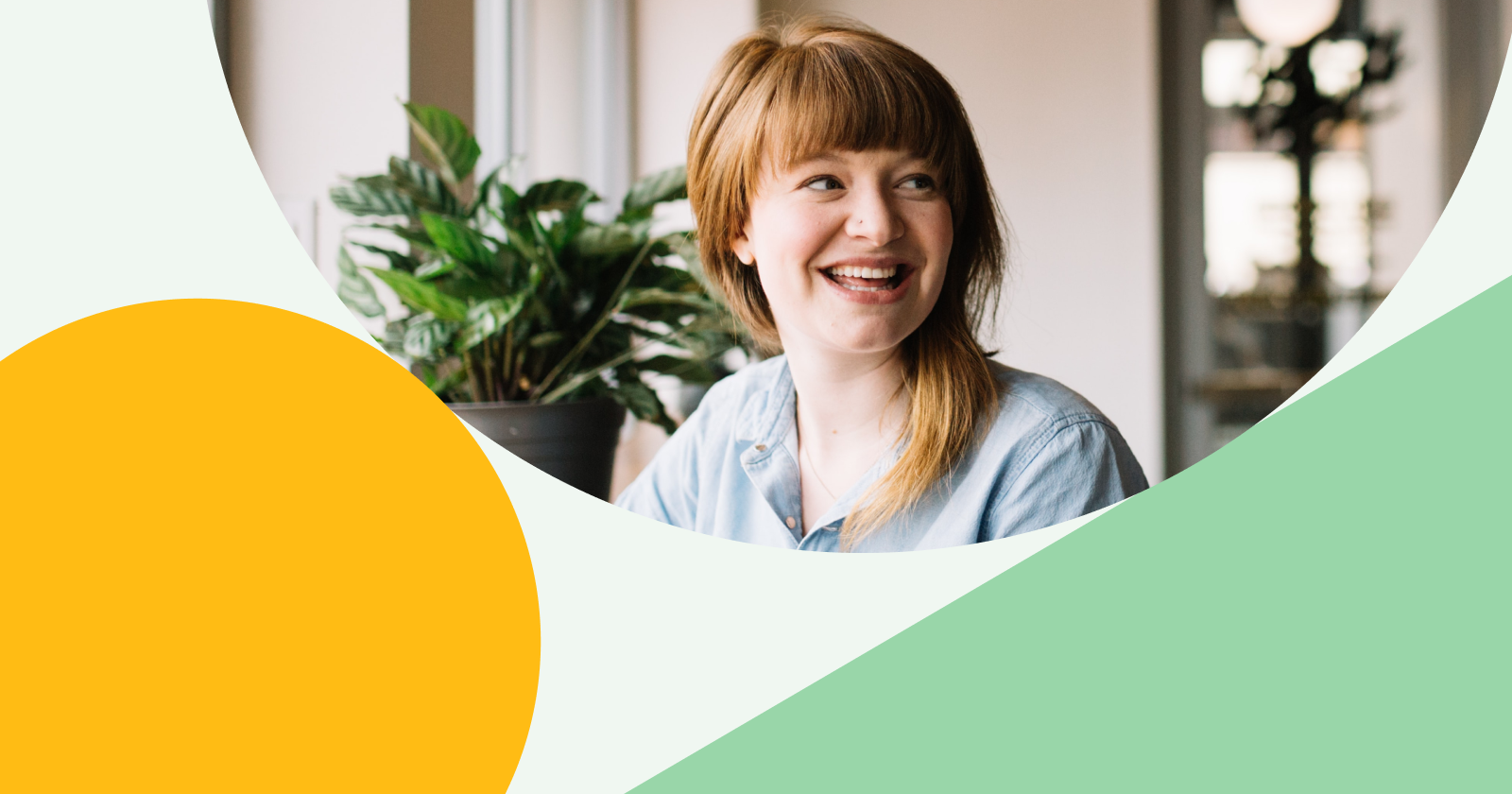 What you'll learn
What makes an offer appealing to a seller
Ways to protect your finances when when you waive contingencies
How to win a bidding war with a cash offer when you don't have the cash yourself
If you're looking to buy a home in a competitive real estate market, odds are you're feeling the pain of the housing shortage more than most. In 2021, the typical homebuyer nationwide made 2 offers before one was accepted. (From 2018 through 2020, just one offer was the median.) There are stories of buyers making offers on 5 homes, 14 homes, 20 homes, and still not getting an accepted offer. In February 2021, every home sold received an average of 4 offers. In March, there was a Californian home that received over 100 offers in 2 days. In short, the lack of supply is fueling housing demand, and the bidding wars can be brutal.
With the advent of iBuyers, prospective homeowners are not just competing against each other. They're also competing with online real estate companies offering homeowners the chance to sell their homes for fast cash. But it's not always the highest offer that wins the home, and even where cash is king—there are still ways to compete.
3 things sellers like in an offer
If you want to buy a home, it helps to think like a seller. Sellers like certainty, cash, and contingency-free offers. According to Trulia, the number of home sales that fell through in 2016 was 3.9%. This number was higher than previous years, but it still means 96.1% of home purchases closed successfully. However, from a seller's perspective, when you've got multiple offers to choose from, it's prudent to choose the surest thing. Hence the rise in all-cash offers: In April 2021, 25% of home sales were all-cash deals. Sellers especially like cash offers because they're less likely to have contingencies.
What is a contingency and why do they make sellers cagey
Contingencies are conditions that need to be met before a contract can be honored. While there are 5 common contingencies, including title and inspection contingencies, homebuyers can more comfortably waive 3 of them with a cash offer: the appraisal contingency, the sale contingency, and the financing contingency. In various ways, these contingencies protect the homebuyer's finances. Homebuyers who need financing often feel more comfortable including some of these contingencies with their offer. If the conditions for the contingencies aren't met, the buyer has the option to renegotiate the terms of the offer or walk away from the deal.
After the excitement of a bidding war, and finally selecting an offer, the last thing a seller wants is for the sale to fall through. Which is why sellers in competitive markets look more favorably towards offers with no contingencies. However, waiving contingencies altogether can pose a risk to a homebuyer. It's important to know the purpose of each contingency, so you can make an informed decision about the kind of offer you plan to make.
What is an appraisal contingency and why it makes offers less competitive
An appraisal contingency protects the homebuyer from overpaying for a property. Home appraisals are typically done after a seller has accepted an offer. A certified or licensed home appraiser will inspect the property then compare it with similar homes (known as 'comps') that recently sold in the area to give you an unbiased opinion of the home's value.
Lenders typically insist on a home appraisal to ensure the home's value is greater than the loan amount and verify the condition of the home they are lending against. If the appraised value is lower than the offer price of a home, this difference is known as an 'appraisal gap.' By including an appraisal contingency with their offer, homebuyers retain the right to renegotiate the sales price, ask for concessions, or walk away if there's an appraisal gap.
If a bidding war has dramatically pushed up the price of a home, there's a greater likelihood of an appraisal gap. Appraisals are based on recent home sales in the area. When there are a lot of homes selling over their appraised value, the comps that the appraiser uses will also be inflated, which creates a self fulfilling cycle. While this can be one way that home values increase, appraisal gaps may still occur.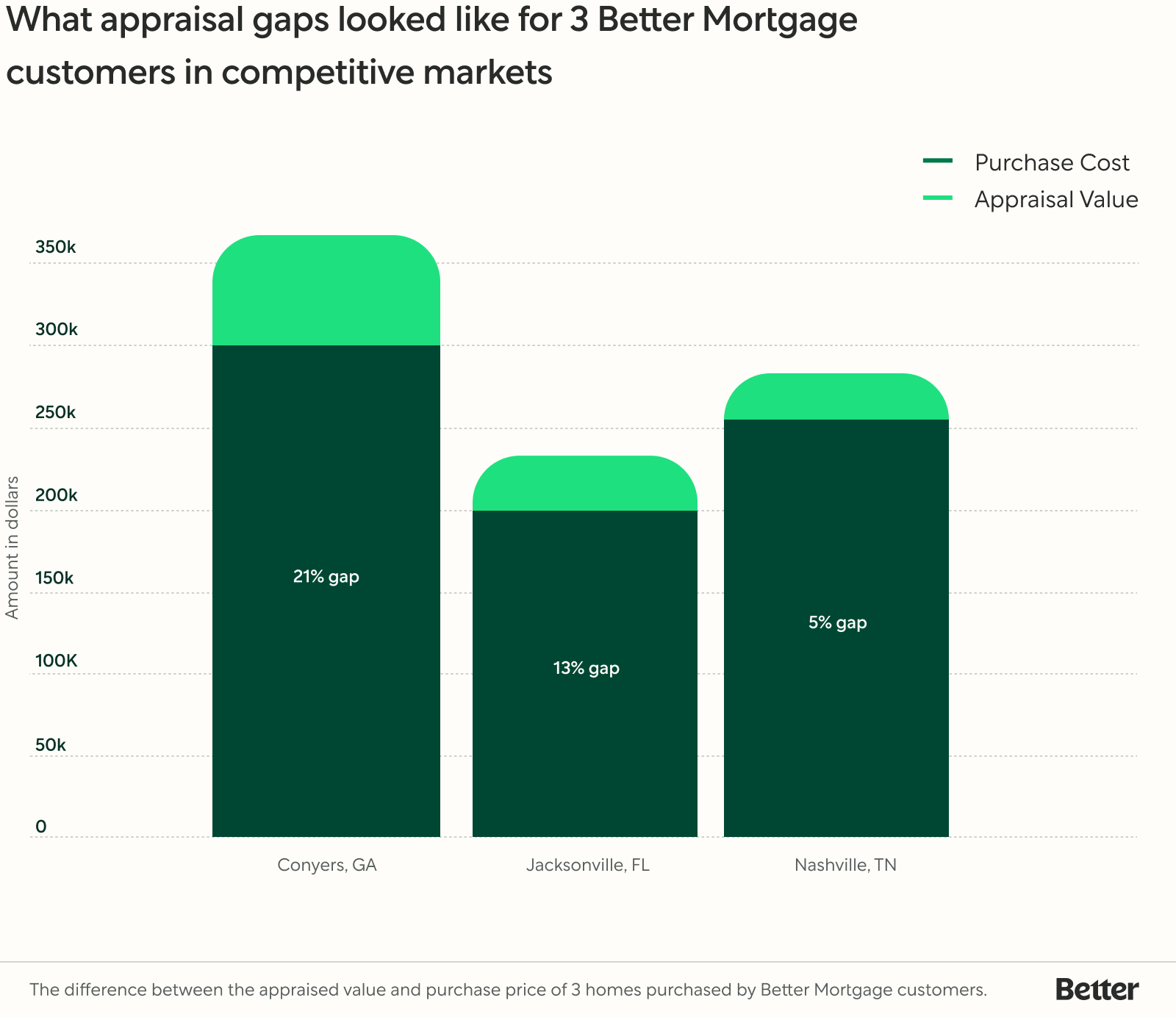 To give you an idea of how common appraisal gaps are, from June 1–September 1, 2021, at least 60% of homes bought by Better Mortgage customers sold at or below their appraised value in competitive markets. When sellers have a range of offers to choose from, they tend to prefer offers without appraisal contingencies because they're more likely to go through.
Home appraisals are optional for buyers who make all-cash offers. So some people choose to waive the appraisal contingency to make their offer more attractive to the seller. Even if you need financing to purchase a home, you can still consider waiving the appraisal contingency to make your offer more attractive if you have enough cash to cover an appraisal gap.
What is a sale contingency and how waiving it can help
A sale contingency is helpful for buyers who are trying to sell one home to get the money to purchase another. If the buyer's home sells by a specified date, the sale will go ahead—if not, the buyer can walk away. Sellers commonly accept sale contingencies in what's known as a 'buyer's market.' In this type of market, homes tend to stay on the market for longer, and buyers have more negotiating power. Suppose you're buying in a competitive 'seller's market' where multiple offers for one home are common. In that case, however, sellers are less likely to accept an offer with a sale contingency. From a seller's point of view, they present an unnecessary risk that the sale won't go through.
If the home you currently own is in the same competitive market as the home you hope to buy, waiving the sale contingency to make your offer more attractive may be less of a worry. If buyers are falling over themselves trying to win the house you want to buy, there's no reason to believe they won't do the same thing trying to buy the house you currently own.
What is a finance contingency and how waiving it can help
Of all the contingencies listed here, the finance contingency is the most easily understood. Finance contingencies are also known as mortgage contingencies or loan contingencies. With a finance contingency worked into your offer, if you can't get a mortgage to buy the home you want, sellers are legally able to cancel the sales contract (and in some cases keep your earnest money deposit).
Naturally, homebuyers who make an all-cash offer don't include finance contingencies in their offer because they are literally demonstrating to sellers they've got all the money they need to purchase the home.
If you don't personally have this much cash on hand to purchase a home, there is another option.
How to win a real estate bidding war on a house with a Better Cash Offer
Buying a home should be a joyous experience, and while the housing shortage is beyond our control, the Better Cash Offer program2 can help make it easier for you to buy in a competitive market. The way it works is simple: Once Better Mortgage pre-approves you for the cash offer program, you'll work with your Better Real Estate agent to find your dream home. Better Real Estate will buy the home you want with their cash. Then, you'll buy the home directly from Better Real Estate using the loan that Better Mortgage has approved you for. The best part is—you'll get the keys to your new home right away. If you need to sell your old home to buy the new one, a Better Cash Offer lets you waive both the sale and finance contingency.
Benefits of the Better Cash Offer:
| For buyers looking to buy a home | For buyers looking to sell one home to buy another |
| --- | --- |
| You're 4x more likely to win your offer | You can waive the home sale contingency |
| You can make an offer with less contingencies | You'll only need to move once |
| You may be able to win with a lower bid | You can buy a new home first, even if your cash down payment is tied up in your current home |
In a competitive real estate market, the Better Cash Offer can give you the edge you need. Plus, if buying a new home is dependent on selling your old home, you can rest assured knowing that you'll have 180 days to find a buyer for your current property.
Where the Better Cash Offer is available:
The Better Cash Offer program isn't available everywhere yet. But if you're in one of the following cities, it could give you the advantage you need for a seller to accept your offer.
Arizona: Phoenix
Colorado: Denver
Florida: Fort Lauderdale, Jacksonville, Miami, Orlando, Palm Beach, Tampa
Georgia: Atlanta
New Jersey: Ocean County, Essex County, Middlesex County, Bergen County, Hudson County, Union County, Monmouth County, Passaic County, Burlington County, Camden County, Mercer County, Morris County, Somerset County, Gloucester County, Sussex County, Hunterdon County
Pennsylvania: Philadelphia, Pittsburgh
Texas: Austin, Dallas, Houston, San Antonio
Washington: Seattle
Better Real Estate can help you get home
The Better Cash Offer has no-fees if you purchase your home with a Better Real Estate Agent and finance your loan through Better Mortgage. Plus, participating means you may also be eligible for discounts on closing costs.3 Connect with a Better Real Estate Agent to discuss how to win your next bidding war and get the home you want.
2See Better Cash Offer terms and conditions.