Term life insurance is a low-cost way to protect your family
Published September 8, 2022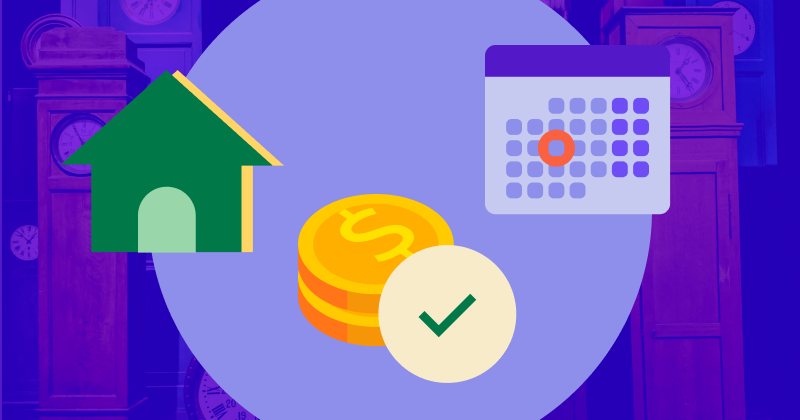 What You'll Learn
Many new homeowners investigate life insurance options to help cover costs in a worst-case scenario.
Term life insurance provides coverage for a selected time period, such as 10, 20, or 30 years.
These policies can offer a low-cost way to protect your family in the event you pass away at any time during the term.
Homeownership is an exciting step forward in anyone's life, and a strong investment in their financial future. But it's important to protect that investment, both for yourself and your loved ones. That's where life insurance comes in. A life insurance policy can be an effective way to ensure your loved ones have the financial security they need when you're no longer around to look after them.
There are two main types of life insurance: term life insurance and whole life insurance. Term life insurance is a popular option because it can be more cost effective than other policies and can provide financial protection to your beneficiaries when they need it most.
Here is a guide to the ins and outs of term life insurance and answers to common questions on this type of coverage.
What is term life insurance?
Term insurance, as its name implies, provides coverage for a specific term or period of time, for example in 10, 20, or 30 year increments. You decide how much coverage you need, and that determines your benefit.
Once your policy is in place, your premium will remain the same for the term period, regardless of your age and whether your health changes during that time. If you die during the coverage period, your beneficiaries will receive a benefit that equals the amount of coverage you selected. Generally, the proceeds of a life insurance policy aren't subjected to taxes, so your beneficiaries should receive the entire amount.
The coverage ends once the term you selected for the term policy is met. If you outlive the term, your beneficiaries won't receive benefits. If you want to continue coverage after it expires, you may have the option to convert your policy to another type of insurance, such as whole life, which would last for the rest of your life. Such a policy, though, would likely be more expensive than the term policy you initially had.
What's the difference between term and whole life insurance?
Whole life insurance is not restricted to a set time period, placing it in stark contrast to term life insurance. Instead, it will last for the span of your life. You can't outlive the policy, and it will provide a benefit to your family at your death.
But with a whole life policy, the premiums don't go simply toward the benefit you selected. These policies also accumulate a cash value, which may increase the amount paid to your beneficiaries when you pass away.
During your life, you also may be able to take loans against that cash value. Given these extra benefits, you usually end up paying much higher premiums for whole life insurance compared to term insurance. In contrast, there is no cash value associated with term life insurance, and you will not receive any money back at the close of the term when it comes to most policies.
Pros and cons of term life insurance
Cost is usually the major reason why people select term insurance. Aside from being fairly inexpensive, some people may also want to purchase life insurance only for a set period. For example, you might opt for coverage only until you reach retirement age. After that point, the value of your retirement plan and any Social Security benefits your spouse would receive might seem enough to replace the income you provide to the family.
Another advantage is that term life insurance can complement other benefits offered by your employer. Company-provided coverage may not be enough because workplace life insurance benefits typically provide a benefit in the range of one to two times a person's salary. For reference, experts recommend a policy 10 times your salary as a safety net.
Term life insurance also offers a great deal of flexibility when it comes to payment and policy options. Premiums can be paid at different set intervals, with potential discounts for paying well in advance. There are also no penalties for canceling a term while it is still active.
Of course, no insurance plan is perfect, so there may be a few downsides to term life insurance when compared to other types. Keep in mind, you're only covered for a set term, so you might not have coverage for more permanent life needs later on. What's more, many policies have an upper age limit depending on how long of a term you're looking for. If you're in your 60s, for example, you might be limited to shorter term options.
When requesting a quote, keep in mind that some life insurance companies require a medical exam from a physician before they grant a policy. However, the process of getting coverage through Better Cover is entirely digital as long as you're seeking less than $3 million in coverage. If you need more protection, we'll simply ask you to complete a no-cost at-home health check.
Do I need term life insurance?
If you're single, don't have anyone who depends financially on you, or don't have major expenses (like a mortgage!) anyone else would be responsible for, you may not need life insurance. But if you do have people relying on you financially, life insurance can help protect others who count on you. A benefit can offset the loss of the income that you provided to the family.
But it's not only an issue of replacing your income. If you care for aging parents, for example, paid caregivers will need to cover the same care you provided once you're gone. The benefit from a life insurance policy can help meet the cost of that care.
If you have major expenses from a mortgage, other sizable loans, or a business that you run, a life insurance policy can also help your surviving loved ones or other cosigners meet those costs.
Get a term life insurance quote
Sometimes the best place to start is with a quote so you can understand the coverage you need and the cost that comes with it. Quotes can be quick and easy depending on the partner you choose to work with.
With Better Cover, you can get a quote in just minutes, and it's taken care of completely online.
Speak to a term life insurance agent
Not having life insurance can present a risk for your family, but you can take immediate action to start protecting them by looking into potential term life insurance policies. Better Cover makes the process of obtaining coverage quick and easy.
Call or click to speak with one of our representatives today.
Disclaimer: Insurance quotes and policies are offered through Better Cover, LLC. A Pennsylvania Resident Producer Agency. License #881593. A full listing of Better Cover, LLC's license numbers may be found here. Better Cover is Registered in the U.S. Patent and Trademark Office.