Preparing Homebuyers For A Favorable Fall Housing Market
Published August 19, 2021
Here's a look at the latest developments in the real estate market.
According to Realtor.com we can expect to see a market "tilted back towards buyers" beginning this fall.
CNBC reports inventory of new homes for sale jumped from a 5.5-month supply in May to a 6.3-month supply in June.
WFH trends are ending as two-thirds of Manhattan office employees are expected to return to the office.
Danielle Hale, Chief Economist at Realtor.com, is somewhat optimistic about the home buying season this fall. "The trends I see happening are a market which is tilted back a bit more evenly towards buyers," Hale explains.
Having said that, she also cautions buyers to not get too excited just yet. "Homes are still selling quickly, but not as fast as they have been. I still believe prices will rise, just not at the double-digit increases we've seen for 2021. I also think some buyers may drop out of the market if we see mortgage rates rise as many people are already at the top of their budget."
Hales cautions buyers to "stay prepared by having all your pre-approval financing in place." She also advises buyers and their agents to keep setting alerts on properties that fit specific search criteria so once those listings hit the market agents can act quickly and help buyers make competitive offers.
Redfin recently reported good news for buyers. "Like a slow turning ship, the housing market's supply side is gradually gaining momentum as homes for sale begin to pile up and pending sales continue a steady and seasonal decline. As both of these trends continue in the weeks ahead, prices will stop rising as rapidly as they have been and an increasing number of homes for sale will likely see price drops."
Home Sale Prices Up 20% From 2020
4-week rolling average of the median sale price of homes sold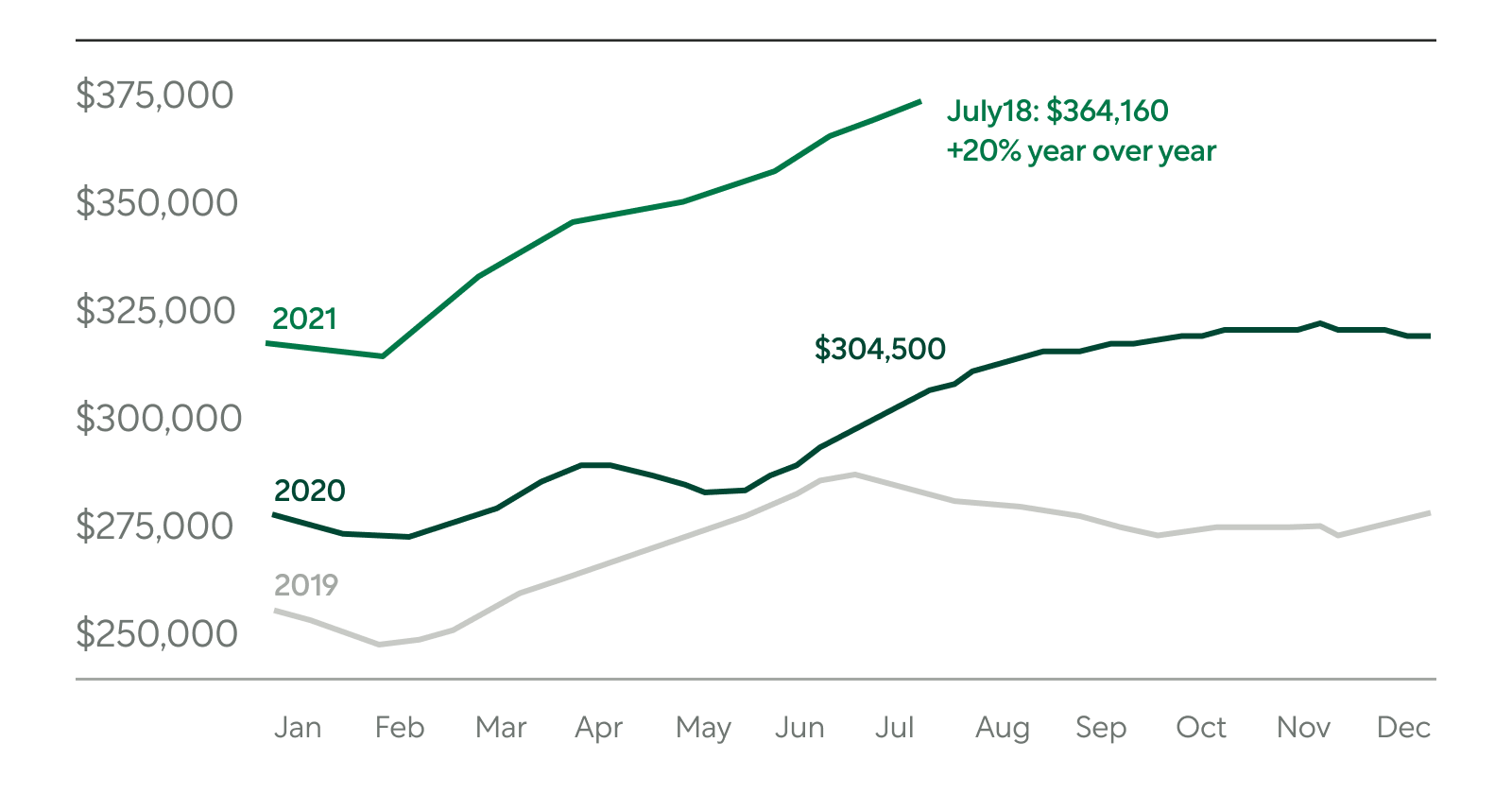 Source: Redfin
Better Real Estate Agent Ray Markey reports some good news for buyers in parts of New Jersey. "Inventory is increasing in Southern New Jersey including Camden and Gloucester. I feel a shift in the last four weeks."
Industry Trend
According to The National Association of Realtors, the US Existing Home Median Sales Price is at a current level of $363,300, up from $350,400 last month and up from $294,400 one year ago. This is a change of 3.68% from last month and 23.40% from one year ago. The speed of homebuying has also changed, with buyers moving more quickly than they did even at the beginning of this year: average days on market for June 2021 hit 37 days, down from 76 days in January.
Housing Inventory: Median Days on Market in the United States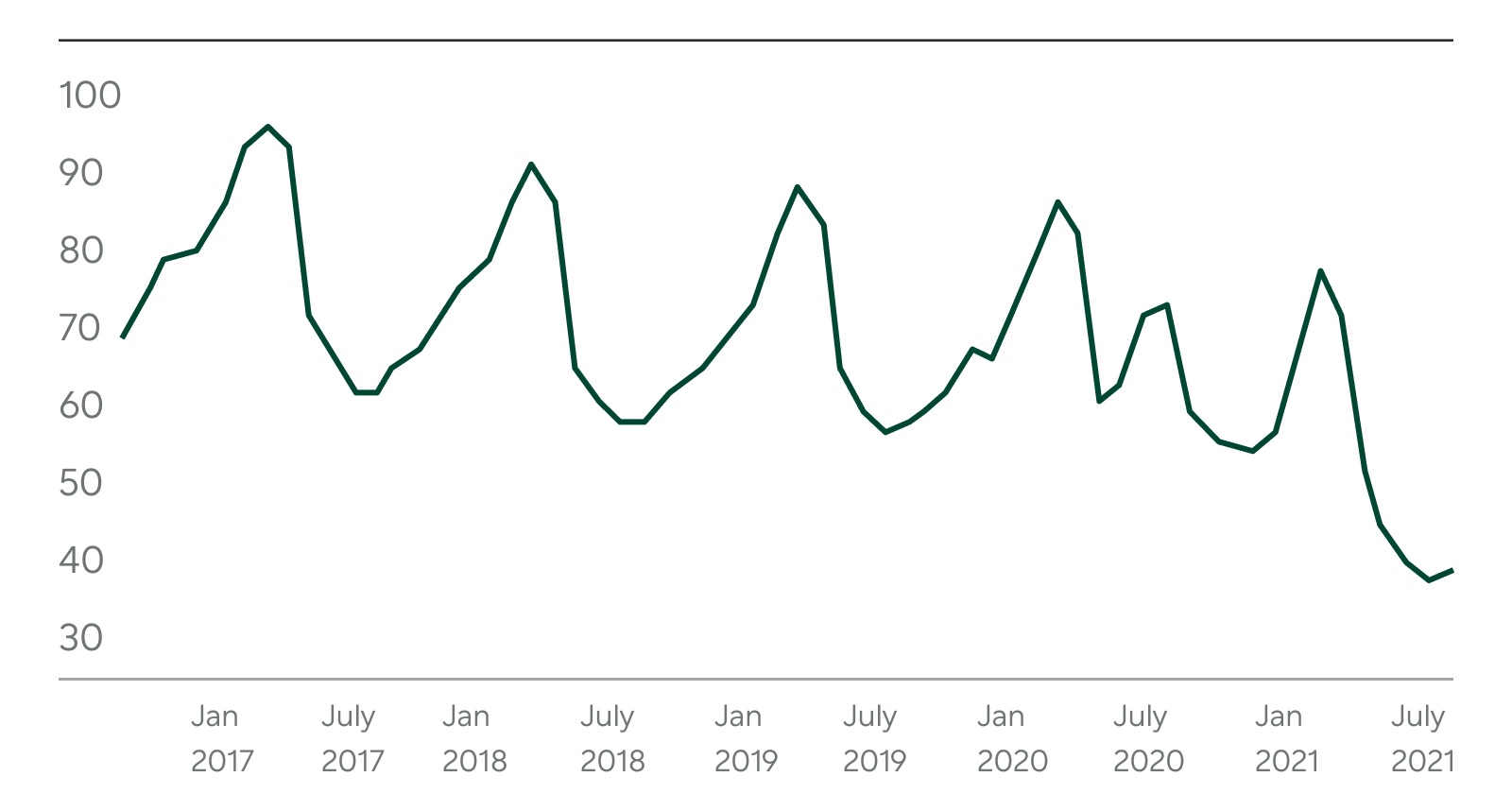 Data source: realtor.com
While home prices are still up and purchase timelines are still urgent, there is some positive news for buyers on the horizon: bidding wars have cooled down since since April. Though competition among would-be homebuyers is still hot, the recent increase in home supply has reduced the amount of bidding wars by 7% in June compared to May, according to Redfin.
Better Real Estate Agent Jack Mager reports activity in the Maryland market, saying, "Days on market in central Maryland are slightly increasing, but not due to more inventory which is still very low. It's due to a steep increase in prices in all price segments." However, Mager does concede a promising market shift for buyers. "Some pockets are slowing down overall."
In the primary mortgage markets, rates for a 30-year Fixed rate mortgage were at 2.81% recently according to MND's Daily Rate Survey.
"Crack in Pandemic Housing Boom."
Major business media is also reporting a crack in the pandemic housing boom. According to a CNBC report, the "housing boom is over as new home sales fall to pandemic low." Reading beyond the headlines, the report points to a key indicator—inventory. "The inventory of new homes for sale jumped from a 5.5-month supply in May to a 6.3-month supply in June." Most importantly, "last fall it sat at a low of just 3.5 months."
Work From Home Winds Down
According to the Real Estate Board of New York, "nearly two-thirds of Manhattan office employees expected to return to the workplace by the end of September." James Gorman, CEO of Morgan Stanley, recently commented on a Wall Street Journal Podcast, saying "At Labor Day, I'll be very disappointed if people haven't found their way into the office." When Jamie Dimon, CEO of JP Morgan, was asked how WFH worked for his company, Dimon replied, "It doesn't work for our culture."
What real estate agents can do next:
Prepare a fall marketing plan that includes a list of potential sellers to contact.
Create a fall market e-news blast or e-newsletter for distribution and website content.
Reconnect with buyers who took a summer or vacation break from actively looking at property.
You can also schedule a call with an Agent Experience Partner to learn how you can save your next client $2,000*.