Finding Home: Dorian and Leah
Published January 27, 2022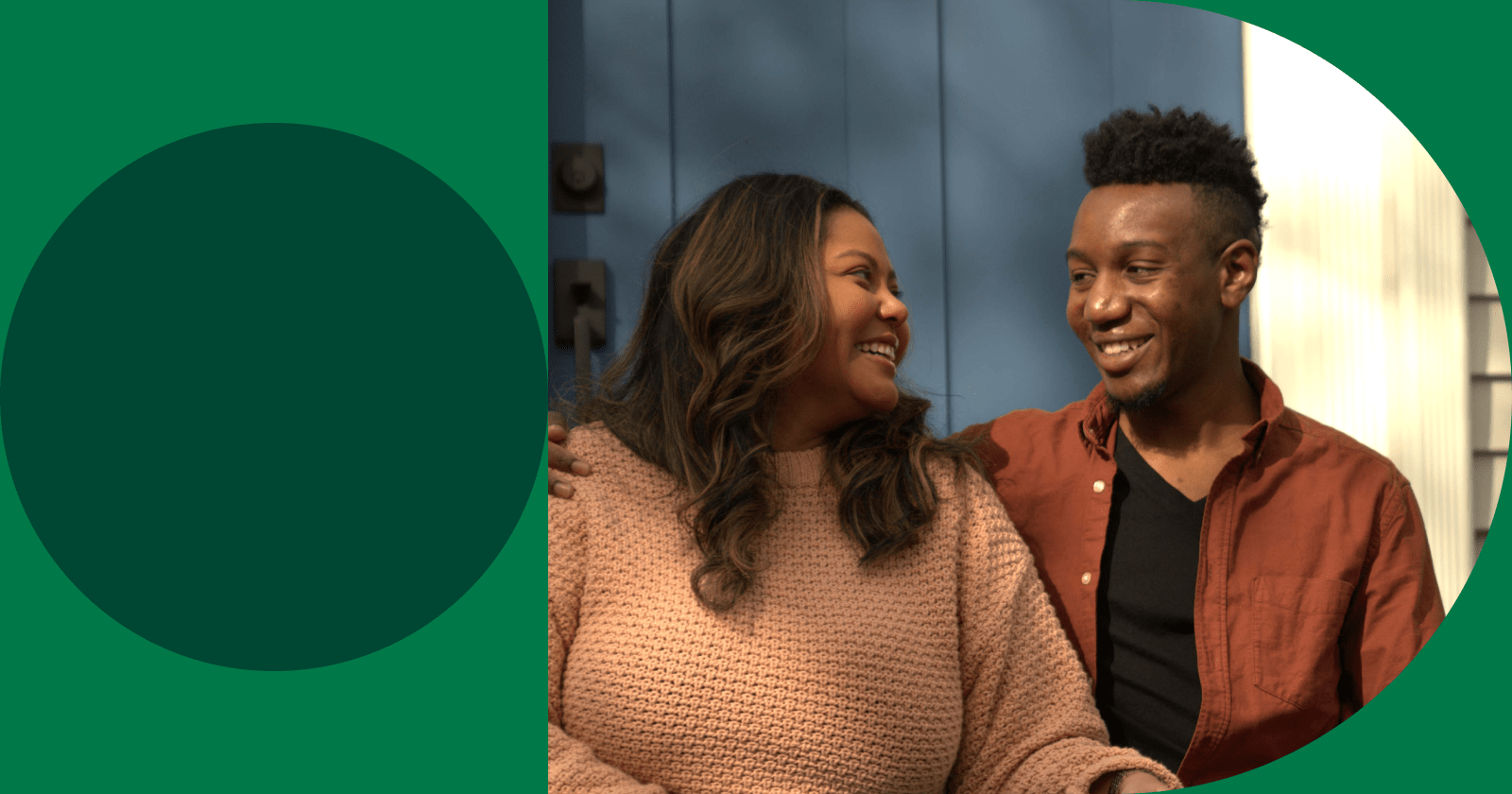 Homebuyer highlights
After getting married, Dorian and Leah wanted to upgrade from their cramped apartment
The couple found a home they loved despite a competitive market and limited inventory
Using the Better Cash Offer helped them beat out other buyers and close in just 3 weeks
In many ways, getting married is similar to getting a house—it's a major milestone that most people spend a lot of time planning and saving for before they take the plunge. Doing both? In back-to-back succession? In the middle of an ongoing pandemic? That's a little ambitious.
"Everyone said we couldn't do it," Dorian says with a defiant smile. "But we did."
He and his wife Leah got married this past summer. Originally from New Jersey, the newlyweds went to the same high school but didn't get to know each other until they met again as adults and started dating. They lived in a 2-bedroom apartment in Newark for four years until this fall, when they bought their first home not too far from where they grew up.
Leah is a general manager in the restaurant industry. Dorian is an engineer who works in tech, but he's also a musician in his free time. (Though he admits it's hard to practice jazz trombone when you live in an apartment.)
They weren't exactly planning to become first-time homebuyers less than 6 months after tying the knot. But COVID-19 forced them to reassess what they needed from their living space. It got them daydreaming about the benefits of homeownership. Like, wouldn't it be nice to have a backyard to safely host their friends for outdoor gatherings and get-togethers?
The more they thought about it, the more in love they fell with the idea. Buying a house of their own would give them more freedom—no arbitrary rules from their landlord, no street noise, no sharing a wall with neighbors. To be fair, the pandemic had many renters thinking along similar lines. (In 2020, around 2.1 million people became homeowners in America !)
They knew that buying a home would give them the lifestyle they wanted—but were they financially ready to make the leap from renting? At first, Dorian had his doubts.
"A year ago we wouldn't have been able to afford a house."
Back then, they were still in the middle of planning their wedding and didn't have the savings to make a competitive down payment. On top of that, Leah had been laid off which limited their total household income. But a lot can happen in a year. Dorian started a new job, and Leah was eventually able to go back to work.
Once their wedding was in the rearview, they started thinking more clearly about the next chapter. "We're both from tight-knit families. We want to have kids and maybe get a dog."
With that in mind, Leah started looking at houses online. Dorian heard about Better Mortgage from someone in his Black Software Engineers group. He visited the Better website in July of 2021, just to see what the process would be like.
"I found it really easy to sign up," he says. "I had heard from so many people that when you buy a home it's really stressful, things go wrong. But Better laid out all the steps and made the process seem simple. And that's 100% how it played out."
Once they had been pre-approved by Better Mortgage and were ready to actively start touring homes, Dorian and Leah also decided to connect with Better Real Estate rather than working with a traditional brokerage. Not only did they want to save money during the shopping process (Better Real Estate agents don't work on commission) they also wanted to take advantage of the Better Cash Offer program.
First-time homebuyers don't often have enough cash reserves to cover the cost of a down payment, let alone make competitive all-cash offers. But if you're a qualifying buyer, this program can change that—Better Real Estate will buy the home in cash on your behalf. That way, you're more likely to win the bid and when you do, you can move in right away.
"For us, it was great because we could move along and work on other stuff while the transaction was happening."
Using the Better Cash Offer, Dorian and Leah made a bid on their home during the last week of September. That offer was accepted the following day and Better Real Estate closed on the transaction after a few repairs had been made by the seller. Once the property was officially off the market, Dorian and Leah used their loan from Better Mortgage to buy the home from Better Real Estate.
Next came the exciting part—moving in, getting settled, and making the place their own. Leah has a knack for interior decoration and design while Dorian, the consummate engineer, is looking forward to installing smart systems throughout the home.
"I spent a lot of time as a kid learning from my dad (who was also an engineer) how to set up a home network."
To Dorian and Leah, this house is a stepping stone to the next part of their life together. It makes them think about their own childhoods, how they were raised, and what home really provides: a place to be together with family. "For our kids and any pets we have, we're hoping we can replicate the life we had growing up."
---
---
Bret Lawrence is a senior copywriter at Better, where she writes about the ins and outs of home financing. Her work also explores the human side of homeownership—the people, places, and perspectives beyond the paperwork. She lives in Queens, NY with her wife and their dog, Banjo.
Interested in finding your own home? We're here to help.
Real customers have been paid for their time. © 2021 Better Holdco, Inc. and/or its affiliates. Better is a family of companies. Better Mortgage Corporation provides home loans; Better Real Estate, LLC provides real estate services; Better Cover, LLC provides homeowners insurance policies; and Better Settlement Services provides title insurance services. All rights reserved. Better Mortgage Corporation is a direct lender. NMLS #330511. Loans made or arranged pursuant to a California Finance Lenders Law License. Not available in all states. Equal Housing Lender. www.NMLSConsumerAccess.org. Better Real Estate, LLC dba BRE, Better Home Services, BRE Services, LLC and Better Real Estate is a licensed real estate brokerage. A full listing of Better Real Estate, LLC's license numbers may be found at https://better.com/with/better-realestate-license. Equal Housing Opportunity. *Better Cash Offer is offered by Better Real Estate. Terms and Conditions apply.