New Homeowner Checklist: 5 Essential Things to Do When Moving In
Published November 3, 2022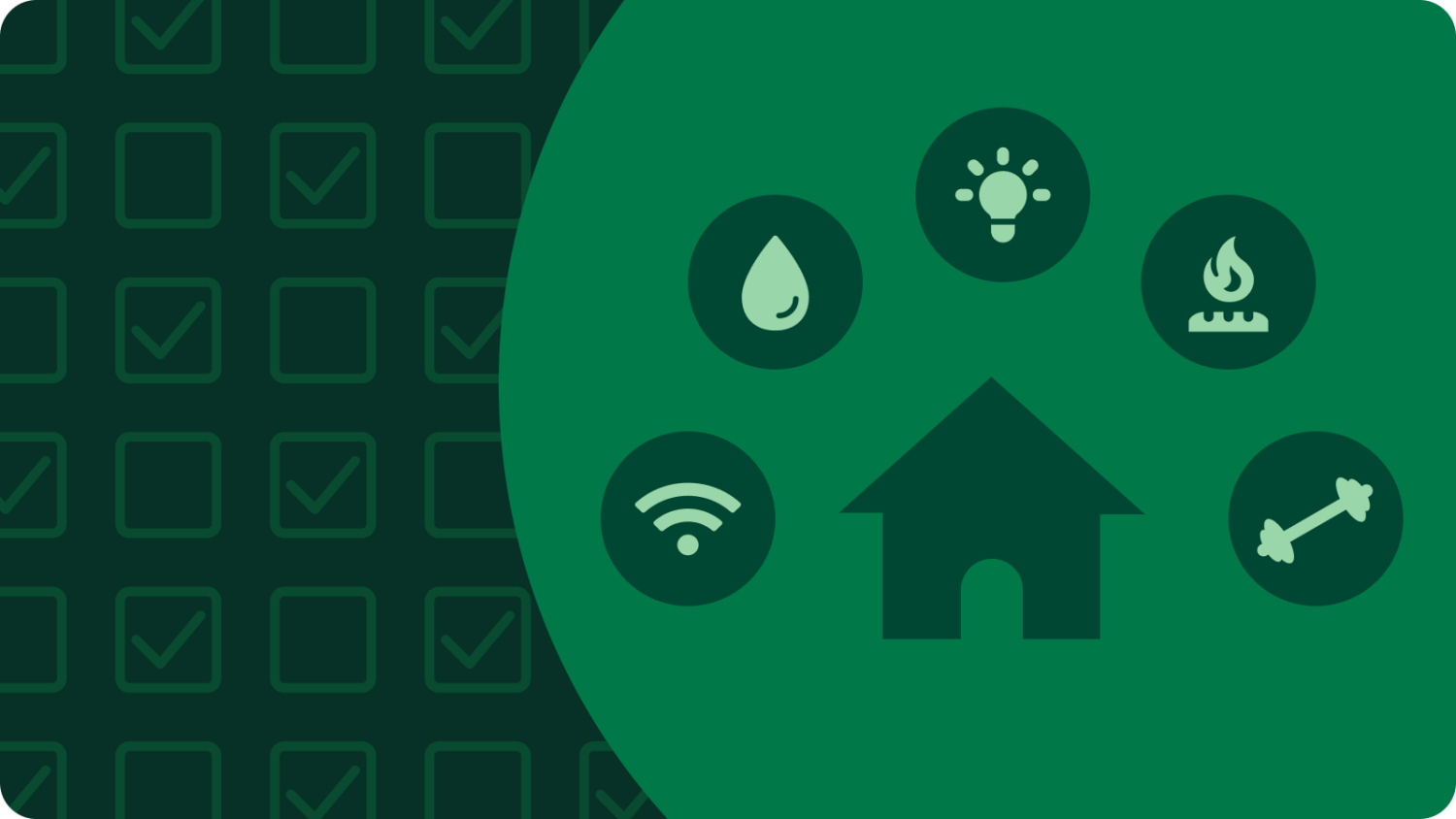 What You'll Learn
How to boost your family's safety by changing locks and updating smart doorbell codes
Why inspections are important and what to check yourself if you skipped a professional inspection
Who to share your new address with and how to make it as simple as possible
Congratulations! You're a new homeowner. But what happens now? Whether this is your first experience with homeownership or you sign closing contracts like a celebrity signs autographs, moving into a new-to-you home is an exciting time.
If you are a first-timer, then just know there are quite literally a few housekeeping items to take care of after leaving the closing table.
To help ease the stress, we've prepared a New Homeowner Checklist of essential tasks to take care of as you begin moving and settling in. While this list isn't exhaustive, it will help you get a great jump start on making your new house a home.
1. Set up utilities and services
First things first: You'll need the basics like electricity, water, gas, heat, and internet service. You'll want to coordinate the setup and activation of your utilities and services according to your move-in timeline.
Your real estate professional can assist with the right timing, or perhaps your building manager if you're purchasing a new construction home.
For example, you may want your gas, water, and electric services turned on right away so you can clean, paint, or move large furniture in comfort before your actual move-in day.
Other services, like internet, cable, and garbage disposal, can be set up either on or shortly after your move-in date. If you require outdoor maintenance, like lawn or pool care, this can be scheduled at your convenience or when the appropriate season arrives.
If you're relocating within your utility provider's current service area and you want to stick with them, then call your provider a few weeks before your move to give them your transfer information. If you're moving to a location that requires you to switch providers, call the company or visit their website for instructions on activating a new service.
2. Test out essential home features
Home inspections usually aren't required for a mortgage loan. But when home inspections are performed, nearly 90% expose the need for at least one repair.
If an inspection was not completed, testing out your home's essential features can quickly uncover issues that may require a professional evaluation. Before you start planning cosmetic updates, take a moment to ensure no functional repairs are needed.
When giving your home a thorough walkthrough, make sure you (or a hired professional) check the following:
Water pressure regulator and heater
Pipes, draining systems, and sink aerators
Bathroom appliances (showerhead, toilet, caulking)
Electrical outlets and lighting
Thermostat
HVAC and furnace filters
Dryer vent and hose
Kitchen appliances (garbage disposal, dishwasher, refrigerator)
Smoke, carbon monoxide, and radon detectors
Roofing, siding, and gutters
3. Switch out all your locks
As a new homeowner, updating the locks is an important safety precaution. If you continue using the same key handed over on your closing date, you're likely using the same key used by the previous owner — and maybe even the owner before them!
Without swapping out locks, you may never know who still has access to your new home. For instance, prior nannies, gardeners, housekeepers, or dog walkers may have been given keys.
Make sure every lock gets replaced, including the front, back, and side entrance doors. And don't forget to set new codes on any smart doorbells and garage openers.
A house is burglarized every 26 seconds in the U.S. But swapping your locks is an easy way to protect your family, possessions, and new investment.
For owners of new construction homes, your building manager should show you how to toggle or "activate" the door lock that disables their master access keys.
4. Update your new mailing address
The U.S. Postal Service processes and delivers 167.3 million pieces of First-Class Mail every single day. Unfortunately, not all of it makes it to the correct mailbox. A likely cause of many items being delivered to the wrong location is former owners who have forgotten to update their information.
Think for a moment about how many family members, friends, businesses, and institutions have your mailing address. If you need help putting a list together, here are a few to get you started:
Financial accounts
You don't want sensitive financial documents falling into the wrong hands. So, update your address with your bank, credit card companies (both general and retail cards), and lenders as soon as possible.
You'll also want to notify your employer so your W-2 form doesn't end up at your prior address.
Finally, make sure all insurance policies (life, mortgage, health, and auto) receive your new contact information.
Government accounts
All 50 U.S. states require you to report all address changes, typically within 30 days. Failing to update your license or registration is even a crime in several states. (Yikes!) Luckily, the process is fairly straightforward, though it varies by location. Find your state's DMV information to learn more.
You can also change your address with the Social Security Administration on their website and sign up for an account, where you can update your information at any time.
And don't forget about your voter registration information. Every state makes its own voting rules, so there's no single process for changing your address on your voter's card. Review your state's protocol to see if an online update is possible.
Memberships
Updating your memberships ensures you'll receive information from organizations you care about. Everyone's membership list will be different, but yours might include:
Professional associations
Gym
Religious institution
Volunteer organizations
Retail reward programs
Other extracurricular activities
Services
This includes any professional service provider you currently use or even have used in the past (assuming you want them to be able to reach you moving forward). Here are a few possibilities:
Doctors
Lawyers
Accountants
Childcare
5. Deep clean and handle repairs
The last thing you want to do after searching for a home, putting in an offer, working your way through the closing process, and then packing up all your belongings is clean your new place. But by taking the time to tidy up and make repairs beforehand, you'll be able to settle in without a nagging to-do list that's out of order.
Putting up wall art? Get the walls painted first. Is your new furniture arriving next week? Now's the time to clean the carpets. Is tonight the first night in your new home? Make sure it's not just visibly clean but also a healthy and sanitized environment to start making your own.
And while it's great to take a DIY approach, don't be afraid to call in a professional or two. It may stretch your budget a bit, but bringing your home up to speed in record time (not to mention the experience and skill a professional brings to the project) can make the added cost well worth it.
Go from stressed to settled in less time
Moving is a big deal. With a bit of determination and a handy guide, you can confidently check off each task and start enjoying your new home without the worry that you've forgotten something.