15 Safety Measures to Protect Your Home
Published November 16, 2022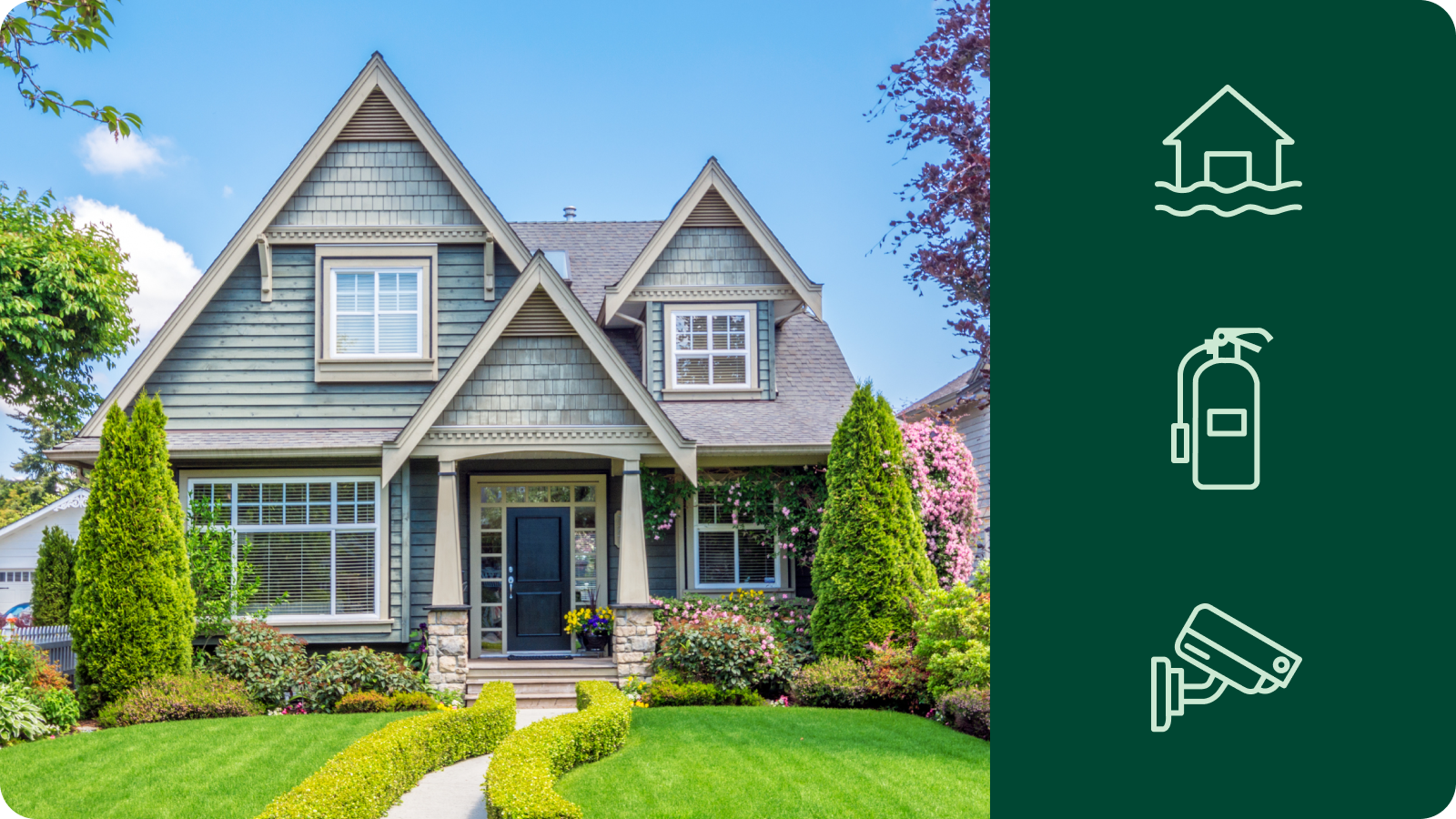 What You'll Learn
What you can do to prevent fires, carbon monoxide poisoning, flooding, and home invasions
How proper use and maintenance of appliances can keep you and your family safe
How homeowner's insurance protects your home and valuables
Your home is likely one of the most significant investments you'll ever make. But beyond that, it also holds everything you hold near and dear to your heart — your family, pets, heirlooms, and all other valued possessions.
So, it's worthwhile to do everything you can to safeguard your home from serious hazards, such as fire, carbon monoxide, flooding, and security risks. Here's a list of safety measures you can take to protect your home and everyone in it.
Fire Safety
A tiny spark can turn into a roaring blaze in minutes, threatening your family's safety and the structural integrity of your home. Fortunately, there are ways you can prevent fires or handle the situation safely should one occur. Here are several fire safety tips to implement today:
#1: Create a fire escape plan
Does everyone in your house know what to do if a fire breaks out? If not, consider creating a fire escape plan that spells out critical details, such as how each person should exit the property and where the family should meet outside.
If you have children in your home, consider reviewing your fire escape plan at least once per year. You can even conduct an annual family fire drill to test everyone's knowledge of the plan.
#2: Install (and maintain) smoke alarms
Smoke alarms can alert you if there's a fire before the situation gets out of control. Therefore, each level of your home should have at least one smoke alarm located in prime locations, such as the kitchen and bedrooms.
Because smoke alarms can only do their job when they're in working order, set a calendar reminder to change the batteries at least every year and replace the units every 10 years. It's also recommended to test the alarms periodically to ensure they still work.
#3: Have a fire extinguisher handy (and know how to use it)
Quick thinking and action could save the day if a fire breaks out. In addition to knowing where the fire extinguisher is located in your home, everyone should be familiar with how to use it safely.
Depending on the size of your residence, it might make sense to have multiple units to cover the garage, kitchen, or other areas.
#4: Understand fire safety basics and keep your home safe
More than half of deaths from residential house fires occur between 11 p.m. and 7 a.m. — when most people are tucked away in bed. This means you'll want to take precautions to ensure your main living areas and bedrooms are as safe as possible.
Here are several ways to protect yourself and loved ones from fire hazards:
• Close your bedroom doors at night (this can slow down how quickly a blaze spreads).
• Use flame-retardant mattress covers.
• Ensure all candles, cigarettes, and incense burners are fully extinguished before going to sleep.
• Properly extinguish a fire and any ashes in a wood-burning fireplace; live ashes can take up to 24 hours to cool down
• Extinguish a grease fire quickly by covering it and depriving it of oxygen or use a nearby fire extinguisher
Carbon monoxide safety
Carbon monoxide is a colorless, odorless, and tasteless gas. As a result, victims of carbon monoxide poisoning are often unaware there's an issue. The good news is you can protect yourself and your family by taking a few critical steps:
#1: Install (and maintain) carbon monoxide detectors
Early detection is key to avoiding carbon monoxide poisoning. Having a detector on every level of your home can ensure you're notified if this gas is present. Be sure to replace the batteries every six months and install new units every five to seven years. You may also want to test each detector periodically to ensure they still work.
#2: Understand the symptoms
Knowing the symptoms of carbon monoxide poisoning can help you escape a dangerous situation before it's too late. Some common signs include headache, nausea, vomiting, fatigue, lack of coordination, shortness of breath, dizziness, or mental confusion. If you or loved ones begin to feel these signs without other explanation, then get outside quickly and contact emergency medical services.
#3: Use and maintain equipment properly
Charcoal, oil, and gasoline-burning equipment, such as generators, charcoal grills, camp stoves, or similar items,emit carbon monoxide. When using these devices, it's critical to have proper ventilation and never use them inside your home (including your basement or garage) or near a window. Also, avoid running your car inside your attached garage even if the garage door is open.
Broken or improperly maintained gas, oil, or coal-burning appliances and heating systems can also leak carbon monoxide into your home. Fortunately, you can significantly reduce that risk by having those units serviced annually by qualified technicians.
#4: Learn how to use your fireplace safely
Improper use of your fireplace can result in carbon monoxide exposure. To use it safely, open the fireplace damper before lighting your fire and keep it open until the ashes are cool.
Flood safety
A severe weather event or faulty plumbing could put some or all of your home underwater. Here are several ways you can protect your residence from flooding.
#1: Understand your risk
Before practicing flood safety, you should know your flood zone and understand your risk. If your home is in an area that regularly floods, it's crucial to obtain flood insurance. Typically, basic homeowner's insurance doesn't cover flood damage, so you'll need this specific policy for protection. Your mortgage holder may even require you to obtain flood insurance if your home is located in a flood zone.
#2: Check for potential problems
While hurricanes and other natural disasters are often the culprits behind flooding, plumbing leaks can also cause significant damage to your home. Fortunately, you can catch potential problems by regularly inspecting your water heater, toilets, sinks, and outdoor fixtures for leakage.
#3: Maintain your property
Some essential home maintenance can help ensure water doesn't make its way into your home. For instance, sealing your foundation and basement walls with a waterproofing compound can help keep your interior dry. You can also ensure rainwater flows away from your foundation by periodically cleaning your gutters, drains, and splash pads.
#4: Install preventative measures
You can install equipment to protect your home from water damage. Here are several you may wish to consider:
Flood sensors can detect moisture and alert you if your house is wet where it shouldn't be.
An automatic shutoff valve can stop water from flowing from your water supply if it detects a leak.
A sump pump moves liquid away from your property's foundation if the level gets too high.
Security
According to recent reports, a house is burglarized every 26 seconds in the U.S. You can deter burglars and protect your property by enhancing your home's security with these steps:
#1: Lock up tight
Deny intruders easy access to your residence by locking all doors and windows and securing pet doors and mail slots. Also, avoid keeping a spare key outside, even if you think it's well-hidden. Instead, consider installing smart locks to control your house remotely.
#2: Install an alarm
Loud noises can convince a would-be robber to run away, so installing an alarm system can be a wise investment. Some systems can also automatically call local security dispatch and contact the police if an alarm is triggered.
#3: Take vacations quietly
Next time you decide to take a trip, don't make it obvious. Burglars love to target empty houses because there's less risk of confrontation. You can make it seem like you're still home by putting your lights on an automatic timer, having someone park in your driveway, and asking your neighbor to collect your mail. In addition, avoid talking about your getaway on social media (especially on public profiles) until after you return.
Protect your home the Better way
The best way to safeguard your home and family from risk is to be proactive and implement crucial safety measures like the ones outlined above. But a comprehensive homeowner's insurance policy can take your protection to the next level.
Some homeowner's insurance, like some provided through Better Cover, even offer discounts on your policy for installing an alarm system. And, if you use your Better Home Card to finance the installation, you'll benefit from a competitive interest rate and will have 3-5 years to pay back the loan depending on your terms. *
With Better Cover, we help you find the right policy for you. Just answer a few short questions, and we'll take care of the rest. You could even save up to 20% on your coverage by switching from another provider.
*Notable is a direct lender dedicated to providing a fast, transparent digital lending experience backed by superior customer support. All rights reserved. © Notable Finance, LLC | 6 Landmark Sq, Fl 4, Stamford, CT 06901 NMLS #1824748. Notable is a registered trademark with the U.S. Patent and Trademark Office. California customers: Loans made or arranged pursuant to a California Finance Lenders Law License. Not available in all states."