Here's what we expect to see on the market in 2022
Published December 23, 2021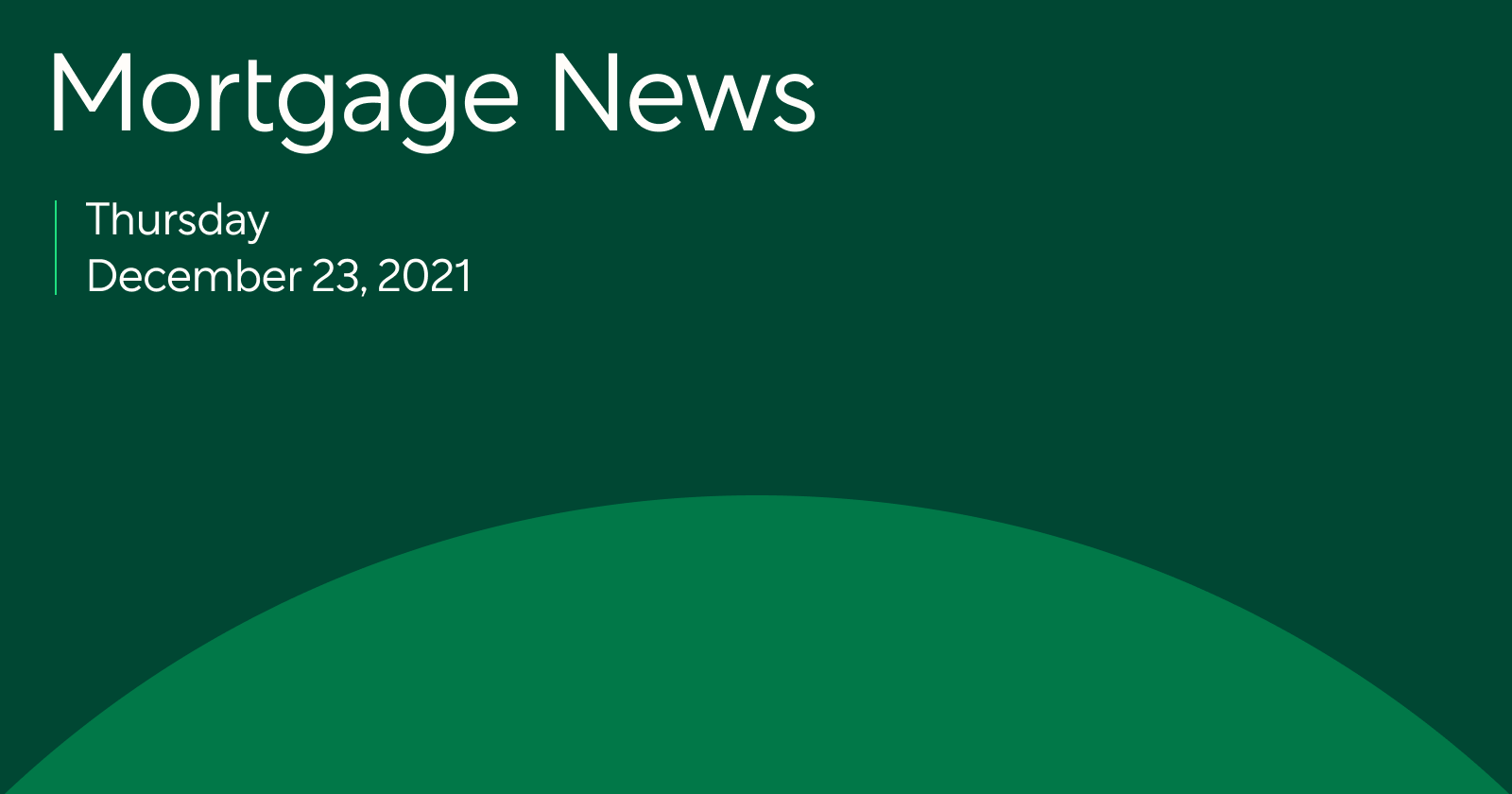 Here's a look at the latest developments in the mortgage market this week.
Here's what we expect to see on the market next year
Looking back at 2021, most pandemic-induced housing market patterns have only continued. Low mortgage rates and flexible work modes drove buyers away from major hubs. Inventory dropped to a record low, while home prices soared by record gains. And as property values went up, home equity grew to $9 trillion, leading millions more homeowners to refinance.
While 2022 may have some shifts in store, one thing that won't be going away is the demand for homes. Here's a look at what the expert analysts at Better Mortgage expect to see.
A boost in new listings and new builds—with hot competition for both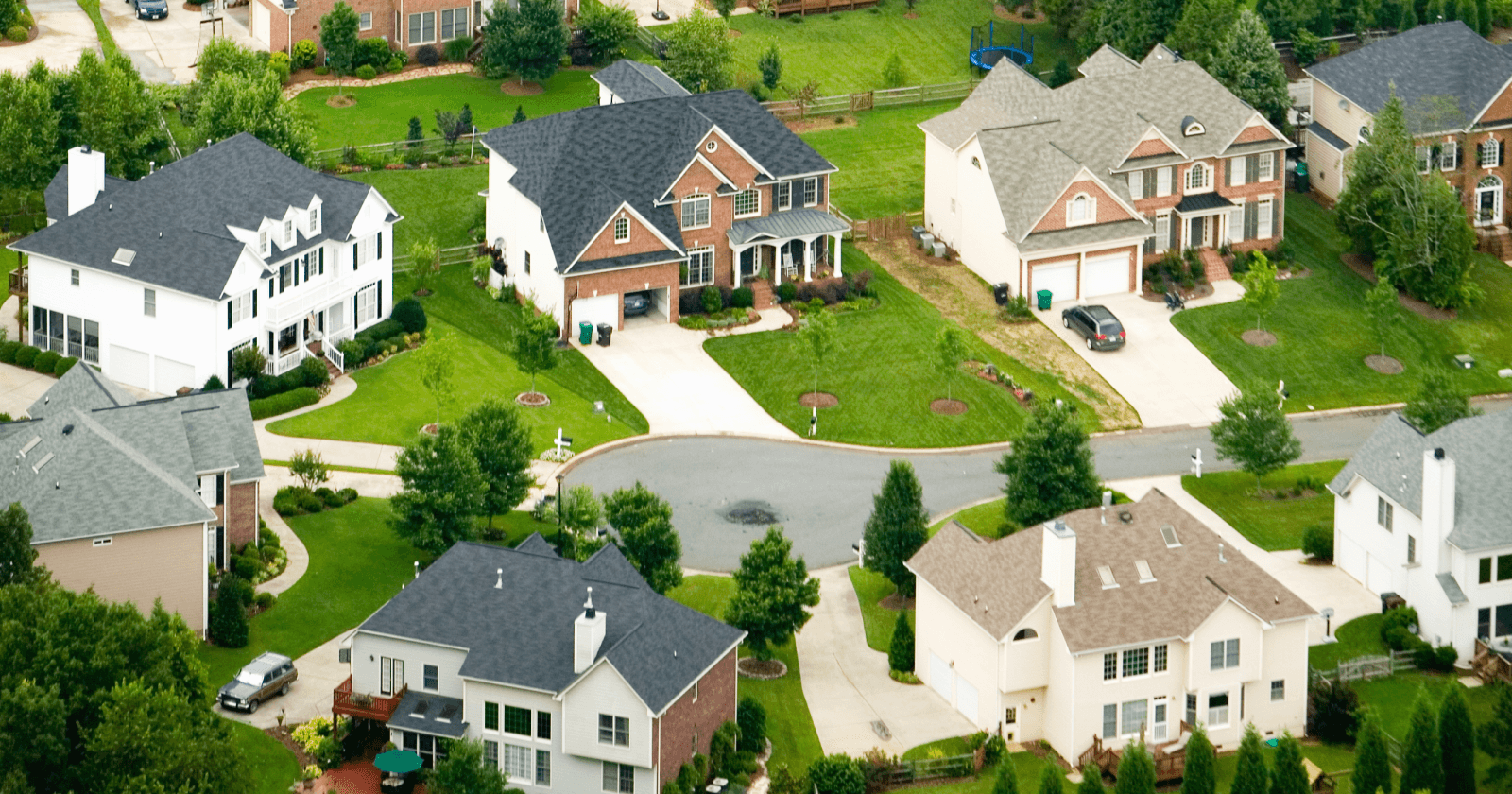 More listings are on their way, but they still won't be enough to cover the five million home-supply gap. As many as 74% of homeowners think it's a good time to sell, and over a quarter plan to list their homes in the next twelve months. That's 16% more sellers than in January 2021, which should kick the year off with more options for buyers to choose from.
On the construction front, homebuilders are feeling confident, even as supply chain disruptions and labor shortages challenge their ability to keep up with demand. We'll likely see a burst of new builds popping up in the country's hottest markets: the northeast and southern states.
Keep in mind that the supply boost could be partially delayed. A quarter of sellers say they're having a tough time competing for their next home, which could defer their move. Plus, the Omicron variant is currently casting some uncertainty over the economy.
Millennials, investors, and remote workers buying homes
Expect to see more millennial buyers house hunting in the new year—likely online. Millennials already account for over half of new mortgages, and now make up the largest and fastest-growing homebuying cohort in the country. Alongside them will be real estate investors who are buying homes they plan to rent, flip, or sell for profit. Investors bought 80% more homes in the fall of 2021 than they did a year earlier, and the trend is likely to stick around in 2022.
The pandemic continues to define how we live, work, and buy homes. Flexible working modes should keep shoppers interested in more affordable markets outside of major cities. So far, this trend has led to higher mortgage payments in counties around the country.
Prices will still be high—but they'll rise more slowly
The squeeze of low supply and overwhelming demand drove home prices to record highs in 2021, ending the year with a median price of $353,900 for an existing home. Now, with more supply expected, that balance should improve enough to slow price growth in 2022.
Even with a slower rise, price tags will be high. Affording a home in today's market can be a challenge, especially for first-time homebuyers. Programs like the Better Cash Offer and the Better Appraisal Guarantee can help you raise your chances of beating the competition. Or, explore these 6 loan options designed to help buyers manage the cost of their mortgage.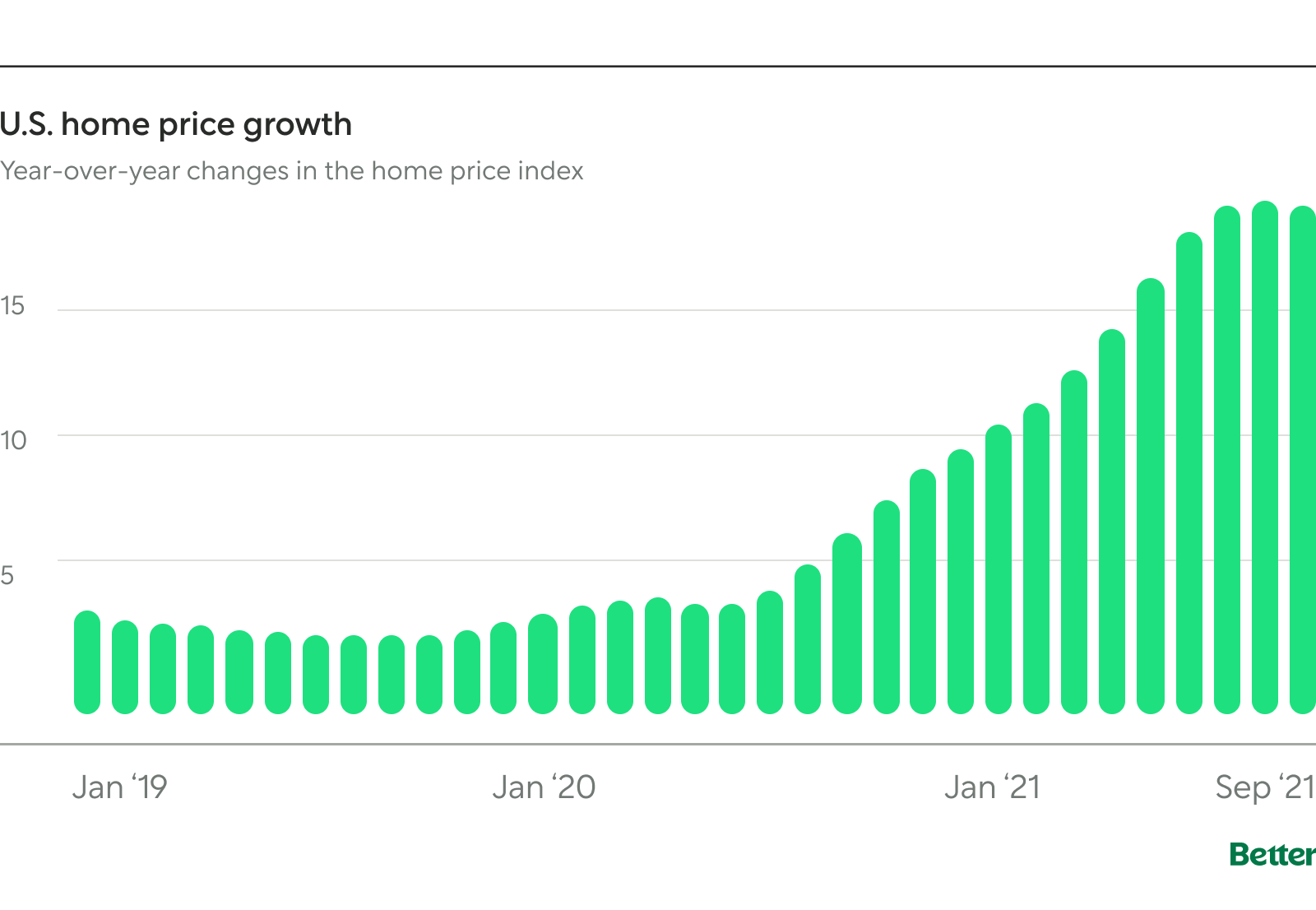 Source: Fortune
Rates climb slow and steady as the economy grows stronger
The economy is expected to keep recovering from its pandemic slowdown in 2022. Typically, a healthier economy means higher mortgage rates, and this year should be no exception. If the economy is stronger, there are more opportunities for growth in the market, so investors will demand a higher return for their money. That means higher interest rates throughout the economy—including mortgage rates.
Another factor at play is the Federal Reserve. The central bank just announced it's withdrawing its pandemic-related support for the economy, and expects to hike rates up two to three times in 2022. These hikes directly affect the interest rates that banks use with each other, but their movement trickles down to borrowers, too. Given that, we expect mortgage rates across the industry to slowly rise towards the range of 3.50% to 3.75% by the end of the year.
Getting the ball rolling now may help you save
With such a hot market awaiting borrowers in the new year, making moves on a mortgage now could help you get ahead of the competition and save. See your personalized rates and estimated payments in minutes with Better Mortgage. You'll be matched with a licensed Home Advisor who can walk you through your options and help you choose what's best for you.
We're taking a holiday break next week, and will see you back here on January 5th. Until then, we hope you have a wonderful holiday.
Considering a home loan?
Get your custom rates in minutes with Better Mortgage. Their team is here to keep you informed and on track from pre-approval to closing.