10 home furnishing tips and how to get the money for them
Published October 18, 2021
What You'll Learn
Key interior design tips to furnish your home like the professionals
Ways to prioritize your to-do list and work with the furniture you've got
How to get the money to decorate your new home
Furnishing a new home is exciting and daunting, but mostly exciting: You have a blank slate to really make your mark. The question is, what do you want to say? Or more to the point, what do you want your home to say about you? If that's too big a question, another way to think about furnishing a home is simply to focus on creating a space that makes you feel good. In the words of Albert Hadley, famed American interior designer and decorator, "Rooms should not be put together for show, but to nourish one's being."
So let's dive into the steps it takes to furnish your home in a way that nourishes your being.
1. Decide on your style
Are you into traditional interiors, modern, minimalist or maximalist? Perhaps you're more beachy, boho, modern farmhouse, or eclectic. You may not realize that it's entirely possible to be a mix of two or more styles and you don't specifically need to define your style at all. The purpose of defining your style is to give you some direction when making decisions about what items you need to create a cohesive look in your new space.
If you don't know where to begin, start by picking up an interior design magazine or searching 'interior design' on Pinterest and collect images of rooms that inspire you. Alternatively, you could take one of the many online quizzes. Modsy, the online interior design service, helps you narrow down the styles you're into with this quiz filled with different interior styles. Houzz—an app filled with decorating ideas, home professionals, and interior design inspiration—has this fun quiz that uses your favorite pets, restaurants, and lifestyle choices to help you think more broadly about the type of home you'd like to live in.
2. See how you use the home
Just like your style, the way you use your new home will evolve over time. While you may feel pressured to throw a housewarming and have your new home ready to go right away, unless you've budgeted for professionals to do all the heavy lifting (aesthetically and practically speaking) most people take more than a few months to design their home the way they want. Use this time to start working on the next steps. Things that might feel like a priority when you first move in, may be replaced by more pressing issues after a couple of months of living there.
3. Make a budget
The last thing you want to do is spend the majority of your budget on a statement piece before realizing you'll actually need $20,000 squirreled away to redo the bathroom. Knowing what money you've got to work with and what you plan to do with it will help you decide where to splurge and where to save.
It's common to think of your home furnishing budget as a percentage of the home's purchase price, for example, spending 10%–50% of the cost of the house on furnishings. Consider the size of your home and the number of rooms you have to furnish. Are you thinking of renovating, painting rooms, buying new appliances or electronics? Keep these costs in mind while you decide on your furniture budget. Angi, formerly known as Angie's list, can help you source estimates for any home project and help you find trusted pros to get the job done.
4. Prioritize key rooms
What's more important to you: a bedroom sanctuary or a place to chill in front of the TV? Do you plan to paint the walls or extend a closet? If yes, it may be better to hold off on furnishing these rooms until you finish these first tasks. How long will it take essential furniture items to arrive? You may want to order these pieces sooner, so you're ready to finish these rooms when the furniture comes. If you work from home, place your back to a wall or use a zoom background to hide your space until you've had time to decorate it.
Moving into a new home is unsettling enough, but kids and pets that are out of sorts can add to your nerves. You (and they) may be more relaxed if their space is ready first. Then again, they may be young enough to be more excited to play around (and within) boxes. What works best for you and yours is a clearly personal decision.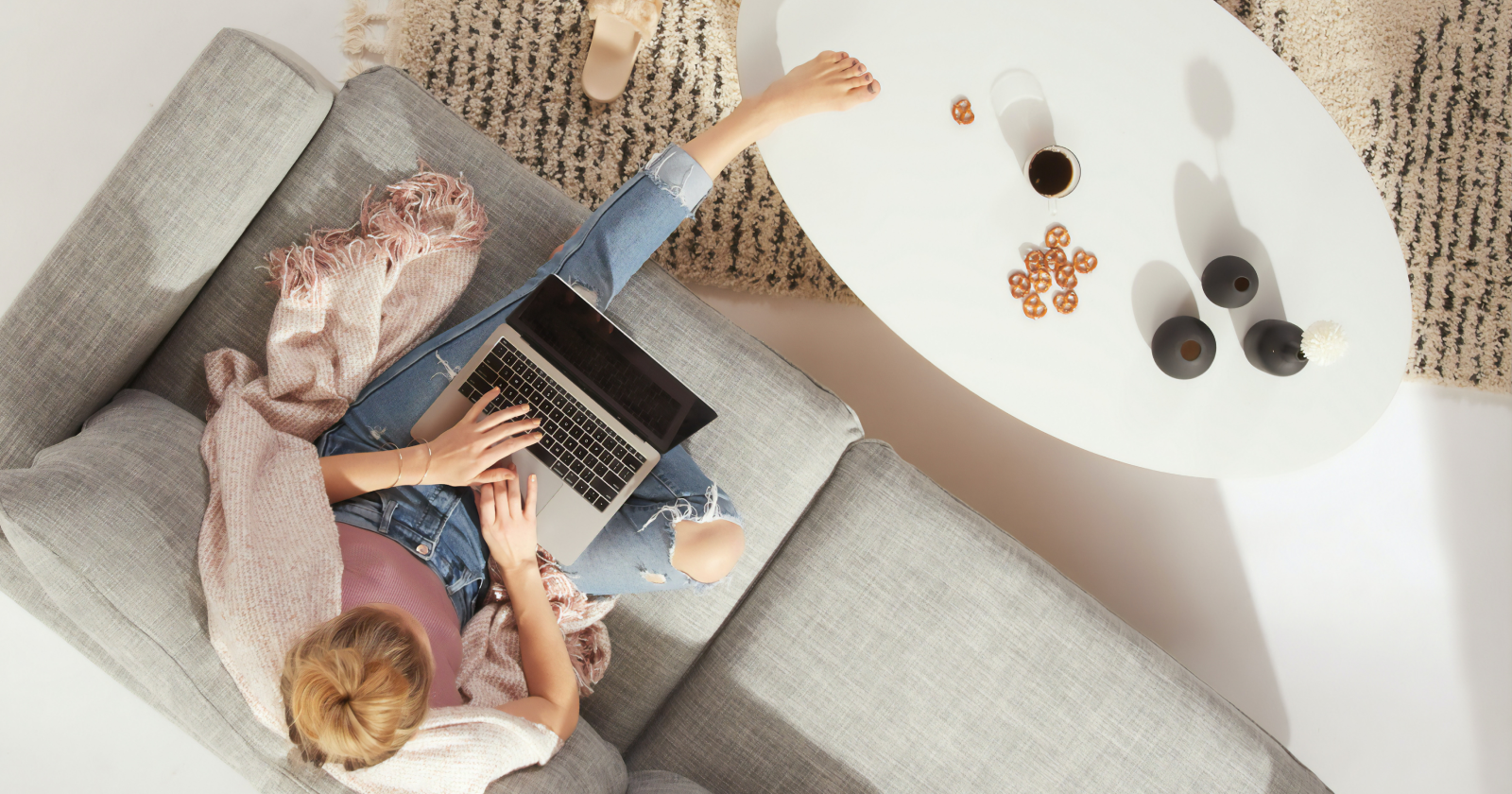 5. Plan your room layout
The measurements of your rooms will help you decide what goes where. Once you know the size of each room, you can start experimenting with furniture layouts by drawing the floor plan on paper. Alternatively, you can plug the numbers into an app like Magicplan (available on iOS or Android) or RoomScan Pro (on iOS only). Once you've got a layout in mind, you can see how the furniture you have fits in the space you've got. If you're not sure where to start, this article from Houzz gives you 10 basic rules to get your furniture arrangement right.
6. Consolidate your belongings
Reuse, refurbish, repurpose, recycle. If you've been renting, sharing, and even if you're still in your childhood home, chances are you've picked up some furniture items along the way. With your budget in mind, take a critical eye to what you already have: What pieces literally don't fit? If they don't fit in through the doors or don't leave space to walk around them, they may have to go.
Which pieces of furniture lend themselves to your style goals? Perhaps a slipcover can help that old sofa blend in with your new color palette? What pieces will work for now until you're ready to replace them later? Flea markets, Etsy, and Ebay are all good places to find pre-loved furniture that can add character and style to your home on a budget. Don't feel obliged to decorate a room around a legacy piece—that family heirloom that never felt like your style may find new love in someone else's home.
7. Measure twice, buy once
When you're on a budget, the last thing you want is to have to buy another furniture piece because the first one didn't work with your lifestyle. Some of this is indeed trial and error, which is why it pays to take the time to see how you actually use a space before trying to fill it. Buying a piece of furniture that fits the first time can save you the hassle of returns and delays (in getting a replacement). Keep in mind window heights, radiator and outlet placement, floor and wall vents, plus the height, width, and length of doorways, halls, and stairs.
Pro tip: Leave enough space around pieces to create good 'flow':
Allow 30 inches between furniture you have to walk around.
Aim for 14–18 inches between a coffee table and sofa ,so drinks are within reaching distance.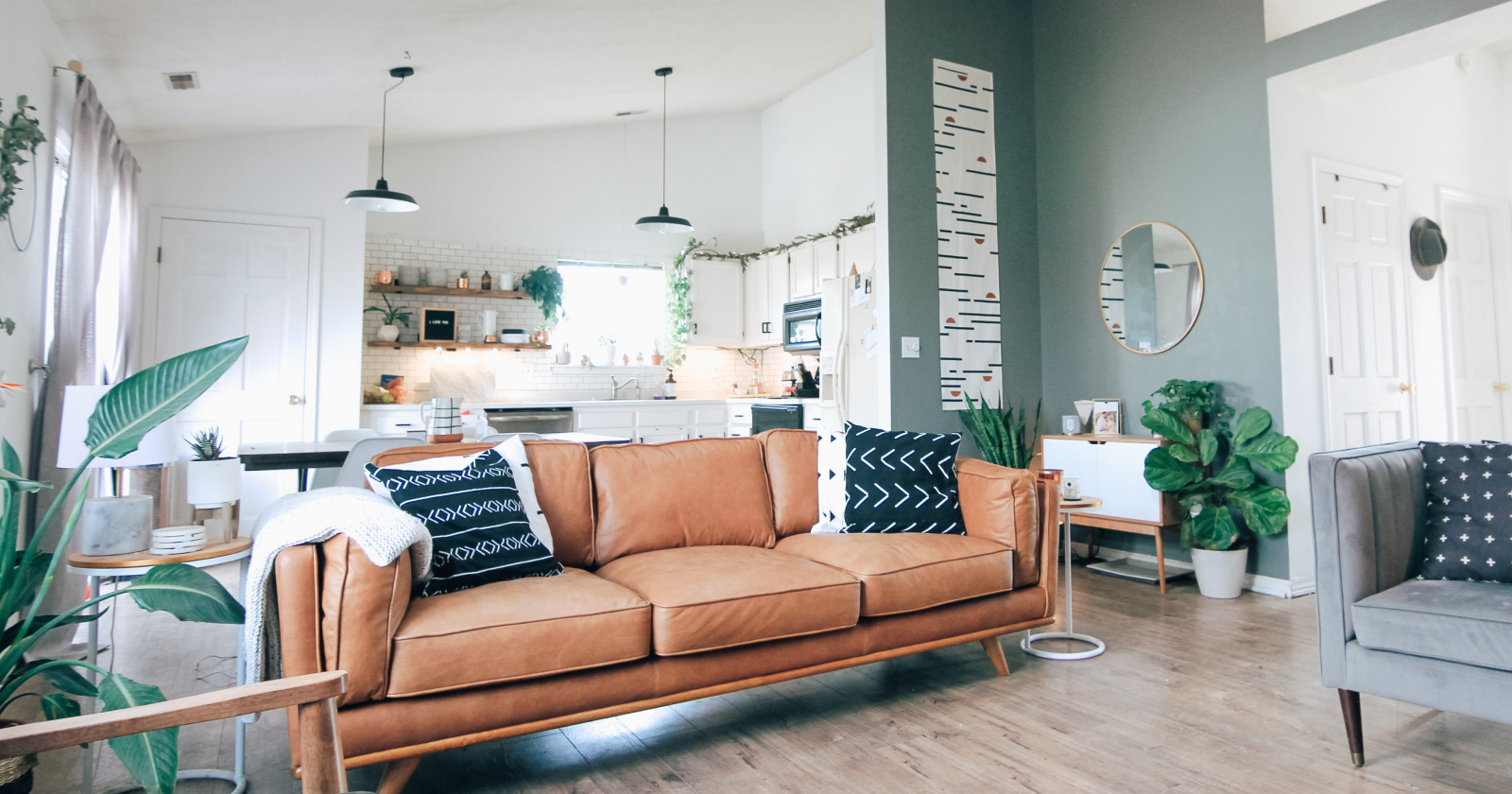 8. Tie everything together with color
While retail furniture stores would love for you to buy their complete showroom display, the last thing you want is for your home to look like page 63 in their catalog. Your top priority should be the proportion, scale, and balance of the furniture and accessories in each room. When it comes to color choices, you've got 3 basic directions to choose from: neutrals, pops of color, or go bold to create drama. A consistent color story with your rugs, soft furnishings, slipcovers, and pillows can help unify a room. Modsy has put together a complete guide to decorating with color if you need some inspiration to get started.
9. Plan space for your eye to rest
Even if your design aesthetic is maximalist, you don't want to fill your rooms and walls with so many things it feels like a clown car. What piece of furniture or decor do you want to be the star? Consider this your focal point and work around that. Leave some breathing room, so your eyes aren't bombarded with things to look at. Negative space allows you to focus on your focal points and create a subconscious sense of visual comfort and harmony. (And nothing quite nourishes one's being like comfort and harmony.) Here's how to harness the power of negative space in interior design.
10. Set some money aside for organizational pieces
You'd be surprised how many 'space issues' can be resolved with practical storage solutions: Marie Kondo promotes giving your things that spark joy a home, the tv show 'Love it or List it' solves many a space issue with innovative storage, and the proverbial phrase "a place for everything and everything in its place," wouldn't have stuck around so long if it wasn't true. Investing in shelves, drawers, baskets, and other storage pieces will help keep any room organized.
How to get the money to furnish your home?
If you buy your new home with a loan from Better Mortgage, you may be eligible to apply for the exclusive Better Home Card. This Home Card is designed to help you get everything your new home needs—from furnishings to renovations—without overpaying on interest. The Better Home Card provided by Notable is a closed-end, unsecured loan up to $50,000 on a card specially created for spending on your new home. At participating home goods and hardware stores, it offers up to 20% cash-back credit applied toward your loan balance, issued on a card for spending specifically on your new home*. If you want to cover your home furnishing (and/or home renovation) costs after your move-in, the Better Home Card could be the best option for you.
Get the budget to buy a home that suits your style
In as little as 3 minutes, you can complete a pre-approval with Better Mortgage and get an accurate estimate of your homebuying potential. You'll receive a free, no-commitment pre-approval letter, and you'll be offered a range of mortgage options to choose from. You can set your house-hunting budget, and you may be eligible to apply for the Better Home Card. This Home Card won't compromise your mortgage application because it's only accessible after you fund your mortgage. Best of all, you'll know what home furnishing/renovation budget you have to work with before you close on the home.
* See full terms and conditions for Better Home Card provided by Notable